This page is not a
real
translation but just an
automatic translation generated by computer
of the
original article
, written in French language! Its not good... but better than nothing!
Want to help us do diffuse puerh tea culture in english, by providing a better (or corrected) translation?
Please contact us!
@
To be informed by email about new www.puerh.fr article publication, just
click HERE

Puerh tea is alive. Thanks to the tannins present in its leaves, it has the amazing property to evolve over the years. Amateur puerh (Pu Er tea) , as the wine lover , not just generally not fun to drink and appreciate its teas but also enjoys the store teas he likes.

It has a simple kitchen shelf or a true cellar dedicated , it is a particular pleasure that amateur puerh (Pu Er tea) or wine knows that to build a personal cellar, where we will pick the time wanted, but also see evolve its teas while the years pass.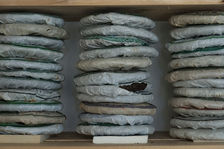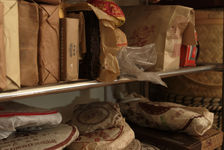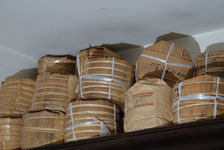 1.Stack of puerh

(Pu Er tea)

on the shelf of an amateur
2.In a small personal cellar
3.Some tong on the top of a shelf
4.Stack of puerh

(Pu Er tea)

on the shelf amateur
Or if to establish a small personal cellar or store some thongs puerh (Pu Er tea) is something very accessible and bring the amateur satisfaction and pleasure, it requires some attention to not only the conditions of storage but also the choice of what constitute its cellar:what kind of puerh (Pu Er tea) store ? What pancake buy ? How much and more importantly why ?

Behind something in common , store tea , is found in reality different approaches to the cellar, with very different goals and strategies.
To constitute a personal cellar
Pleasure to build a cellar and have a small collection of teas is particularly dear to lovers of puerh (Pu Er tea) tea.

It is foremost to have a well thought out range of puerh (Pu Er tea) teas nature, age, origins and various characters , in which we can draw depending on the situation , the envy of the day to satisfy his own pleasure, mark a special event, or to arrange a free tasting with friends or family.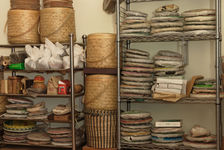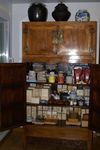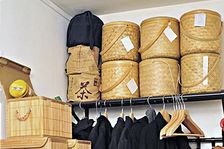 1.Small cellar personal puerh

(Pu Er tea)

in an apartment
2. cellar puerh

(Pu Er tea)

personal amateur in France
3.Cave personal with the high level storage
4. cellar personal puerh

(Pu Er tea)

an amateur in France
5.Pile of puerh

(Pu Er tea)

in a personal cellar
Establish such a cellar is first made ​​possible by the property puerh (Pu Er tea) tea to keep in time. Although theoretically possible, it is difficult to imagine , for example, own and maintain a personal collection of hundreds of green tea or oolong unroasted , these teas are keeping little over a year , making the logistics of purchase and renewal of stock particularly complex and burdensome . Instead puerh (Pu Er tea) tea no problem keeping several decades , it is relatively easy to build over time a personal cellar of a few hundred wafers in which we will pick as needed.

The creation of a personal wine cellar is also favored by the property that the puerh (Pu Er tea) tea to preserve once started . Unlike a bottle of wine should be consumed within 48 hours after opening, a puerh (Pu Er tea) cake started well and repacked to maintain and continue his maturation as if it had never been opened.

So places to wait for a cake to be completed to buy another amateur generally prefer to keep, if only a few dozen cakes of different nature and character in which he will pick a few grams time other, and it may as well enjoy for years, even decades.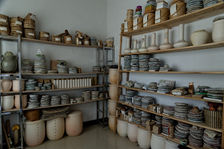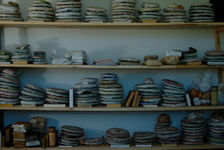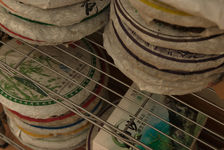 1.Cave personal with the high level storage
2.Shelving a personal cellar
4.Slab puerh

(Pu Er tea)

started in a small personal cellar
In this sense storing puerh (Pu Er tea) in the same quantity, as we will discuss later, although it has many advantages , is not a necessity. A varied and well thought out personal cellar , which is renewed from time to time may well suffice, at least initially , and persist for years.

Personal cellar is also in my opinion a necessary step before storing larger quantities of a given tea. Storage is then enrich and complete his personal cellar, and I would not advise one who discovers the puerh (Pu Er tea) start by storing a given amount of tea before having previously been a cellar varied puerh (Pu Er tea) .

It must be capable of responding to various situations will be made ​​teas different nature and quality. A good cellar include for example :
A variety of raw young puerh (Pu Er tea) year or last year from different terroirs and varieties of trees .

More structural teas 5 to 10 years of age from natural dry storage ( fruit flavors, dry fruits, nuts , tobacco, etc ...).

Teas characters typed by the maturation of 10-20 years of age ( aromas of camphor , etc ...) .

Aged tea from controlled maturation , as traditional storage Hong Kongers ( typical aromas of old and slow fermentation).

Some mature teas over 30 years ( woody aromas , etc. ) .

Artificially fermented teas old ( old flavors , wood , spices , etc. ) and contemporary ( pure aromas of fruit, nuts , etc).

Some great teas for special occasions.

Even if resources permit some ancient teas 50s (red Brand , Blue Brand , etc. ) or previous ( Tong Hao Chang , Ching Tong Hao, etc ...).
Also include a variety of natures and characters , good personal cellar will also include various grades of teas ( teas All safety days , tea tasting , tea exception ...) in order to adapt to different situations. It is indeed not choose the same or close puerh (Pu Er tea) to accompany a rural picnic with friends, in a small final sample some great teas between connoisseurs.

It is thus preferable to build his cellar with teas of different ranges , emphasizing the quality/price ratio for the lower end, where the choice of exceptional teas can follow other logic .

Finally the amateur who built his cellar is often tempted by the more or less exhaustive exploration of land in a given region , production of a given producer , or follow the different vintages of this or that production, and entering approach collector.
collection , a recurring trend of amateur
Although this is not what motivates priori amateur puerh (Pu Er tea) , or object of a cellar tea , it is common that it falls into a logic collector.

There is thus teas that we like to follow , year the new edition the latest vintage is objectively worse than the previous one and that other teas in the same region would redeem in which one year although such may be constituted gustatorily best choices . In the other direction there are teas which we especially enjoyed the recent vintages and you dream to find the edition of a particular year for the store side by side in a corner shelf cellar tea , villages where we have a special attraction and whose teas make us the eye whenever we crossed one, etc ...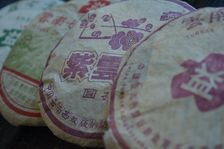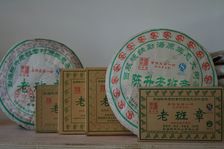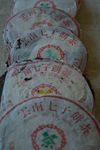 1.Small collection of cakes Yi Da
2.Collection of full range Mengku 2013
3.All vintages of the famous Lao Chen Sheng Hao Banzhang
4.Small collection 7542 CNNP
Some are wary of such tendencies, keep in focus and well design their cellars and taste on a reasoned basis only , while others on the contrary will collection a way to grow and develop their own passion.

More common in Hong Kong , particularly in the field of old teas, the collection is happening even before tasting some fans , becoming the main reason for buying tea. As there are collectors of stamps, coins or painting, there is genuine collectors puerh (Pu Er tea) tea. Origin of tea , state of the wafer and packaging , rarity, market value , the criteria of the collector are quite different from those of the amateur good tea , is a universe in itself, and follow a more market close to the antiques of the tea. This is how the back cover of the book in English "First Step to Puerh Tea " young collector Hong Kongers Chan Kam Pong begins with these words:" puerh (Pu Er tea) is it collectible ? Is it possible to make an investment with ? The answer is yes. "

For behind the collection , the question of the value of tea and increase its rating over the years is also often one of the concerns of the collector , either by simple personal satisfaction of knowing the value of his collection increase or in a truly market approach . So many collectors , especially in Hong Kong , Taiwan and mainland China , see their collection primarily as an investment , and sell from time to time some of their teas at such auctions when their rating to reached a high enough price.

The amateur who seeks to establish a small personal cellar for his own pleasure or the pleasure of sharing some good tea with friends or family, the collector , through the investor who sees in puerh (Pu Er tea) tea a good investment , all share a common problem , that of storage. Which tea store, how much and why?
puerh
(Pu Er tea)

storage quantity, any interest of a particular store tea?

As we already mentioned , the storage of tea in quantity, although it is preferable , pus is not a necessity. Good personal cellar of a few tens of distinct references, well thought and varied, may be all it needs , and with a minimum of capital and attention, accompany the amateur throughout his life.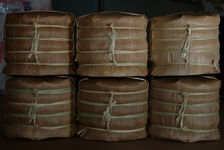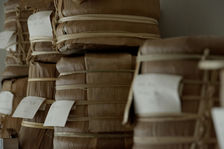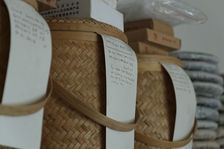 1.Tongs puerh

(Pu Er tea)

on a shelf
2.Jian puerh

(Pu Er tea)

stored for the future
3.Tongs puerh

(Pu Er tea)

in a personal cellar
4. puerh

(Pu Er tea)

cakes stored in bamboo boxes for long term
However, the good tea lover or collector prefer to store larger quantities , by tong ( 7 rolls ) or jian ( 6-12 tong ) some of their teas. This is in fact advantageous in many ways .
Keep teas you love
It is sometimes mistaken in thinking that the issue of storage would be " to age " tea. Or is stored before any tea to keep it. The vast majority of teas generally lose in a few months most of their taste value , and thus it is best to eat them as soon as possible after their production. The peurh teas thus first the particularity of very well keep several decades , making their storage possible . But also as a product of agriculture , they have some instability leading storage meaningless. Climate, metrological conditions are indeed not the same from one year to another , and teas for a given soil will be more or less interesting in a given year .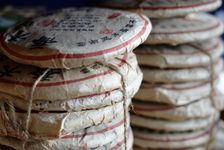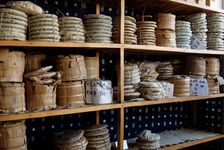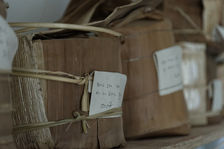 1.Piles of pancakes put aside for the future
2. cellar puerh

(Pu Er tea)

thought to the long-term
3.Cakes stored in ventilated cartons for long-term
4.Piles of pancakes put side for the future
This phenomenon is further accentuated by vintage the human factor. Technique and work sheets can be more or less successful one year to the next , especially for tea smallholders or unassembled.

So when he finds a tea particularly like the amateur has a strong interest to store a stack of pancakes for years to come, because it is not said that he will find the same chemistry in the future . A good practice example for this is to systematically buy its two patties , to initiate and let the other side for years to come, even if for teas that speak particularly generally prefer to put some thongs aside.
See evolve and age its teas
Puerh however does not only keep the property , ie not deteriorate from one year to another, but also to evolve with time. Thus, under the effect of oxidation and the effect of micro organisms present in the leaves, the character of the tea evolves, changes , new flavors mature gradually take place, while the tea loses that characterized his youth.

Particularly rapid in the early years , where you can sometimes see a tea metamorphose into a few months, this progressive maturation of puerh (Pu Er tea) tea will continue to transform the characters and can span several decades.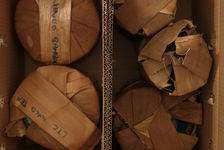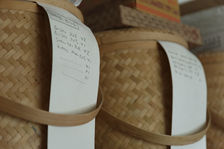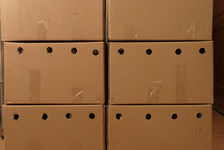 1.Tongs puerh
2.Tong puerh

(Pu Er tea)

set aside for the future
3.Cakes put aside in bamboo baskets for the future
4.Stock staff puerh

(Pu Er tea)

tea ventilated cardboard
This is a particular pleasure to have a cellar puerh (Pu Er tea) to see gradually change its teas and take a new face as the years pass. While keeping their own characters , young teas lose their flowery bouquet youth to acquire keys maturation , a fresh dimension and camphor before gradually sliding towards a more serious face and wooded .

The pleasure of finding and rediscovering tea a few years left on a shelf in his basement and is an incomparable pleasure that buying tea already aged never replace . And tea which was enjoyed in its early years usually always keep it something singular in which his character is reflected , and while continually playing with his own memories , will speak differently over the years. As each of us reflect the passage of time, and while remaining itself become another himself , touching something universal that goes beyond the question of flavorings and which we recognize:time.
Touch through storage and maturation time concept
It is not generally said that a puerh (Pu Er tea) aromas change over the years, as they say , for example, the aromas of a oolong change under the action of heat during roasting, but a puerh (Pu Er tea) they say, as a man , he ages .

Puerh does not suffer the effects of time , time is not an external condition in which the tea is submitted but is an inseparable component of puerh (Pu Er tea) tea. Since its birth on the tree branch it ages with us , and carries him and every time these past years.
Although abstract notion of time and aging necessarily play on the mind and the taster is inseparable from perception and appreciation that we have an old puerh (Pu Er tea) .

Eg drinking tea produced in the year of his birth, or an older home, always produces a particular emotion that gives it a flavor that another vintage tea can claim . The same tea that we have inherited their parents or grandparents, or which was itself bought 20 years ago, then we will be preserved with care and patience and will be shared with you and those 20 years n ' will never have the same flavor that " 20 years of age " freshly bought in a shop in old tea, precisely because he carries these past years on our side .

Men and women who work with time perceive and respect . Producing whiskey for example, or wine, or aged beers, which coexist for years wooden casks and age on their side perceive time nestled in the barrels and the precious liquid they contain.
In the "cellar" of Cantillon Brewery Brussels historical founded in 1900 and still produces beers mature old says " Time does not comply with what is done without him," reminding the visitor that what is see here beyond what one perceives the retina . But often once out of these caves , where whiskey , wine, beer and tea have spent years or decades , time and age to become the consumer than just a number , or worse than a common argument business . And XO (now so dear to Chinese ) or " 20 years of age " written on the bottle or packaging of tea blend with any logo or an empty name as meaning " great wine ", " trees wild millennia "or" pure gu cha shu . "

And store the tea, see old (not to age as we sometimes hear ) can recreate a link between tea and so , share a common time with tea and so perceive beyond the aromas time content between tea leaves.
A greater diversity of tea and rates
Another advantage of weight for the storage of young puerh (Pu Er tea) , though more pragmatic , is the largest and the savings it . Each year comes in effect on the market many new tea cakes , either on the side of small producers who sell their own products , or large leading manufacturers offering the latest vintages of their classic productions, or sometimes limited series rare .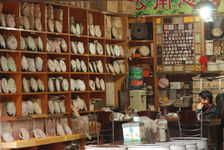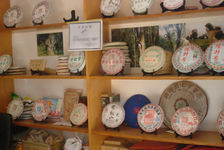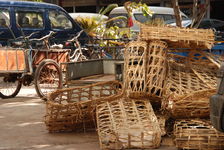 1.Wide variety of teas of the year from a vendor in China
3.Arrival of the highly anticipated production of the year markets
4.Arrival of the highly anticipated production of the year in the markets
The domain teas year is a very rich and offers a choice of amateur incomparable tea. Sold by dealers , some of these teas will find quite a few years later on the shelves of tea houses . But the choice of these will be subject to personal taste but also the procurement strategy dealer ( any tea will sell well ? Which tea will make a good profit ? Etc. ) , making offers old puerh (Pu Er tea) less rich that young puerh (Pu Er tea) .

It is therefore always best to store a reasonable amount a good tea for the coming years , as being 10 years later forced to be confined to limited choice then proposed on the market teas 10 years of age.

Buying young teas can amount to more significant savings . The price of tea first tend to increase every year . Almost negligible for small productions and teas cheap, this increase can be very important for large producers recognized teas or special series and it is not uncommon to buy a few years after tea two or three times more expensive we had originally paid for the year of production.

Added to this is the possibility of buying young tea wholesale at great prices . Many vendors offer indeed teas year tong ( 7 rolls ) or jian (usually from June to December tong ) at better price than the common price to the wafer , and therefore amateur savings buying his tea tong .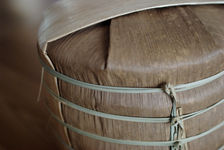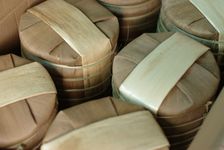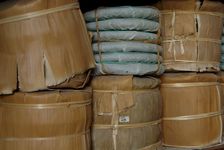 1.Purchase of puerh

(Pu Er tea)

cakes tong 7
2.Traditional bamboo Jian
3. Carton 6 thongs
4.Stock tong in a cellar puerh
Gold buying wholesale is specific youth teas, and has no meaning for older teas. Indeed, the young tea vendor generally prefer to liquidate faster productions of the year to re- store those of the following year and usually provides discount on bulk purchases . Older teas instead take their value from their scarcity and price increases , sometimes rapidly from year to year. Sellers of teas and older tend to limit the number of pieces he agree to put on the market, and take care to keep for years to come.

In addition it is possible to buy some young puerh (Pu Er tea) , especially small producers, bulk, often more competitive than the productions pressed into patties price. Small producers, who possess the vast majority of ancient trees of quality, generally pick the leaves, or buy fresh leaves harvested in the village, then turn them to produce maocha:green puerh (Pu Er tea) bulk . It is this raw material which will be acquired by larger producers to be cleaned , sorted, generally assembled, then be compressed into a disc before being sold .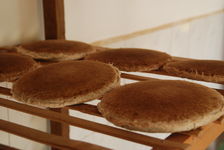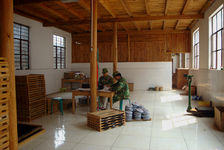 1.Purchase fresh leaves at the farmers
2. maocha Purchase in bulk from the farmers
3.Sale of loose tea market Pu Er
4. puerh

(Pu Er tea)

cakes freshly pressed
5.Packing puerh

(Pu Er tea)

cakes
Work that produces and markets these tea cakes , which usually begins well before harvest (selection of trees, determining criteria for harvest supervision of harvesting and processing leaves, etc. ) require human resources ( sorting leaves, etc. ) , materials ( plant , tools, etc. ) and administrative ( business expenses , taxes , product labeling, communication , etc. ) and these costs thus constitute a significant proportion of the final price of a cake tea. Buying maocha gross , just produced by the farmer can therefore sometimes be an interesting and very economical choice for amateur puerh (Pu Er tea) .

These teas are not usually sold in the quality of productions wafer thin , but can be very good teas every day, even more when the leaves are old trees and land quality . If these maocha bag from the farmer or just sorted , do not generally have the finesse and balance especially good productions pancake , they can be particularly of typed and can thus offer resolutely singular characters , sometimes genuinely charming , for prices that can often reach only 30% of the price of a slab of the same soils.

As seen in the wine or whiskey , many houses , including foreign and prefer to buy just bulk product , then do push their brand , usually without clear indications of the origin of the leaves, instead of the market productions of Chinese producers , allowing them to greatly reduce their purchase price. Although packaged patties , these teas are by their nature more closer to bulk, as galettes developed.
Better control over the authenticity and quality of storage
The storage Young teas for their maturation also allows better control when the authenticity but also the quality of its storage teas. Counterfeiting is indeed a big problem in China , and affects all areas including tea , which is widely counterfeited .

Although young peurh are not protected , and the productions of the year are also counterfeit , especially when it comes to renowned producers , however, it remains easier to ensure the authenticity of a young tea teas older . It is possible in particular by providing directly from producers , through distribution channels and official guarantees, or trusted suppliers involved in the world of tea, to be sure of the authenticity of young puerh (Pu Er tea) we will back in his cellar. It is against much more difficult to ensure the authenticity of tea as soon as it has taken years and will be spent in a few hands , and authentication teas older then requires great mastery of the subject and a real expertise usually beyond the scope of the amateur.
More puerh (Pu Er tea) tea is particularly sensitive to storage conditions, and two authentic cakes and outputs on the same day from the same workshop will sometimes have nothing to do if only a few years later , depending on the conditions in which they are stored summers . The value of an old puerh (Pu Er tea) therefore follows directly from the quality and care taken in storage, and find old puerh (Pu Er tea) well stocked is often more difficult to ensure their authenticity.

But if there are many tea houses pointed out storage puerh (Pu Er tea) tea, many investors now see the puerh (Pu Er tea) a simple investment without having provided the necessary knowledge to ensure proper maturation of these teas , and simply fill in the slightest gust of inadequate storage as if it was a commodity .

If storage puerh (Pu Er tea) tea should not be taken lightly and requires a minimum of attention, it is quite within the reach of the amateur, and allows the latter to fully control and monitor the conditions and the quality of its maturation teas , and so their future quality . Take itself supports the maturation of its teas allows , when done with care, not only have more warranty on the authenticity of its products, but also on the quality of their storage.
To enjoy old quality teas at affordable prices
Tea naturally takes the value with age. If this is negligible in the short term , and it is now quite possible to buy puerh (Pu Er tea) 10 or 20 years of age , increased cost of older puerh (Pu Er tea) can become prohibitive , and puerh (Pu Er tea) over 50 years of age have now become reserved for wealthy amateurs. Now there is a whole wealth in ancient puerh (Pu Er tea) , and for lovers of aged puerh (Pu Er tea) puerh some require at least 50 years , and often much more , to achieve optimal maturation.

Considerable price teas age (usually over 15 000 euros wafer ) naturally encourage amateur old teas today stockpile young people teas, which reach maturity in a few decades expected . Most patients opt for it teas of the year, while others will often have their sights on great teas in the late 90s, considered by many to be superior to the productions of the communist era , and to win 10 years and hope to enjoy the full maturation of these teas earlier.
But the long-term storage is not the sole purpose of accessing very old tea for a reasonable price but also and perhaps especially , access great teas elders, to through which the age and maturity will make sense . It suffices not to be old and mature to be good and the age of the tea makes sense only when accompanied by quality. Just as we do not drink wine table 70 , it is above all the great wines of puerh (Pu Er tea) which is famous teas older , and are still very popular with amateurs.

Or if for example it is still quite easy today to find bulk inferior fifty a year for only a few dollars 100g , large cakes recognized these years, an entirely different quality after production are now much more difficult to obtain , and easily cost more than ten times that price.

Still saw the huge increase in the annual production of tea puerh (Pu Er tea) can rely in the future on large stock of aged puerh (Pu Er tea) and thus a sharp decline in the coming decades old puerh (Pu Er tea) prices (relative to what it costs today).

As well as there is not much for low end whiskey 12 years of age in all supermarkets, we can largely expect to find in a few decades very common puerh (Pu Er tea) products today at relatively affordable prices. It will naturally be quite different for today's greatest teas , which already are taking every year a lot of value , sometimes disproportionately , and that will naturally inaccessible in the future.

Today stockpile quality puerh (Pu Er tea) therefore guarantees the amateur, not only have sufficient very old puerh (Pu Er tea) in the decades to come, but also have real high quality aged puerh (Pu Er tea) , which will then be found on the market , or disproportionately expensive.
Speculation and Investment
Finally seeing some in storage tea a wise investment for speculative purposes . While the price of antique tea or 50s often evolves very quickly , depending on demand and the market, especially due to public auctions , teas past decades simply a relatively stable annual change oscillating in awareness and tea producer between 15% and 50% , and usually beyond 20%.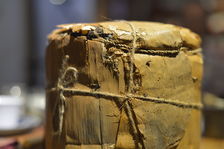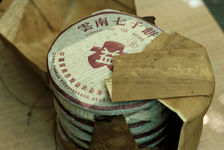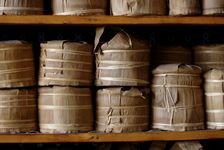 1.Tong Grande Marque Blue today valuable
2.Example of a recent cake whose value grows rapidly
3.Storage for the long term wafer 90s
4.Tong young puerh

(Pu Er tea)

stored for the future
This rapid increase in the value of puerh (Pu Er tea) teas fact, when we know the market and we know identify carriers teas, a particularly interesting and lucrative investment . Many fans and collectors of puerh (Pu Er tea) tea, including Hong Kong and Taiwan , but not only, so store puerh (Pu Er tea) teas amount in view of reselling the desired moment.

This course is primarily the case of people involved in the tea trade , for example having a tea shop or tea room. But not only, and amateurs also choose tea over another investment to put some of their money aside , and resell it wanted the capital to a tea house, or through time via a home of tea then take a straight commission on the sale .

On a smaller scale it is also aware that the collector or enthusiast puerh (Pu Er tea) sell from time to time some cakes or a few tong he has taken care to store in sufficient quantities, and thus benefits from the added value to enrich his own winery by buying in quantity of new productions for years to come or the gem missing from his collection. The occasional sale of teas that would have taken care of Stocket is also a wise way to finance and maintain its own cellar tea.

Whether and to see in his cellar tea an investment, or just a hobby, subject to collection or simply the opportunity to have provided a nice variety of teas to satisfy his pleasure, remains to be seen how tea will grow in value , economic or taste ? , what teas put aside ? , how much? , teas and what to avoid? These critical issues and avoid the amateur taken lightly will be discussed case by case in a future article .

In the meantime do not hesitate to contact me if you want suggestions for tea it is best to store for a simple tasting cellar or for a more extensive storage.