This page is not a
real
translation but just an
automatic translation generated by computer
of the
original article
, written in French language! Its not good... but better than nothing!
Want to help us do diffuse puerh tea culture in english, by providing a better (or corrected) translation?
Please contact us!
@
To be informed by email about new www.puerh.fr article publication, just
click HERE

As every year has been pressed Wang Bing special series:a collection of five cakes of puerh (Pu Er tea) Yi Wu eagerly awaited fans. Wang Bing is a small family producer of the old village of Wu Yi (see full article for the producer).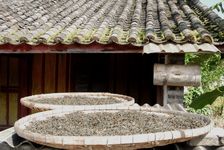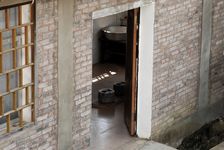 1.Old town of Yi Wu
2.Farm Wang Bing
4.Entry Workshop Wang Bing
5.Pierre for the traditional press in Wang Bing
Like the ancient families of producers who made ​​the famous Yi Wu, Fuyuan as Chang Hao Hao and Song Ping, Wang Bing produced in small quantities of puerh (Pu Er tea) teas quality, made ​​in the former. These teas are from a completely handmade and manicured work, maintain and harvest trees, the traditional press cakes.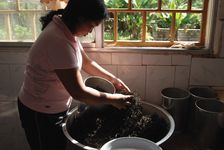 1.Collection of trees in Wang Bing
3.Work sheets in Wang Bing
5.Pressing artisan cakes in Wang Bing
6.Pressing artisanal cakes with Wang Bing
Wang Bing series is the result of this work. Produced in limited with the best leaves the family and special care series is annually through these patties that the reputation of the producer that plays.

Let's see what the latest vintages of these great cakes Yi Wu reserve us and if they are worth the shelf in 2014 to integrate its cellar.
2014 no compromise and the arrival of a new album of note!
Depending on the market and a growing demand for quality teas, the price of puerh (Pu Er tea) is net growth since 2013. If this did little influenced teas low and medium quality (intensive production, terraced crops, shrubs, etc) teas old trees and the vineyards of renowned saw their prices increase sharply, pushing many producers make this year's compromise to keep attractive prox:assembly of different crops, picking late season leaves from younger than in previous years or neighboring land less famous trees, etc..



All cakes are always produced from the first leaves of all selected by Wang Bing spring. Tai Shen , Lao Tai Shen and Gu Shu Cha always come for their share of the same family, ecological and exploited low-yielding plots, each sheet comprising these cakes has gathered and worked summers on the farm by the family.

Now a great novelty for 2014, the "Cang", "reserve" a new high-end wafer Wang Bing, pressed for the first time this year and thought for safekeeping. The upscale Wang Bing was previously Gu Shu Cha her cake produced in very small quantities from a handful of old family trees, from a small patch of forest near the old village of Yi Wu now side by side with this cake is therefore a new tea "reserve", not from a single harvest but a blend of various old trees Yi Wu
Cang Yi Wu 2014, the cake "reserve" Wang Bing
Until then upscale Wang Bing rhymed with slab Gu Shu Cha, from trees of a micro-plot of tea plants located in the forest near the old town of Yi Wu, an exceptional cake from a crop unique and a very precise origin.
It is now accompanied by a new album in the name of "cang" to reserve thinking for immediate consumption but also for long-term care. On a comparable Gu Shu Cha quality, sold at the same price as this one, this tea is not a new upper or lower range compared to the Gu Shu Cha, but reflects a new vision and a new approach to high range.

Because Cang is primarily of a different nature. Like the puerh (Pu Er tea) of past centuries, and the antithesis of the wafer Wang Bing Gu Shu Cha, this tea does not come from a crop and a unique garden but is a blend of different end crops and trees from different gardens Yi Wu Wang Bing does indeed not just squeeze the leaves of family gardens, but also source for years leaves old trees of various renowned villages of Yi Wu (Mahei Lao Shui Dong, etc ...).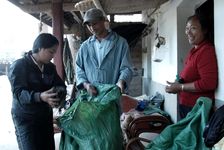 1.Wang Bing and his wife looking maocha
2.Wang Bing and his wife in a small producer Maheizhai
3.Observe the quality of maocha
4.Buy sheet at a farmers Yi Wu
5.Maocha assembled ready to be pressed
Sourced by Wang Bing for different houses teas pointed, these sheets of old tea plants are not usually assembled and end up in high-end cakes to color this or that village. With the rising prices of old trees and vineyards of renowned and parallel fashion for teas unique backgrounds, few people now mix these precious leaves and assembly, yet from a culture can be as old as puerh (Pu Er tea) itself, tends to be limited today to large productions.

Wafer Wang Bing Cang is an example against. Assembly so, but in the noblest sense of the word, this cake produced in limited series contains only high quality leaves, old trees from large gardens Yi Wu, carefully selected for their quality, flavor character but also according to their crops and their potential when maturation. Are therefore involved different crops in 2013, the gardens of several nearby villages, preserved in a jar for a year then pressed handmade by Wang Bing in 2014.

This new wafer assembly Saurat it match the excellence of Gu Shu Cha Wang Bing? The answer for you in the cup.
Chargement du thé...
Yi Wu Wang Bing Gu Shu Cha in 2014
The other high-end Wang Bing in 2014 next to the new album Cang is on the highly anticipated Gu Shu Cha. Like every year this is a limited edition of only a few kilograms, produced exclusively from the raw leaves of old tea plants of the family. If they are located on top of a hill not far from the old town of Yi Wu, in one of the few garden Wu Yi to still be in the forest.
Already reported by Lu Yu revered there are over 1000 years ago, the forest is ideal habitat for tea. In the shade of larger trees, lulled by the morning mist and enriches the natural ecosystem of the forest, this is an ideal context for the development of the tea plant. Or if it has a positive impact on the quality of tea produced, it also goes hand in hand with lower productivity, especially because of the reduced exposure of tea plants.

The majority of producers and long opted for cutting large trees surrounding the tea plants to maximize sunlight and increase productivity, unfortunately at the expense of the quality of tea. Gu Shu Cha Wang Bing comes to share a little piece of old trees built in the forest, like the ancient gardens, which occurs every year in a very small quantity of tea rich.
Chargement du thé...

comparatif
Gu Shu Wang Bing vs 2014. Wang Bing Cang 2014
Interesting comparison of two high-end cakes pressed by Wang Bing this year (2014). While the first, Gu Shu Cha, from a single harvest, of the first spring leaves of old trees in the garden Wang Bing, the second "Cang", "reserve", is a blend of old trees from different villages and Crop Yi Wu, picked in 2013 then aged one year in a jar before being pressed into a disc.
The difference between the two discs is obvious. Gu Shu Cha displays finer leaves, slender, and larger proportions of golden buds, but also a more general green coloration. Besides leaves and buds Cang appear wider and flat, but also have a wider variety of colors, different greens and ochres suspicions. This can be attributed to different things. Note first the use of leaves from separate gardens for Cang, but also and above all different seasons, where Gu Shu Cha is a unique collection of early spring. In this sense the comparison with an antique cake Yi Wu, such as for example not produced Song Ping Hao reveals unequivocal visual similarities with the 2014 Cang Wang Bing.
The scent of wet leaves also shows differences. Gu Shu Cha last few less after production blurts perfumes particularly fresh, bright, flowery and spicy finely. Besides the Cang seems much warmer, thicker, with more flesh and a fruity dimension. This is attributable to differences in the nature and origin of the sheets comprising the cookies is a part, but also to one year has passed since the output sheets Cang, changing period particularly important for young puerh
(Pu Er tea)
quality.
All the palace two have a remarkable attack and a particularly powerful propensity to spread to the palate and the nose. We recover a common characteristic of both teas, which reflects the terroir of Yi Wu and Wang Bing selection.
That said, based on this common basis both puerh
(Pu Er tea)
speak distinctly. Gu Shu Cha offers particularly fresh sensations, aromas of spring herbs, juniper keys, backed by a sharp bitterness that grows deep in the throat. It produces powerful sensations rear pursuing flavorings, make vaporous and perpetuate.
Besides that the Cang immediately shows a considerably warmer and rounded character, with aromas more elaborate fruit, jam, sprinkled with hints of licorice and pepper. The rear sensations, powerful, do not come to support and sustain the flavors in the mouth but do lead to new sensations, distinct and particularly mild.
Again these differences are attributable to differences between the sheets that make up these cakes but also the beginning of maturation Cang, the first year of maturation of puerh
(Pu Er tea)
tea being the scene of particularly profound changes. We retain two high teas that range, with comparable quality and virtuosity, offer two different perspectives on the rich soils of Yi Wu
Yi Wu Wang Bing Shen Tai Lao Cha 2014
Less prestigious and more accessible than Gu Shu Cha (of which only a few kilograms are available each year), the Lao Shen Tai is however a high quality tea, which since 2013 is produced only from a small parcel selected ecological garden Wang Bing family.
If the whole garden has very good conditions, but especially a tree maintains the old and low yielding harvest, the plot from which the Lao Tai Shen differs from the rest of the garden by the age of the trees, a little older than the others, but especially by their size. Like Gu Shu Cha these trees are cut and very few reach nearly 2m high, which makes picking more difficult, but also gives the tea a finesse and taste attributes Gu Shu Cha.

And here is what it looks for the vintage 2014.
Chargement du thé...

comparatif
Lao Tai Shen Wang Bing vs 2014. Lao Tai Shen Bing Wang 2013
Both cakes are homemade and moderate cuts. However, the 2014 vintage seems slightly more compressed. While keeping a good breathing leaves it provides greater resistance to the wafer for a long storage or long term.
Once the color of the infused liquor had a marked darkening vintage display indicating a rapid and profound maturation. The nose is clearly recognized for both teas character that does what puerh, but also the profound changes of the vintage past after only a year of natural dry storage. And the vintage of the year is a typical puerh
(Pu Er tea)
scoop, fresh and floral, with hints of spices and juniper. In comparison to the past vintage is already well worked by maturation, less ornate and more in spices, fruit, dried fruit, and a typical flesh teas few years.
Taste the latest edition of this tee is very fluid, flowers, elegant and radiant. As announced rightly perfume, 2013 is less ornate in the mouth and in the fruit, with hints of pine resin or honey. It clearly shows the great potential of this tea when maturation and the beneficial effect of time on just one year, as well encouraging for the past vintage for the new edition, two teas clearly from the same cloth.
Yi Wu Wang Bing Shen Tai Cha 2014
With the choice in 2013 not to press the Lao Tai Shen with the noblest of ecological garden Wang Bing trees, and higher general price teas Wu Yi, Wang Bing productions, especially Gu Shu Cha and Lao Shen Tai, come naturally in price ranges that affect more the tea lover and the general public.

This is why Shen Tai Cha white packaging was created with the aim to offer a very reasonable price /quality copy money. Packaged in a simple white packaging (the same paper craft Dai than other teas Wang Bing series), stamped with the seal of Wang Bing, this tea sold almost half the price of the Lao Tai Shen visually displays its difference and want to margin of Bing Wang collection. Kind of "cheap" version of the Lao Tai Shen therefore, it is however a high quality tea, from an ecological quality garden and a particularly neat job.
Indeed, if the package wants to display the difference, while the origin of leaves processing or compression is against the fruit of the same care that all Wang Bing productions. The first leaves all of the first harvest of the year, derived exclusively ecological garden Wang Bing family.

It is therefore trees several decades, grown so not only biological (absence of any chemistry) but also ecological (environmental), in a setting where special care is given to the environment and biodiversity. Maintains the same tree, provided by the grandparents of the family, is a continuous and maintains old when picking and size go hand in hand to ensure not only the quality of the crop but also the health of the plant .

Result is a lower yield can be between 30% and 50% lower than a more contemporary approach, and tea naturally rich. Similarly it is not because the price is less than the work sheets must be sloppy, and the leaves of the Cha Wang Tai Shen Bing are just like those of Gu Shu Cha or Lao Shen Tai, worked and handpicked by grandparents, then pressed and handmade home by Wang Bing.
Chargement du thé...

comparatif
Shen Tai Cha Wang Bing vs 2014. Shen Tai Wang Bing Cha 2013
The two wafers are visually similar. The editions in 2014, from the very first leaves of spring, however, appears a bit more buds facing the wafer from the previous year. We also note, as with all productions Wang Bing in 2014, a slightly firmer compression to ensure a good performance over the long term.
Approaching his nose cakes, tea last year lets out a more intense flavor, pleasantly spicy. Once infused leaves they produce a scent that first mark a common good nature of these two teas, the character of this ecological garden Wang Bing as found year after year in the productions coming out. Then the beginning notes in the bouquet of vintage past matured wealth, naturally absent from the new production, which makes it a little poorer and less complex next to its predecessor.
On the palate, which forge the difference between these two teas is well felt. The 2014 appears as much fresh and spring, with delicate and floral touches. Besides that the vintage past shows something more dense, complex and spicy. Aged one year only in 2013 Shen Tai is already largely marked by secondary aromas of maturation, which are emerging as a wealth in the throat where there are suspicions of honey and soft caramel in the nose where grows more spicy dimension.
Besides that the new vintage seems at first a little shy. But mostly it is expressed in another way, with a much cooler character spring, flowers and bright. Appears and good potential for maturation of these productions, which do not necessarily great year of their productions, but much to be gained consumed after at least 1 or 2 years of custody.
This reflects through this quality garden and trees from which these teas, and the potential for maturation of trees, not necessarily very old but maintained and operated in an environmentally responsible manner with a low yield.
Yi Wu Wang Zi Bing Cha Yo 2014
Another classic Wang Bing, the wafer Zi Cha Yo, composed of violet leaf tea plantations, sought amateurs, for their rich taste, their good potential for maturation leaves and health benefits (see Juan Zi, Zi Cha, Ya Zi, purple violet teas and tea ).

Noticed in recent years, teas tea plants purple are becoming increasingly popular. These tea plants, fruits of a natural mutation of the Camellia Sinensis is quite rare, exclusively composed of identical violet tea plants obtained by cuttings gardens emerge here and there.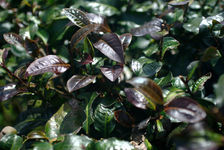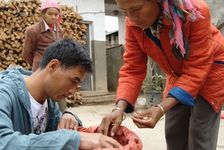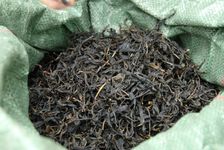 1. purple tea leaf on a tree in Yi Wu
2.Wang Bing in search of violet leaves in a small farmers Yi Wu
4.Maocha purple
Las purple cakes Wang Bing do not come from such gardens, but are the result of a blend of natural tea bushes violet different gardens Yi Wu For these sheets Wang Bing made ​​at the beginning of each spring around day after day many families return each time only a few hundred grams, or a few kilograms of tea to produce this cake.

Mature trees (which however remains young trees), their variety and selection, given annually to the wafer quality and outstanding balance, whether in the year of production or after a few years of maturation. Let's see if the new edtion is up to the previous ones.
Chargement du thé...

comparatif
Wang Zi Bing Cha Yo vs 2014. Wang Zi Bing Cha Yo 2013
Visually patties are close. As is the case with other teas Wang Zi Bing Cha 2014 Yo appears, however slightly more compressed than the last. This still remains a very reasonable manual compression and leaves very easily loosened.
Once infused the 2013 edition shows a noticeably darker liquor, the result of a year of particularly rapid maturation (typical teas purple). Perfumes produced by wet leaves appear very different characters. If we can easily recognize the common basis of these two teas, the latest vintage shines flavor vegetables, especially with a spicy bouquet and bright, and that the past seems much heavier vintage, round, and focused on the fruit.
Taste nuances are less pronounced. The latest vintage is also more focused on the palate the fruit, pine resin or honey, it approximates the flavor character of its predecessor. Both articulate a common, typical character of this tea cake purple Wang Bing since its first edition:something generous, thick and develops a rich aroma.
Yo Zi Cha 2014 is already very dense and mature for a tea of the year, the difference with its predecessor is less pronounced than for other raw puerh
(Pu Er tea)
Wang Bing, but is still well feel particularly if you push a little infusions. The vintage year it appears more clearly worked, complex, and displays good chemistry between primary flavors and aromas of fermentation, and that the new year seems to begin only to build.
Note, however, the excellent balance displayed by the tea whatever their level of maturation. A tea while rapidly evolving and gradually changing character remains perfectly balanced and harmonious, and that is appreciated as well as its production, after a year as in the case of the 2013 edition, or after a few years as the well shows the older vintages, 2008 or 2009 for example.
Obviously this new edition is the perfect line of previous years, with perhaps even this year a little more soft and deep at its output. A delectable tea in its first month, with a surprisingly mature character for tea just harvested, but also a tea rapid change, particularly balanced and harmonious.
Yi Wu Bing Wang Zi Juan in 2014
I would end this little tour of Wang Bing in 2014 by another purple tea, although different, Zi Juan Wang Bing, from the own garden Zi Juan from this producer. A little margin therefore, first of all because this tea is available in bulk and not in a hurry, but mainly because it comes from a cultivar with purple tea quite atypical, the Zi Juan .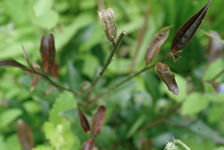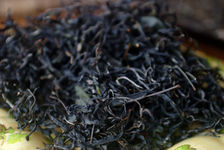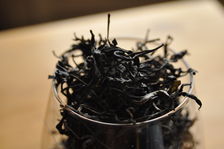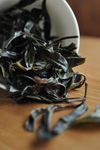 1.branch Zi Juan
2.All first harvest Zi Juan Wang Bing, 2009
3. Maocha Bing Wang Zi Juan Sebastian Vacuithé Copyright
4.Maocha Zi Juan Wang Bing infused Copyright Sébastien Vacuithé
Violet leaves are the result of a rare mutation of the tea plant, as can be seen through the wafer Yo Cha Zi Wang Bing, different summers doing research in Yunnan since the 50s to isolate a true cultivar purple. This was done in 1985 Menghai area where an amazing tree with buds, leaves but branches showed a violet coloring, Zi Juan (purple thanks) was born they found. This unique tree was then cloned and reproduced before the first seeds wert marketed in the early 2000s.

Wang Bing is one of the producers who took paris to experience this new cultivar of Yunnan, and planted a small garden Zi Juan in 2006. Behold therefore you the latest crop of young purple garden.
Chargement du thé...
Conclusion, that retain Wang Bing 2014?
2014 was a good year for Wang Bing, with the whole teas at or higher than previous years. THE wafer 2014 is of course the new Cang , pressed for the first time this year and thought for maturation. This tea is both a new premium collection in Wang Bing also introduced for the first time a collection of old trees in the catalog of this producer. In the cup this new album is the expectations that we could have! Presented as a pancake "reserve" thought for the long-term maturation, this is undoubtedly a tea that has a great potential for maturation and storage inspires. But, and this is perhaps the biggest surprise of the year, it is also an exceptional tea consumption en primeur, in the months following its production! A tea for it has a richness, complexity and remarkable balance, making it one of the largest amble tea 2014!

Less surprise but no less quality for the "classic" Wang Bing. First places Gu Shu Cha of the highest caliber. For other high-end Wang Bing, vintage 2014 puerh (Pu Er tea) this end is in perfect line with previous years, and the Cang such excels both in the tea category this year, as in the teas care . Some regret the significantly higher price this year than last year, others will notice the contrary with the rising prices of old trees may soon it will be impossible to pay the teas from trees and soils of this quality and that it is now or never to acquire them.

Very good Lao Shen Tai also this year. Remarkably quality can be excelled against a little less like puerh (Pu Er tea) premiere, where she will be surpassed by other young puerh (Pu Er tea) more expressive, but is a quality grade of tea to consume after a guard of one year, or on to age in the medium or long term.

The last Shen Tai Cha version of the economic Lao Shen Tai is also up to the previous vintages. Like it is characterized by a good price /quality ratio and while being very accessible can taste the excellent ecological garden Wang Bing. Apart from an attack a little shy, and start tasting that was not the brilliance of the Lao Tai Shen or Gu Shu Cha, we are faced with something very good and balanced, especially in this age of prices, but also a good potential for maturation, less common for entry-level teas.

Very good news to end the Zi Cha Yo , this particularly rich year ahead. While maintaining the typical character of this purple tea, vintage 2014 bright, either the nose or the palate, and as Cang and Gu Shu Cha also excels in the role of puerh (Pu Er tea) tea scoop that care.

We therefore retain a very good series in 2014, with for immediate consumption without a special heart for Cang , Gu Shu Cha and Zi Cha Yo . Amateur research teas to be aged in his cellar for its part will be spoiled for choice. If his means allow him some cakes Cang or Gu Shu Cha is naturally a preferred choice to mark the year 2014. More affordable Lao Shen Tai or Zi Cha Yo are also very good choice to leave to mature. Finally Shen Tai Cha white packaging, despite its lower price is not without potential when the maturation and is a good choice for a budget or a beginner wanting to build a basement or experiment custody puerh.