This page is not a
real
translation but just an
automatic translation generated by computer
of the
original article
, written in French language! Its not good... but better than nothing!
Want to help us do diffuse puerh tea culture in english, by providing a better (or corrected) translation?
Please contact us!
@
To be informed by email about new www.puerh.fr article publication, just
click HERE

Mengku Rong Shi is a big name in the world of puerh (Pu Er tea) tea. Originally built in 1974 as the era of great producers state , the factory was bought in 1999 by Rong Shi and continues to produce puerh (Pu Er tea) raw and fermented . Specializing in teas Valley Mengku in the region Shuangjiang this producer also produces other teas now Lincang from De Yong where a new factory was built .
Mengku Rong Shi is remarkable at different levels, including the purchase and work daily fresh virtually all villages Mengku , but also , and despite its size leaves, favoring manual work , work sheets compression cakes .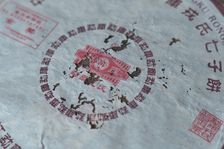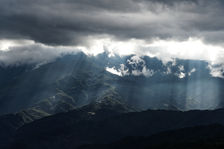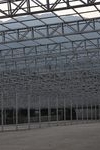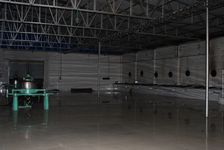 1.Old brick Mengku Rong Shi
2.Valley Mengku
3.Huge space covered drying plant Mengku Rong Shi
4.handicraft and mechanical work in the factory Mengku Rong Shi
The Mengku range , exclusively composed of exclusive blends, is quite stable and many products are re- pressed from year to year , sometimes accompanied by some special series. It spreads in different quality, cheap teas designed for immediate and daily consumption for exceptional teas, released in limited edition. This year marks however for some change , and it is possible that we go to a gradually expanding the range and increase the number of special non-catalog series , even here rare and sought after by enthusiasts and collectors.
So let's review the main productions of the year.
Tea Area Mengku
Teas region Mengku are the specialty of this is the largest producer and most of its catalog. The first tea we tasted is presented as an " early spring " and therefore come from the first harvest of the year. If this is the name under which this cake is made, it is also and above the entry level of the producer, and is a particularly cheap tea. Faithful to the logic of the producer so it's a cake 400g, the most prestigious teas and/or designed for the maturation being pressed in 500g or 1kg big cake .
Chargement du thé...
A classic catalog Mengku , Mu Shu Cha was again pressed this year, including the name and design of this famous cake. Originally produced in 2005 (1st Ediiton ) then produced again in 2006 ( 2nd edition), it is the tea that made ​​him famous terroir Bing Dao in northern Mengku (Today the most expensive land in Yunnan ) . If Mengku Rong Shi has since continued to press cakes to name the tea yet a greater connection with the great wines that edition 2005 and 2006 were , and more from local Bing Dao ( which end today rare and very expensive collector series). On the contrary, Mu Shu Cha are now quite popular productions located between the entry level and mid-range producer. Note also that this new edition is not labeled organic , where the previous edition was good ( wrongly ?) . If in fact Mengku Rong Shi as one of the first producer puerh (Pu Er tea) to worry about the issue , and has its own garden including BIO , the very large teas Mengku multiture come from a small family producers from different villages in the region which Mengku Rong Shi bought daily sheets , making the labeling of the product difficult or impossible .
Chargement du thé...
Other mid-range to high-end trend became a classic, Da Qing Ye Bing, pressed cake 500g . Came at a very reasonable price this is a tea that has real quality and contained no doubt this year among the most successful producer !
Chargement du thé...
Another great classic Mengku Rong Shi since 2005, the Da Xue Shan Ye Sheng Cha, produced from wild tea Da Xue Shan . This tea wild tea is especially remarkable for the low concentration of bud, and the presence of older leaves which gives it a strong and unique character , and a very good potential for maturation .
Chargement du thé...
The Hun Cha finally has for several years up to the standard range of Mengku Shi Rong . This is a high quality tea based on an assembly which produces a rich and full liquor and whose first vintages showed very good early maturation.
Chargement du thé...
Upscale Mengku special series
Besides the usual range of Mengku Rong Shi , usually pressed 300g , 400g or 500g for teas more upscale , is annually produces different teas or uncatalogued most prestigious in different formats, often pressed in a limited edition . With limited where these teas are produced quantity, these limited editions are naturally the area where a producer size Mengku Rong Shi can really express themselves and experiment in the field of high-end , which is of course impossible on a big production. Some of these teas are reproduced each year, including various cakes 1kg collector who formed a kind of high -end catalog producers, while the others are ad hoc or special commemorative series. Among these high-end "classic" now reproduced year after year it there's the Pin Yi Quan, a high -end cake , pressed and sold in 1kg size box for a long guard ...
Chargement du thé...
Now see that this tea , significantly more expensive than regular series Mengku Rong Shi, gives at a tasting face parallel to a Hun Cha 2013

comparatif
Pin Yi Quan vs 2013 . Hun Cha 2013
Comparison of two patties suppérieures In Mengku Rong Shi Hun Cha which is the highest standard range wafer, and Quan Yi Pin , special cake 1kg produced each year and somehow represents the high end of the brand.
Nose first two teas have a comparable intensity. Pin Yi Quan however appears more pronfonde , more penetrating , and seems to have a Emple qi
deeper. The liqueures are close , although here too the Pin Yi Quan exceeds his opponent by posting a clear and bright liquor.
On the palate we find something good to the character , but if by confining the flavors we are close enough, these two teas recede when the sensations in the mouth, with a much deeper Pin Yi Quan , thin and fluid.
Although both excellent taken independently , the comparison gives the impression that the Hun Cha is confined to the palace, where or exceeds Quan Yi Pin flavors to touch up the body and mind. The latter also appears much more soft, silky , or there Hun Cha seems dry and straightforward.
Although that can be found clear similarities between these two teas, whose recipes revolve around a common character, the superiority of the Quan Yi Pin Cha Hun is no doubt, and a parallel tasting of these two teas gives almost like two separate quality drinking the same tea.
Besides this upper range Mengku that the previous wafer belongs, is also produced annually teas off series , including presented at fairs and competitions and highly sought amateurs. As is the case in other areas that tea the success of some of these rare special series then push the producer to happen again next year to see them into the catalog. Among these non-standard teas, one who is most noted this year and is one of the most sought Mengku Rong Shi 2013 is a brick strangely Nomee "100% Excellent tea," but everyone calls simply " 100 % ". Although two versions were produced , raw and fermented , fermented version has not been much talk of it. Gross edited by cons , is made of a green puerh (Pu Er tea) very upscale , a finesse and exceptional quality , and them a great success upon its release. She notably won the gold medal for the best raw puerh (Pu Er tea) contest Yun Cha Bei 2013 which further contributed to its recognition and is empty now found on the market , becoming undeniably THE tea Mengku 2013, which will be remembered and on the shelves of collectors.
Chargement du thé...
As well as having to do with tea exception that has distinguished itself handily in a renowned competition , but also a purity and a burst of flavor that can not think Bing Dao, see how this 100 % s ' fate in the face maocha autumn unassembled , produced this year by a small producer Bing Dao , the most deems terroir Mengku whose prices are soaring and defy reason.

comparatif
Mengku Rong Shi hundred percent vs . Bing Dao Hua Gu Cha 2013
Both particularly blades and clear , spirits of these two teas approach . The Maocha Bing Dao , however, goes a little further on the path of incolorité and seems even clearer.
Fragrance , although each tea asserts its own character we find immediately a family resemblance , although shared by these two puerh
(Pu Er tea)
. If these two teas displayed both purity and finesse of the highest caliber , their tasting parallel highlights what separates or distinguishes . The appearance of the assembled 100% jumps including eyes a much more balanced tea, rich multiple. Contradicting the maocha Bing Dao is cut with a scalpel , goes much further in the purity and uniqueness of his character, but necessarily have poorer balance and less extensive.
After a few infusions differences are less present , comparing these two teas in a family resemblance . We retain two great teas , distinguished less by their quality by their nature, on the one hand a tea from a fine assembly , and secondly tea from a single high-quality garden .
Last special cake Mengku Rong Shi dated , due out in the days or weeks to come:Ming Shui . This cake seems to be part of a new series of teas, worked to design , three slabs box to also mark the end of the year ( Chinese ) . But , according to the Nei Piao this gall , it also would enter into a new "series" of Gu Hua Cha . Because what characterizes this tea is to be a Gu Hua Cha, ie an autumn tea. Abandoned by many , fashion is more spring teas , teas autumn are not as we think sometimes lower versions teas spring, but have a good wealth of their own , including smoothness and wealth scented very special .
Chargement du thé...
Such a return of Gu Hua Cha Mengku pressed cake is always thinking of his predecessor, the Hua Gu Cha 2006 remarkable and not only for its quality but also by its particularly rapid and profound maturation. The desire of a parallel test is hard to remember , and behind an issue that amateur Gu Hua Cha can not help but ask:This will Shui Ming Does the new " Gu Hua Cha "?
comparatif
Shui Ming vs 2013 . Gu Hua 2006
The nose, Hua Gu Cha 2006, not only aged 8 years but also marked by a particularly rapid maturation , expressed of course in the foreground with flavors of maturity and good freshness camphor naturally denote perfumes Youth Shui Ming the year . However, although we detect something in common in the background.
This confirms that the palace. If the 2006 vintage is obviously deeply sculpted by maturation, these teas well share a common characteristic. There are particular trace in the Ming Shui 2013 this alchemy that tends towards the wooded without really being who excels in the 2006 vintage but this fruity dimension which tends to confit .
Without being able to predict with certainty that this Shui Ming 2013 is based or inspired by Gu Hua Cha 2006, these two share many common teas taste characteristics and enthusiasts Hua Gu Cha 2006 may well hope that this new album is Mengku its downward . Remains whether this new tea will also marked the rapid maturation and that made the character of Gu Hua Cha 2006. And for that it is true that the lack of strength of the Ming Shui on infusions attracts attention and does not give a blind trust in the maturation of the new autumn cake ...
Mu Ye Chun, the Mengku area Yong De
If Mengku is the historical region of this producer, and remains by far the largest scope, Mengku Rong Shi also produced in recent years teas Yong De area where it has its own factory, sold under the brand Mu Ye Chun.
Begin our exploration vintages 2013 these teas Yong From the entry level , which , as is the case of the entry-level area is Mengku tea early spring .
Chargement du thé...
Then comes a tea called " Da Ye Cha " large leaf tea , with reference to varieties of tea plants called "big leaf" originally puerh (Pu Er tea) teas , but also in opposition to " Gu Shu Cha " ( old trees ) , which corresponds to the upper range we then goutterons . Once again these names have little meaning, and it is especially seen in the Mu Ye Chun patties 2013 two quality , lower tea named " Da Ye Cha " (probably not to write Tai Di Cha ) , and higher tea named Gu Shu Cha (although trees are De Yong generally not very old .
Chargement du thé...
Let's move to the upper end of the Mu Ye Chun collection , with a tea called " Gu Shu Cha ," which would come from ancient trees , or at least older than those from the previous cake.
Chargement du thé...
Conclusion?
What finally retain productions Mengku Rong Shi 2013 and what teas buy or store ?
As usual Mengku Rong Shi us this year produced a fairly wide range of tea very cheap exceptional tea. Overall entries range area Mengku as Chun Jian without making miracle not doing bad for the price . The palm in the range of low to medium price is however far this year Da Qing Ye Bing for a really cheap price presents a real wealth and real quality , giving the tea a quality/price excellent .
In the range suppérieure Hun Cha is once again a success and remains a reference catalog Mengku . Similarly Quan Yi Pin , which in recent years is a little office spearheaded the producer to the consumer , is a success again, with a 2013 vintage a richness, subtlety and remarkable depth !
Tea out in the collection, we note 100% , which saw in its success may well be reissued , and that is clearly a high tea stolen, and is a good demonstration of what is possible with technical mastery and , to a land like Mengku valley.
The year also saw the return of Gu Hua Cha , teas autumn, cake , clearly announcing the future creation of a true range Gu Hua Cha , which can only delight fans of this famous cake of 2006. If the project is full of promise the first wafer output to date , however, is still expensive and not very enduring , to be continued ...
Productions are finally Yong From the disappointment of this series of cake. If the bottom line is the boundary of the oral , Gu Shu Cha has some advantages on its side , but barely still in really charming amateur . Throughout the Mengku Mu Ye Chun Yong From 2013 is quite mundane and unattractive , and amateur teas Yong De undoubtedly prefer to turn to other producers in the region as Lan Ting Chun