This page is not a
real
translation but just an
automatic translation generated by computer
of the
original article
, written in French language! Its not good... but better than nothing!
Want to help us do diffuse puerh tea culture in english, by providing a better (or corrected) translation?
Please contact us!
@
To be informed by email about new www.puerh.fr article publication, just
click HERE

Spring ends in Yunnan. Although the tea market a growing number of vendors are rushing to squeeze a maocha just harvested to sell raw patties labeled 2015, it will take a few weeks to several months to see the first real vintages of 2015 renowned producers, for whom maocha once harvested, the work is only beginning to develop and produce large puerh (Pu Er tea) teas.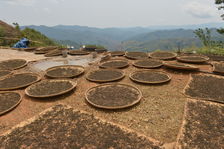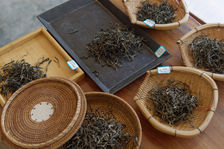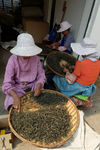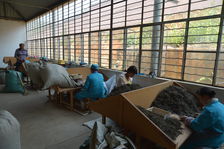 1.Maocha drying in the sun in Phongsaly
2.maocha Samples of different gardens Wu Yi
3.Sort yellow leaves Mengku
4.Tri late leaves in a plant Yong De
Thus for the amateur or consumer, things have not really started and we are content to wait for the first wafers, feedback, news and a myriad of small gossip coming from the producing areas in order to imagine that will leave the trace in 2015 in our cup.

In villages it is quite another thing, and spring is the time for farmers or all happens in just weeks. The most important crop and the most expensive of the year, spring is the time when farmers sell most of their leaves, either fresh in some areas, either as "Maocha" literally coarse tea or tea "gross "hardly transformed by the farmers.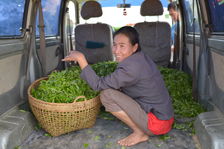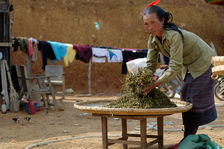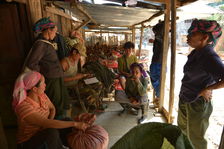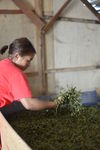 1.Purchase of fresh leaves just harvested Phongsaly
2.Work leaf in a farmers
3.maocha Purchase in a village in Phongsaly
4.Leaf Processing in a workshop
As is the case with many tea (Wulong teas and rocks, Japanese green tea, etc.), the maocha is not a finished product for the public, but an intermediate product, sold roughly between professional, in order to be refined, assembled, sometimes left to mature, then pressed. This is why you will never find in China maocha, or bulk raw puerh (Pu Er tea) in stalls countertops tea or tea houses of cards.

A trend that has blossomed in recent years, making up for the tea houses to move away from established producers in Yunnan to go directly in the villages, maocha just buy a product then press to do so regardless of their name, which apart from the misleading form of the cake comes nothing short commercialize gross maocha.

If for custody of puerh (Pu Er tea) I'd recommend without reservation true assembled wafers, which reflect a genuine knowledge and an awareness of maturation, maocha, closer to the tree, is against the preferred form for me to appreciate the puerh (Pu Er tea) teas premiere, ie in months of their production. For the professional the maocha is also essential because it is the material on which he will work to design their cakes, and from which it will base its assessment of the potential of ripening tea.
To share with you this crucial period of the making of puerh (Pu Er tea) teas, and this other side of the mirror of our dear glettes, here are some very good returns maocha of the year from different regions of Yunnan. Having the taste as every year several hundred maocha from across Yunnan, where it must be said only a very small proportion with a genuine interest, I saved you a full test of the type "100 Best maocha Yunnan" , which would have been very long to realize and probably would not have much interest them.

In places that I therefore propose to dissect large maocha 5, among the best spring tea I have tasted this year, and from a variety of backgrounds:A maocha end of old tree forest plot < b> Yi Wu (Mengla Xishuangbanna) produced by Wang Bing a maocha old trees Bulang Shan (Menghai, Xishuangbanna) so from the other end of Xishuangbanna, a maocha from a selection of very old trees Ailao Shan (Pu'er) selected and recommended by Luo Hou You a maocha old trees the height of the valley of Nanmei (Lincang), and finally a maocha old trees Phongsaly ... in Laos!

We will initially these teas 5 review with a short presentation of each tea and their contexts, and detailed tasting notes. Finally we will experience how these teas are located from each other:How nature and with different origins are revealed when these teas puts them side by side?
Five great maocha 2015
Yi Wu Shu Wang Bing Gu Cha 2015
We begin this small review by the maocha an excellent tea puerh (Pu Er tea) Wu Yi, of which I have already presented previous vintages (2014, 2013):The Gu Cha Shu Wang Bing.

This is firstly a tea Yi Wu, one of the most famous region of the universe of puerh (Pu Er tea) teas, on the edge of Laos, in Mengla County, in the far east of Xishuangbanna. Cradle of culture that is the puerh (Pu Er tea) Wu Yi that were the first major tea producers puerh (Pu Er tea) from the 1700s and where products were the largest in history puerh.
Back on the front stage by Taiwanese in the 90s is also Wu Yi that returned the tradition of artisan pressing of puerh (Pu Er tea) tea cakes and wafers production "on the farm". Following the development of Yi Wu, and the establishment of new tea gardens, there are very few old trees around the village of Yi Wu (which comes this maocha), and the most sought after villages are today éloingés more villages as Mahei, Shui Lao Dong, or Wanggong Guafengzhai.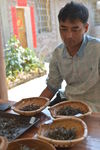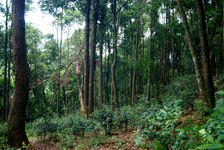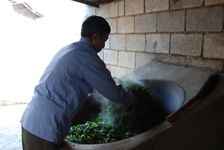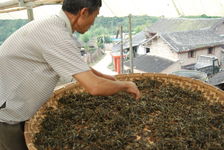 1.Wang bing 2015
2.Ecological Plot Wang Bing in the forest
3.Leaf Processing in Wang Bing
4.Séchange of maocha in Wang Bing
It was produced by maocha Wang Bing, a small family winery of the village of Wu Yi I have for years and who did an outstanding job, entirely artisanal and respect of nature and tradition. This is a very limited production of only a few kilograms that comes from the noblest trees trees Wang Bing family:a very small patch of old trees in an old garden and protected in the forest old Wu Yi Village. To produce tea tree height, they are trimmed with old, and are plucked with low yields. The leaves are property they worked with great care, farm and entirely handcrafted.
Chargement du thé...
Maocha old trees Ban Komaen, Phongsaly, Laos in 2015
The second maocha comes from a similar altitude terroir and not far from those of Wu Yi. Born into a garden 50 km south east of the village of Yi Wu (and only thirty kilometers Wu Yi villages further out as Guafengzhai), this tea has nevertheless pushed out of administrative borders of Yunnan, and even out of China in the region Phongsaly in Laos. Handing widely questioned the Chinese definition of puerh (Pu Er tea) tea, which attempts to strictly bind this family in Yunnan tea, teas Laos old trees growing concern the world of puerh (Pu Er tea) from a small dozen years, especially for the quality of soils and trees that offers Laos.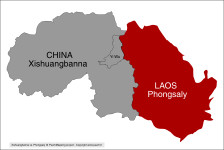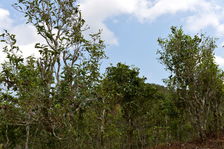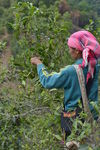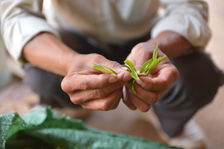 1.Pongsaly position
2.Old trees in Phongsaly
3.Collection of old trees in Phongsaly
4.Leaf fresh Phongsaly
Although the land and the trees of the region Phongsaly undeniably have great potential, the teas produced in Laos are however generally not up. The main reason is the lack of technical and rigor in the processing of the leaves. However, the situation tends to change with the market open by China, where puerh (Pu Er tea) Laotians are sold at high prices as puerh (Pu Er tea) old trees of Yunnan, which requires to be credible a certain quality of work. Although the majority of puerh (Pu Er tea) products in Laos remain unrefined, some workshops old now produce high-quality trees puerh (Pu Er tea) for Chinese market.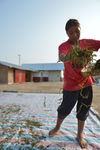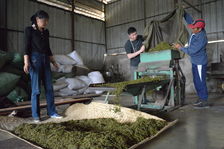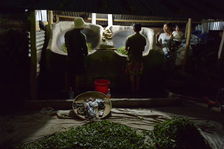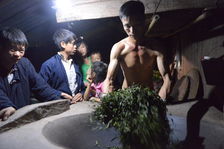 1.neat work sheets in Laos
2. industrial work sheets in a factory Phongsaly
3.Handcrafted leafy Phogsaly
This maocha, especially late, is by far the best tea I brought an exploration of different terroirs Phongsaly. It comes from a beautiful garden with old trees, aged about 400 years, the village of Ban Komaen. More than ronnomé Ban Komaen and potential of trees in this village, making the quality of these sheets is an exemplary processing of fresh sheet maocha, in a small workshop that Phongsaly producing work of outstanding quality . Formed in a factory in China, Ms. A Se, who is making his account it there's little time and set up this workshop produced a particularly neat work, where the rigor of an industrial approach and the quality of a handcrafted small-scale find themselves perfectly in the cup.
Chargement du thé...
Nanmei old trees in 2015
For the next tea back in Yunnan, but this time in Lincang, another large region producing puerh (Pu Er tea) teas, with tea Nanmei the valley. Nestled in the north of Mengku, a few kilometers from the famous village of Bing Dao, Nanmei the valley is a rich terroir of altitude, where it found many old trees quality.
As in many remote areas, the quality of gardens and trees against going by hand with a lack of technique when the work leaves. If the local ethnic group (Lahu) was fairly well preserved Chinese development and methods "modern" plantation and tea production, which allowed them to maintain beautiful gardens of old tea bushes, the inhabitants of Nanmei also remained outside of the refinement of leaf work techniques necessary for the production of superior maocha.

This tea is the result of 3 years of patient work with various small producers of Nanmei in order to produce superior maocha that would pay tribute to the excellent terroir of Nanmei and richness of its trees. The leaves from a garden carefully selected for the quality of tea he makes, were purchased fresh from their collection, then worked with great rigor by a villager trained and qualified in the processing of the leaves.
Chargement du thé...
Bulang old trees in 2015
Back in Xishuangbanna, but this time to the west or to the opposite extreme of Wu Yi, in the Bulang Mountains. Known to all for the village of Lao Banzhang, one of the most famous of Yunnan, the Bulang Mountains, vast and rich in ancient trees, produce many puerh (Pu Er tea) tea quality.
This maocha was selected and shaped by a producer friends Bulang Shan, who annually produced in limited quantities for a series of maocha from fresh leaves that source in different villages of Bulang Shan, then it transforms so craft.
[TEA 2665:Old trees Bulang Shan:open]
Puerh, Luo Hou You select very old trees in 2015
The last of this series is maocha tea Pu'er third largest tea producing region with puerh (Pu Er tea) Lincang and Xishuangbanna. He was selected and refined by Luo Hou You small producer enthusiast Zhenyuan I for years and which I have spoken several times. This is a special maocha, from a selection of very old trees, Luo Hou You submitted to me for this comparison test.
Knowing the tastes and nonconformity of the producer, one should not expect anything conventional. Seeing in this comparison a kind competition, Luo Hou You took advantage of the out-sider, proposing a tea out standard, which does not attempt to match the other on common ground, but to take us elsewhere, and that playing on the singular character can develop very old trees.
Chargement du thé...
Parallel tasting
To avoid any influence, parallel tasting of these teas have summers made blind, three times and by different tasters, whose opinions were then coupled summers.
Sniffing the dry leaves thrown into a hot, humid Gaiwan we already noted major differences among these various maocha spring. From the outset the maocha Phongsaly and Nanmei express themselves with more intensity. The Phongsaly develops spicy aromas of great depth and a higher power to others. The maocha of Nanmei am also there with little beautiful scents of spices. Both maocha Yi Wu and Pu'er, although deep and very subtle appear less intense, slightly behind. The maocha of Bulang Shan finally ceremonial clearly behind, with much less presence.

After briefly infused leaves left on the perfume cover Gaiwan said differences of these four teas. As suggested the dry leaves, Phongsaly and Nanmei both maocha largely take over, with both a depth and a remarkable intensity. The Phongsaly has by far the most impressive nose tasted five teas, with a depth that penetrates the senses, and a rich, complex and bright.

Note also more fruity aromas and slightly zesty keys that much different from other teas. Close in terms of intensity, the tea Nanmei particularly warm, round and deep has a slightly structured and masculine character that Wu Yi tea and Phongsaly, but also very slightly "draft", so a little behind in level of finesse and elegance.

Significantly lighter, Wu Yi tea appears at the intensity a little behind compared to Phongsaly and Nanmei but comparable at the aromatic richness, again with something particularly complex, sharp and deep.

What marks in prime locations with Pu'er tea is its difference, a very cool character, green, with a nose that can almost do sometimes think of a green oolong, but also are typical lemony touches of wild puerh. This is fine, hot, spicy, slightly lighter and shallower as Wi Wu /Phongsaly /Nanmei trio while remaining remarkable.

The maocha of Bulang Shan and finally nice, fine, subtle but still remains too discreet to the weight next to its competitors. We find him a more masculine, manly side, which can be a good advert framework but also a side "draft", far less elegant than other teas of this test.
As if often the tasting will reveal in detail the character of each tea and therefore go further, and this will ultimately no surprise in the continuity of what had announced that the first fragrance of the leaves.

At the palate, it is again the tea Phongsaly impresses most with a truly explosive attack. This is a particularly generous tea from the first drop, which invaded nose and palate with exquisite and complex bouquet, and has powerful echoes that build from the first sips. Note also a very different character from the other teas tasted, where mix fruit, hints of spice and zest. This particular dimension zesty close this tea of ​​the very old trees Pu'er and distinguishes these maocha other. The rear sensations are also particularly rich, with a certain freshness reminiscent of camphor cool older teas, but also a particularly long persistence.

Besides the tea Wu Yi, smooth has a rounder attack, silky smooth, true to the reputation of the great teas of the region. It is however an excellent attack, perhaps less immediate but equally deep and rich, again with great echoes from the first taste it, along with a purity and an exemplary elegance.

The tea Nanmei displayed when the first sips his difference against feminine grace torque Wu Yi /Phongsaly, with a character more straightforward, masculine. This is slightly less delicate, more robust and close to the land, but beware it is not any less good, with rich aromas, complex and perfectly balanced. If the nose there may be a little below the excellence of Yi Wu or Phongsaly, there is against facing a copy mouth, with a great variety of sensations and echoes supported by a rich structure.

Pu'er tea has a good attack, less explosive than the progressive Phongsaly but very nice, well-rounded, with good intensity and good echoes from the first sips and crisp. The aromas are very green, very fresh, with bright accents of lemon and citrus fruits which we references to typical aromas of wild tea plants. If this tea stands out it is for his atypical character, a real character, unique and is clearly distinguishable from other teas.

The Bulang Shan tea finally offers pleasant palate, with rich flavors and excellent rear sensation. If it is very pleasant individually, and that we can not find her true default, this tea in parallel with its 4 competitors appears clearly behind, either at the level of the intensity of sensations or their depth.

Following the tasting, and prolonged infusions, broadly confirm the beginning of the tasting. The Wu Yi and Phongsaly, virtuoso impose their grace, finesse, complexity and an exemplary balance. The Phongsaly there appears a bit more powerful, strong, Yi Wu rounder and silky. With infusions tannins, discreet but present these two teas develop a wealth in sugar, candied fruit, and excellent echos on which tea Phongsaly will add a subtle touch of citrus and typical.

The tea infusions Bulang watch with its quality, is partially forget the size a bit "rough draft" of his character and thanks to its powerful tannins develops a certain richness on the palate and in the echoes, but still struggling to position themselves facing the richness and finesse of other teas.

The maocha of Nanmei, also with a more frank and masculine, excels in this performance and unlike the tea Bulang Shan arrives without problems to rise next to the excellence of Yi Wu and Phongsaly. It will be appreciated in particular the quality of its tannins, thick, dusty, with a power and a certain bitterness from which emerges in excellent mouthfeel echoes.

The Pu'er tea finally we mark mainly by its character and typicality. A tea of ​​great delicacy and stands out with a very green dimension aromatic, fresh and facing wild tea tree, and typical touches of citrus.
Conclusion
The comparative blind tastings are always particularly interesting and rich in meaning. By unambiguously teas side by side it highlights different qualities where literally every individual enjoyed the teas seems to excel. The maocha of Bulang Shan, yet is a very good tea and clear back face 4 other tested teas, whether by its intensity or its rich taste.

The real surprise of this comparison is undoubtedly the tea old trees Phongsaly, may be the best of the five tea tasted, whether by its power, finesse and flavor complexity. A tea which shows that with the technique and work sheets high, Phongsaly the soils are capable of producing up to the puerh (Pu Er tea) puerh best teas of China. Just beside it is of course puerh (Pu Er tea) Wang Bing old trees, a finesse, elegance and grace quite comparable to Phongsaly, a little less intensity in the first nose, but silky mouth. Note to the character of these two teas similarities probably related to the proximity of territories of Phognsaly and those of Yi Wu, but also clear differences, with a softer, feminine Yi Wu, and Phongsaly to particular zesty keys.

As head of this comparison, the tea Nanmei with very great qualities that places side by side with the tea Wu Yi and Phongsaly. Is given against it by a very different character of this duo, more honest, more masculine and powerful. Like tea Phongsaly it shows the potential of undeveloped land and excellence that these soils can propose with a technique and a work sheet control.

Tea old trees Pu'er, selected by Luo Hou You fate for his part of the lot. By playing the role of out-sider it makes comparison with other difficult teas. Of great quality it is distinguished by totally against these other maocha at his character:While remaining in the flavor character of a young puerh, he surprises us by its greenness, and we references in sensations that flirt with those of a green tea or oolong slightly roasted:Many freshness, underlined by typical lemony touches of wild trees, which produce feelings clear, bright and of great finesse.