This page is not a
real
translation but just an
automatic translation generated by computer
of the
original article
, written in French language! Its not good... but better than nothing!
Want to help us do diffuse puerh tea culture in english, by providing a better (or corrected) translation?
Please contact us!
@
To be informed by email about new www.puerh.fr article publication, just
click HERE

Long before the puerh (Pu Er tea) became an industry, these teas were for centuries handmade products and in small quantities by large Chinese producers families. Yi Wu born in the 1700s to meet an ethnic expertise of maintenance and harvesting of large trees and Chinese techniques of making tea, the first major producer families have pressed patties puerh (Pu Er tea) tea for nearly 300 years. Thus from generation to generation they have acquired unique know-how, before their shops are not closed by the government in the 1950s.
While in ancient times was produced mainly in Yunnan cheap puerh, the Bian Xiao Cha (teas for the border areas) that were transported on horseback, donkey or Man on the famous roads of tea to finish in distant lands such as Tibet or Thailand, the major producers Yi Wu Yi Bang families or produced in a completely different quality tea cakes. It is the latter that will remain in history and who is famous puerh (Pu Er tea) tea to the palace of the Emperor.

The names of the houses in which these teas were produced and sold, Fuyuanchang Hao, Tongxing Hao Hao Tongchang usually ended by 号 character (Hao) for "home", so called in the world of this period puerh (Pu Er tea) private producers before 1950 the era of "Hao Ji Cha" (号 级 茶) or sometimes in French, the era of ancient teas.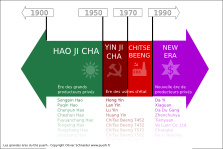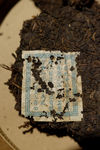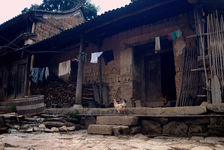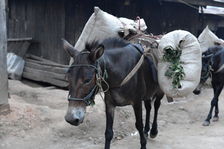 1.The era of Hao Ji Cha
2.ancient Galette produced Wu Yi
3.Old house in Yi Wu
4.Transport tea on the tea route
Many experts and enthusiasts aged puerh (Pu Er tea) believe that the expertise of these great old producer has been lost with the industrialization of the production of puerh (Pu Er tea) teas, which began with the arrival of the communists in the 50s and the quality teas these ancient remains unmatched today. Besides the quality of these teas in itself and they showed exceptional maturity, we find through them a real individual character to each family of producers, each of them having an approach, an ancient know-how, secrets manufacturing and finally a "taste" at each house, which is not the case for new productions.

Among these main families of producers, one of the most legendary is probably Song Hao Pin (宋 聘 号), which returns us to the heart of the village of Wu Yi there over a century ago. Originally Pin Song Hao, two families of producers, Song Pin one side and Qian Li Zhen (干 利 贞) on the other.

Song Ping Hao Cha Zhuang Yi Wu was founded at the beginning of the reign of Guang Xu in the late 1800s and was known mainly to sell tea. Like most large producers of Han Yi Wu, they probably bought their leaves to the mountain tribes who cared for trees and their collection, and then develop and produce their behalf puerh (Pu Er tea) tea cakes.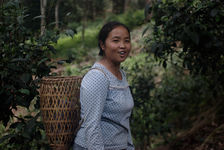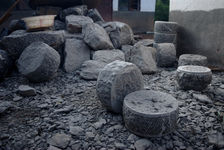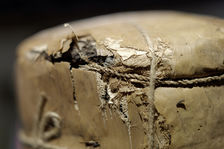 1.Old street in Yi Wu
2.Picking tea plants in YiWu
3.Hand-made of Cobble for compressing patties Wu Yi
4.Tong antique tea
Qian Li Zhen for his part was founded in 1897 in Pu'er. They not only produce but also sell tea cotton, antlers and medicinal plants. In 1912, a large outbreak that touched Pu'er vida, which pushed the Qian Li Zhen family to move in Yi Wu. A marriage then unite Qian Li Zhen Hao and Song Ping, uniting the two families and their businesses. Therefore, Song Ping and Qian Li Zhen Hao will be dedicated mainly to the production puerh (Pu Er tea) tea.

With more than 600 baskets per year, Song Hao Ping is one of the largest producers of his time (to Tongxing Tongchang Hao Hao and two other legendary producers of the era of Hao Ji Cha). The majority of their teas produced before 1912 were of average quality teas for current consumption. But next to these everyday teas were also produced some exceptional teas, may be among the biggest cakes in history, some of which have stood the test of time to the delight of fans.

Besides the intrinsic quality of tea, two things form the gustatory excellence of these ancient teas:maturation and selection time. With over 50 years of maturation (and 100 years for older!), These teas are now at their peak and develop complexity, depth and energy that younger teas can not claim, regardless of their quality . If add to this natural selection time, which causes the most common teas were consumed and only the best plays have been preserved over such long periods.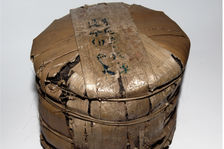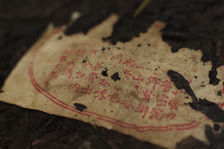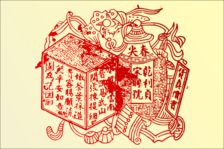 1.Pin Hao Tong Song
2.Nei Fei of an ancient puerh

(Pu Er tea)

Wu Yi
3.Study of a former Nei Fei
4.Drawing of Nei Fei Song Hao Pin
The cakes were not at that time packed paper as is the case today, but simply united by seven in a tong bamboo bark. These burgers can recognize another time, not only to their character, sometimes leaf shape within them, but also to their Nei Fei , that little piece of paper printed and inlaid between the sheets . The Nei Fei ancient teas were often truly the heart of the leaves, so that one could see in a small fragment, not almost all, as is the case today . Each family had its Nei Fei , often drawing or different inscriptions related to the nature of the leaves. These Nei Fei have sometimes changed over time and contain a signature, to evaluate the production period and thus the age of the tea.

The oldest patties Pin Hao Song has survived time, which are among the oldest puerh (Pu Er tea) teas that we know, date back to 1910. We recognize the Song Hao Pin by their Nei Fei printed red as opposed to Nei Fei blue that appear in the 1920s.

I invite you today to taste one of the largest puerh (Pu Er tea) teas history, a slab Song Hao Pin 1910s, from a private collection in Taiwan. This tea is considered by many fans as one of the best ever produced puerh (Pu Er tea) tea was enjoyed in small groups at a public tasting in Brussels in 2013, at 2nd Meeting around puerh (Pu Er tea) tea.
Chargement du thé...
Since the 1910s, so soon after the union of Song Pin Zhen Hao and Li Qian, the latter goes from the Wu Yi Mountains to Hong Kong, where the market puerh (Pu Er tea) was then promising. It will create a company and brand Fu Hua Hao Song Pin, which will take an important place in the world of tea Hong Kong until 1946.
From 1970 hits the market more and more counterfeit teas Pin Song Hao, especially produced from leaves from Vietnam or imported into Hong Kong from Canton. The green marks at the time, produced in large quantities by CNNP were also commonly used to produce false Song Hao Pin. Given the extent of the phenomenon, even Fu Hua Hao held by Zhen Qian He fakes out its own tea Wu Yi, from sheets from other regions or countries bordering Yunnan.

Added to this is recent and still grossest counterfeits. With the "phenomenon puerh" of the 2000s, several Chinese companies were quick to drop the name of the old main families of producers as Song Pin, Fuyuanchang or Tongxing and now urge teas containing these names and the visual of Nei Fei original, sometimes proudly accompangé an "Since 1750".

These teas yet have no relation with the ancient tea they took the name and not inspired by any means or methods to old recipes. The companies behind these cakes are by no means the descendant of the original families. The culture of old who left the Yunnan tea long ago, these supposed descendant generally have no knowledge of ancient teas, and fills of history have generally never drank teas they bought the name.

The lovers and collectors and now speak of Song Pin Jipin to designate authentic patties produced by Pin Hao Song in the 1910s and 1920s and truly from Yi Wu. These are now extremely difficult to find, the great majority having finished being drunk ... and those who were honored in their lives to soak their lips weigh the chance they had.