This page is not a
real
translation but just an
automatic translation generated by computer
of the
original article
, written in French language! Its not good... but better than nothing!
Want to help us do diffuse puerh tea culture in english, by providing a better (or corrected) translation?
Please contact us!
@
To be informed by email about new www.puerh.fr article publication, just
click HERE

Shan Zhai Kucong and Luo Hou behind You, is a young producer atypical Pu'er region (formerly Simao) to which I've devoted a full article. Based in the village Kucong one of these ethnic groups in Yunnan, in the heart of the mountains Wuliang, this producer specializes in mountain puerh (Pu Er tea) teas and Ailao Shan Shan Wuliang, especially around the area of ​​Zhenyuan, he knows and from which all teas it produces.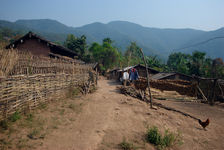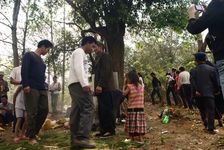 1.Village in the hills of Zhenyuan
2.Ritual Kucong around an old tree not far from Shanzhai Kucong
3.In the region of Zhenyuan
4.Luo Hou You
5.Tasting Tea tree unique among Luo Hou You
Among them is a collection of exceptional teas, each tea is produced from a single tree old, monumental, often transitive (between tea and tea Wild said domesticated), and whose production year is only a few kilograms. These are rare teas, marked with unique characters and sliced ​​and dazzle with their depth and uniqueness.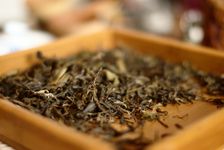 1.Large tree in Ailao Shan-old tea
2.In a large tea tree Ailao Shan
3.Collection of leaves in a large tree Ailao Shan
4. Ailao Shan Grand at tea
5.Large tree Ailao Shan
6.Tea tree Ailao Shan single
But it is not enough to be unique to excel! In a conventional puerh, different trees are balanced, work together to correct a particular defect. It is much more difficult with a single tree to obtain not only a balanced outcome but may also qualify for a level of perfection which justifies the high price of such tea.
So many years after I selected each spring with Luo Hou You best trees unique Kucong Shan Zhai, among hundreds of trees, to find teas that shine through the individuality of their characters but also especially by their qualities.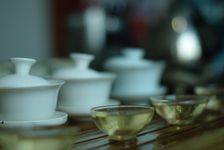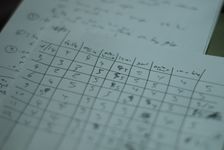 1.2012 Selection of the best tea tree unique
4.Selection of the best tea in 2012 Unique trees
5.Selecting the best 2012 trees unique tea
Here is my selection of the best trees in the spring of 2012:
The best unique trees 2012 Ailao Shan Shan and Wuliang
Taste to start a beautiful tree that I've noticed for its quality for several years, I particularly like the tea that I mentioned in the article Luo Hou You (Kucong Shanzhai) the aroma of Ailao Shan and Wuliang From the reference Shu # 0. The tree is beautiful both by its size, scale, strength of its trunk and its branches, or the beauty of its leaves.
Although it is a very old tree, it is not necessarily transitive or a wild tree, but a tree planted by man there are several hundreds of years ago. The care with which it has been well maintained since not only reflected in the curves of the tree, but also clarity in the purity and fineness of his character.
Chargement du thé...
comparatif
From Zero 2010 vs. Shu. Zero Shu 2012
The leaves are very similar, if not identical. Liquor produced is also quite similar whatever its color, brightness or the presence of abundant foam spring.
Perfumes, whether or infused dry leaves are very similar, spicy and round. It is exactly the same lines aromatic and has obviously dealing with the same tree.
To taste it is also in the same vein, but with more intensity, freshness and radiance for 2012, due to his young age and the first keys maturation as reflected in the 2011 vintage, which appears slightly less bright and more fleshy.
Now taste the tea tree particularly interesting since it comes from the same soil as the previous one, and more precisely in the same garden. Thus pushing both a few meters from each other, they were also picked and worked at the same time by the same family ...
As you will see they have yet radically different characters that not much seems closer. These two brothers with opposite characters, they illustrate particularly well the uniqueness of tea tree unique.
Chargement du thé...
Here is another example of this tree transitive typed, high quality and the particularly interesting.
Chargement du thé...
Always the same soil here is another tea that sû distinguish themselves in this great test of tea tree unique 2012. From an old plantation of tea, so it is closer to 0 than Shu From the previous two teas.
Chargement du thé...
Move to another shaft exception. Particularly old, it is remarkable first for its size, 6m high with a diameter of 93cm at the trunk, but also by its uniqueness, which immediately transports us into the world of ancient trees, recalls in particular the character of 'ancient trees found in the hills of Fengqing, but also has buttons that can think of wild tea tree,
Chargement du thé...
Turning now to a tree with a size less impressive but still very respectable, 3.3 m high with a trunk diameter very close to the previous:97cm. If the leaves are tasting touches typical transitive trees, he plays more generally in the range of a tree puerh (Pu Er tea) old plantation and offers sensations of high purity.
Chargement du thé...
Move to another tree (4.5 m high with a diameter of 83cm), with aromas clearly transitive or almost wild and is best known for its quality and uniqueness of his character.
Chargement du thé...
Another exception shaft, trunk impressive (1.5 m diameter and a height of 4.5 m!), His tea was noticeable particularly in the power and depth of qi produced by the leaves!
Chargement du thé...
Also in the massive old trees trunks (1.3 m diameter and a height of 3m), here is a tree different character and especially flowers!
Chargement du thé...
Finally we end on a shaft Ailao Shan has not been measured but is clearly distinguished at tastings, including its typical old trees especially, its rich hui gan and its rear sensations spellbinding.
Chargement du thé...
Summary best trees selected
| | | | | | | | | |
| --- | --- | --- | --- | --- | --- | --- | --- | --- |
| Tree | Leaves | dry Perfume | wet Perfume | Liqueur | Aromas and tastes | Rear sensations | Character | Overall Impression |
| Du Shu 0 | 2 | 4 | 5 | 5 | 5 | 5 | 5 | 5 |
| Du Shu 2 | 3 | 3 | 5 | 5 | 5 | 5 | 4 | 5 |
| Du Shu 103 | 5 | 5 | 4 | 4 | 4 | 4 | 5 | 5 |
| Du Shu 108 | 4 | 4 | 5 | 5 | 5 | 4 | 4 | 4 |
| Du Shu 173 | 4 | 4 | 3 | 5 | 5 | 5 | 5 | 5 |
| Du Shu 303 | 4 | 5 | 5 | 5 | 4 | 4 | 3 | 4 |
| Du Shu 305 | 4 | 5 | 5 | 4 | 5 | 5 | 5 | 5 |
| Du Shu 306 | 3 | 5 | 5 | 5 | 5 | 5 | 5 | 5 |
| Du Shu 703 | 4 | 4 | 4 | 5 | 5 | 4 | 4 | 5 |
| Du Shu 905 | 5 | 4 | 5 | 5 | 5 | 4 | 4 | 5 |