This page is not a
real
translation but just an
automatic translation generated by computer
of the
original article
, written in French language! Its not good... but better than nothing!
Want to help us do diffuse puerh tea culture in english, by providing a better (or corrected) translation?
Please contact us!
@
To be informed by email about new www.puerh.fr article publication, just
click HERE

The Red Da Yi, produced between the mid-90s and the mid-2000s, are among the last big patties produced by the famous and historic Menghai Tea Factory. If you do not have one yourself some, you've probably crossed in the stalls of good shops, or on the shelves of collectors and lovers of good stories.
These pancakes are remarkable for their red color printed packaging, on the periphery of which is the inscription "Chi Tse Yunnan Been Cha", surrounding the old logo rounded Da Yi. As the Da Yi Roses, Violets Yi Da, Da Yi Golden, Silvery Da Yi or the oldest or the Marks Marks Red Blue, Red Yi Da name given to these cakes is not an official name given by the producer: He This is a jargon name for collectors and enthusiasts to define puerh (Pu Er tea) patties produced by Menghai Tea Factory under the name Yi Da between the late 90s and early 2000s and packed with the typical paper printed with red .
However as we shall see, these cakes are more than just some old tea leaves and that's all a part of the history of puerh (Pu Er tea) and China which is packed in this delicate red and white sheet.
Yi Da red, the last "great cakes" Menghai Tea Factory
It was in 1997 that the first Da Yi Reds out of the famous Menghai Tea Factory, this historic factory founded in 1939 under the name of Fuhai (佛 海) with which the transition from communism in China will become state factory and take in 1959 the name of Menghai Tea Factory. This is particularly of this plant that will come the most famous cakes in the era of so-called "masterpiece", produced in the years between 50 and 70 years. It is also in this plant that will come out (in conjunction with the Kunming plant) the first cakes puerh (Pu Er tea) fermented in the 1970s and assemblies that will develop the best known of the history of puerh (Pu Er tea) such as 7542 or 7572 .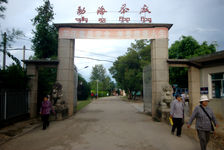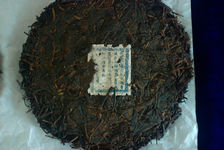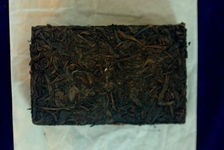 1. Menghai Tea Factory in 2009
3. Among the very first cake produced by Menghai Tea Factory in 1940
4. Prime fermented tea produced by Menghai Tea Factory and Kunming Tea Factory in 1973
Finally, it is always Menghai Tea factory that came from Zou Bing Liang, the famous Master Assembler who founded in the late 90 Haiwan Tea Industry (see article "Bing Liang Zou, a great man in the heart of the history of tea puerh (Pu Er tea) ") or Dian Rong Ruan, former director of Menghai Tea Factory which then build Liu Shang Da Cha (Six Famous Tea Mountains). But to understand the Menghai Tea Factory in the late 90s and teas puerh (Pu Er tea) this period we must return to Communist China for 70 years, beginning the era of Cha Chi Tse Beeng.
The Tse Chi Cha Beeng the new era
Until the late 90 Menghai Tea Factory, like other large plants in place such as Xiaguan or Kunming Tea Factory Tea Factory, in fact responded to the demands and opportunities of development plans of the People's Republic of China. The marketing of tea, under the control of the state, and passed through a single company: "China National Native Produce & Animal By-products Import & Export Corporation", more commonly called for short CNNP. Founded in 1973 this company was then only state to have the right to commercialize and export of tea puerh (Pu Er tea) legally throughout the communist period, and, passing orders to different factories of state, had some control over their operation and the productions that came out. This is particularly why we find the inscription "China National Native Produce & Animal By-products Import & Export Corporation Yunnan Tea Branch" on most cakes puerh (Pu Er tea) occurred between 1973 and 1996.
This period of almost 25 years largely colored by Communist China, is in the jargon of amateurs and collectors called "era of Yunnan Chi Tse Beeng Cha" in relation to the inscription then on almost all cakes : 云南 七 子 饼 茶, Yunnan Chi Tse Beeng Cha (Cha Bing Yunnan Qizi pinyin correct), found today on many teas puerh. This is indeed the beginning of this era appears that there is the term Bing Cha (tea cake), which is the oldest place of Yuan Cha (tea 圆 茶 round) at a time when all traces of the past was always " modernized "by the party. The expression of Qizi Bing Cha, which can be translated as "son of Yunnan in September", which has been widely circulated in the 70 and 80 to promote tea puerh (Pu Er tea) rests however on a much older tradition, consisting to group puerh (Pu Er tea) cakes by September (see article "Tong and Qizi Bingcha"), and dating from the Qing Dynasty (1644-1912).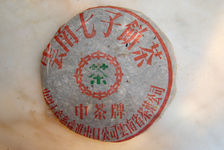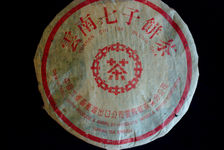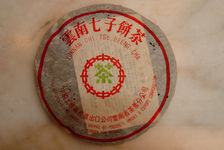 1. 7 Tong puerh

(Pu Er tea)

old patties produced by Menghai Tea Factory (Qizi Bing Cha)
2. Tse Chi Cha Beeng 90s (Mark Zhong Cha, Traditional Characters)
3. Tse Chi Cha Beeng former
4. Tse Chi Cha Beeng old
The antithesis of the current situation where the market is full of hundreds of thousands of separate wafers, where private producers swarm and multiply the range of their products, market puerh (Pu Er tea) was well until the late 90's much smaller, codified ... but not always less obscure. Without going into details, what I will do in a future article on the era of Chi Tse Been Cha, one can however draw some characters productions of this period. What strikes the first amateur contemporary puerh (Pu Er tea) when he discovers teas predate the modern era is probably the standardization of packaging and the absence of any information they contain tea.
Does indeed appear generally to packages of patties that two inscriptions (in Chinese character) "Yunnan Tse Chi Cha Been" (son of Seven Galette Yunnan) and "China National Native Produce & Animal By-products Import & Export Corporation, Yunnan Tea Branch ", and whatever the year of production or plant from which tea (Menghai Tea Factory, Xiaguan, Kunming, etc.). If this seems surprising at first, especially where these cakes today took a great value and where every detail as the factory that produced the cake or the year of production are crucial, it seems much more logical given the context in which these teas have summers products: Not only was puerh (Pu Er tea) a consumer product (cheap), but these were different plants while the bodies production of a single company (CNNP) . They marketed themselves and not the tea and did not have that effect no real autonomy. The same person today when you buy in a supermarket a packet of biscuits industry of a given brand, no one cares to know the name of the plant that produced it or what city it is . The amateur conscientious noted however that the plant where the cake was pressed appears generally still, small and in Chinese characters on the nei fei, a little piece of paper directly compressed between the sheets of cake.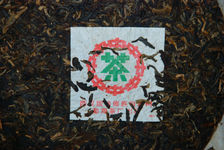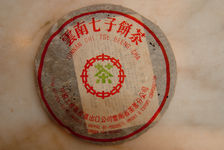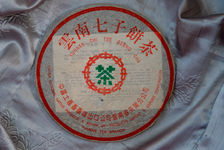 1. Chi Nei Fei Tse Beeng a Cha indicating the production plant (Menghai Tea Factory)
2. One of the first Cha Chi Tse Beeng 70s (Yellow Mark)
3. Chi Tse Cha Beeng the early 2000s
4. Jian puerh

(Pu Er tea)

(basket of flip flops 12) along with their big ticket
More surprising by cons: not listed on most packaging cakes this time information on the nature of tea, and are packaged in the same manner of raw and fermented puerh (Pu Er tea) whatever the nature and origin of leaves compose them. This information, including the original factory, the recipe of the assembly, sometimes production year and the lot number is shown in fact that the "big ticket" that accompany each jian (basket of 12 of tong puerh (Pu Er tea) or 84 patties). So if the tea house that bought wholesale possessed this information, the amateur who bought a cake or tong (stack of pancakes 7) could not rely solely on information from the seller. It is the same for the production years of teas that can not begin to see included on the packaging of wafers in the mid-2000s. Fortunately, however, for collectors and enthusiasts patties elderly, small details of different packages such as paper type, the precise position and size of fonts used, etc., allow the attentive connoisseur of dating and recognize a number of series cakes this time.
Yi Da Red, the beginnings of the new era
The second half of the 90s in China will be marked by a number of reforms introducing an open growing fast and the communist system in place that will have a wide influence in the world of tea. The year 1996, so decisive in the history of puerh (Pu Er tea) will mark the end of the era of Cha Chi Tse Beeng and the beginning of what we call the new era.
From 1996 he became partly possible for private producers to produce and market their own tea (see "Lan Tien Chun, excellence unknown to De Yong"). For his part Menghai Tea Factory, which suffers a major restructuring, becomes "Menghai Tea Industry Limited Company", overcomes CNNP and now accepts private commissions (such as Da Yi Yi Da Golden or Silver in the 2000s ).
This is somehow the end of the standardization of products and packaging, and the affirmation of individual plants as producers in their own right. Thus the name "Da Yi", filed in 1989 and used sparingly since 1985, will now become the new legal entity Menghai Tea Industry, which will produce in 1996 and two discs with this name: one Gross packaging violet, the other fermented packaging pink. On this package monochromatic, is now and for the first time printed logo Yi Da, or there was previously the classic Zhong Cha (A character 茶 surrounded by 8 characters 中 and became the logo of CNNP). Similarly the new official name of the producer "Menghai Tea Industry LD. CO." replaces that of CNNP.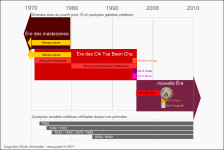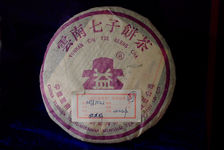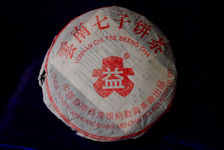 1. Big puerh

(Pu Er tea)

eras of post 70 and a few famous cakes
2. Tse Chi Cha Beeng Menghai Tea Factory
3. Da Yi violet (edition 2004)
4. One of the first year of Da Yi Red 90
The following year Yi Da monochromique reuses this new packaging, but this time printed in red ink for two sets of patties, raw and fermented. It is the birth of the first Red Da Yi, who will now bear the image of the brand until the mid-2000s. If the package teas are always sold as "Yunnan Chi Tse Beeng Cha", a name that will stay on until today this number of wafers, and these cakes are so many "Chi Tse Beeng Cha" in the literal sense, it is no longer part of what we call the world's puerh (Pu Er tea) era Tse Chi Cha Beeng and mark the beginning of new era tea puerh.
The packaging of these cakes typical red and has a charm that the recent productions of puerh (Pu Er tea) not eligible. Just take one of these cakes in your hands to appreciate the extreme delicacy and softness of the paper. Subtle and fluffy to the touch it is discovered by observing closely the intermingling of fibers and irregular end of this handmade paper, making paper and almost transparent for excellent breathing tea that contains it. Beyond the beauty and sweetness of such a package, its high porosity to air naturally favors the maturation of tea. Printing closely observed, deep, pure and rustic, it is also of great sensitivity, just gently soak the paper fibers of the deep red and is in no way comparable with the feeling dry and cold , often in industrial color, many contemporary packaging.
Nei Piao (this little sheet that accompanies the cake in the bag), now marked with the logo of Da Yi, reveals much the flutter period. Just like the cake, and behind it Menghai Tea Factory is emerging uncertainty, between continuity and revolution. First floating in the names in roman. If the packaging shows the cake as a "Chi Tse Beeng Cha", which should already be written in proper piyin "Qizi Bingcha", continues the nei piao the peculiarities in the spelling thing "Chitsu Pingcha". To further complicate the names, the first line tells us that this tea is also called "Yuancha" which as we have seen previously was the designation in place before the 70.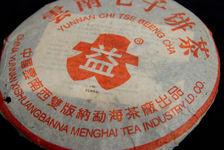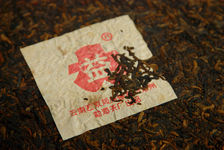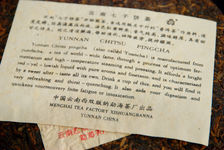 1. Packing with a Da Yi red
2. Da Nei Yi Fei with his Red
3. Nei Da Yi Fei a Red
4. Nei Da Yi Piao a Red
Yi Da Red, cakes that look alike but not alike
Like Menghai Tea Factory, the packaging of a number of wafers has changed in 1996, however teas that make up these cakes for their part have changed relatively little until the mid-2000s. Well behind the Da Yi red, which recall the name of the jargon is a collector for a number of different teas, are still the classic recipes Menghai Tea Factory developed in the 70s as the 7262, or the 7572. Although today these references could act as name and be known to all lovers of puerh, to be highlighted and printed by Da Yi on the face of recent packaging, it was at that time that internal references and not official names, nor does the term "Yi Da Rouge" was.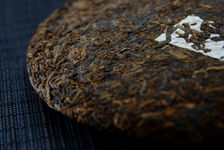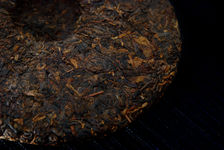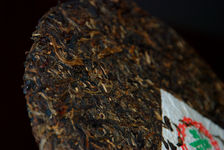 1. Face of a former 7572 (Fine Grade)
2. Back in 7572 a former (high grade)
3. Back and within a former 7262 (Fine Grade)
4. back of an old 7542
Well and as was the case for the era of cakes Tse Chi Cha Beeng these references were not included in the packaging of cakes and all were packed red Da Yi of the same paper, bearing the same markings whatever tea they contain. It is the same for the years of productions, which do not appear on the packaging of cakes and we can not infer that the lot number that accompanies Jian (84 baskets of cakes). Again therefore the purchase and expertise in such a cake to the room, or thong, is not always easy, stocks of the latter are also often passed through several hands since their production, even of one country to another.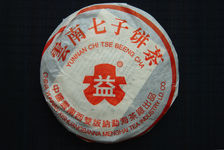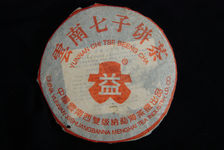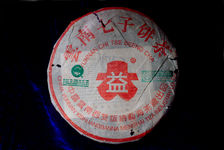 1. Yi Da Red 90s
2. Da Yi 7542 Red 2001 vintage
3. Da Yi 7262 Red 2000 vintage
4. Rare Red Da Yi 7542 BIO
Course is added to that the thorny issue of false. Produced for almost 10 years at a time when the market is booming puerh (Pu Er tea) and where private productions of puerh (Pu Er tea) generalize, these cakes have summers largely falsified and many copies circulating on the market. This trend was further strengthened in recent years with the explosion of market puerh, constantly and rapidly rising prices of the cakes listed in a country where counterfeiting is almost a national custom.
But even beyond the issue of false or identify the recipe and the cake of a vintage such as Da Yi Red, thereby disrupting the amateur seeking to understand the flavor of these teas is likely to be older gustatory nuances, sometimes very important that we find between two authentic Da Yi red market, yet vintage, original recipe and comparable. For in the world of puerh (Pu Er tea) two discs yet identical in their output of factories ... 10 years later may show itself in surprisingly different faces.
Cakes shaped by cultures and various backgrounds
Once a cake has several years of age, more so when it reaches ten years as is the case with many Yi Da red is indeed crucial to consider the issue of conditions of maturation Tea, usually called storage, although it sometimes exceeds the simple conditions under which the teas were stored summers.
Unlike areas such as wine or cigars where the optimal storage conditions were established summers, growing old is puerh, at least today, multiple. If everyone comes together well on the ability of puerh (Pu Er tea) to evolve over time several schools coexist when the ideal conditions of this maturation, leading of course to be great differences in the character and flavor of these teas.
This diversity quite exciting approaches where the maturation of puerh (Pu Er tea) can be attributed to at least three realities of the culture in which this tea fits. Firstly if puerh (Pu Er tea) tea is recognized as a tea that can improve with age, but naturally so greatly influenced, this tea is usually if not always young marketed by the producer. Like a number of fine spirits such as brandy or whiskey with some maturation, sometimes slow, is conducted under the responsibility of the producer, the fact of leaving the teahouse or consumer responsibility this maturation immediately opens a certain interpretation of the conditions of the latter. Add to that the geographical dispersion of the places where the culture is written puerh (Pu Er tea) old, and climatic variations in these regions. Although puerh (Pu Er tea) exclusively from Yunnan, mainland China, tea is usually consumed young and this region has little developed culture of aging tea culture that was more developed in Hong Kong, Taiwan and Malaysia, three very different regions in both climatic conditions that consumer tastes. Finally finally adds the very early history of puerh. In contrast to tea trees of Yunnan, some of which were planted and maintained by humans for thousands of years, the history of puerh (Pu Er tea) as we know it today has only a few decades . Far from following a standard established, particularly regarding the maturation, different views, theories and postures cohabit, confronting and sometimes opposing.
It is therefore crucial to be aware of the decisive influence of storage on these older cakes, and the consequences in terms of flavor. Although this is rarely the case in the West, a good old puerh (Pu Er tea) should always be well represented or sold depending on its storage conditions. Without going into details of the latter, which will be a complete article, however, it may be useful to draw the outlines, which have shaped the particular red Da Yi found today on the market.
wet storage, a form of artificial fermentation of tea
Often misunderstood in the West it is called in the world of wet storage puerh (Pu Er tea) does not refer to just having tea aged in a country with a humid atmosphere but a real conscious transformation and artificial teas. Ancestor of modern puerh (Pu Er tea) fermented (Wu Dui), it is by a passage of some time in an excessively moist atmosphere (above 85%) to obtain a form of fermentation that will manifest itself not a darkening of the leaves and liquor and a rounding of flavors. The purpose of a good wet storage is so truly transform the tea inside, without the latter is provided by the stained smells clean storage. Teas labeled odors humidity, cellar, dust or odors other parasites are not representative of the wet storage per se and are thus generally the result of poor storage wet.
As fine as the maturation of alcohol or wet storage of cheese quality, requires not only a skill but also a significant investment, a lot of time, space and labor and is now rare. Instead of the traditional wet storage were found so often of poor quality storage, which aims to accelerate the detriment of the quality of the ripening process of tea, so you can sell in markets such dark lovers puerh (Pu Er tea) as Taiwan or Hong Kong, which partly explains the often negative reputation has taken wet storage on the market.
Beyond considerations on the quality of wet storage is crucial for anyone who buys an old tea make the difference between a cake after a dry storage or natural and that from a wet storage and make an informed choice Because of the influence of storage, especially wet, with a radical influence on tea.
Storage Dry storage and natural
Another concept that is sometimes misunderstood in the West: dry storage. Finally primarily dry compared to wet storage dry storage is usually in storage puerh (Pu Er tea) under an atmosphere relatively humid (around 70%) to facilitate and accelerate its maturation. As is the case of wet storage, it is a warehouse storage, usually in an atmosphere artificially kept moist, and the result will depend greatly on the expertise and the care taken to storage.
The storage is then natural that practiced generally teas contemporary homes, shops, or personal storage that you can experiment at home by buying young puerh (Pu Er tea) and letting them evolve gradually. It is therefore generally a truly dry storage, which will produce a much slower maturation and progressive. It is however not as many beginners believe that a matter of time, but also of how time will affect the character of tea and tea 20 years stored in a dry atmosphere will not produce the same flavors even a tea stored 10 years in an atmosphere more humid.
Location of storage, climates and different traditions
Another point that may characterize the maturation of a puerh (Pu Er tea) is the country or region where it has been stored during maturation. As we have previously seen the older puerh (Pu Er tea) not from a single region but mainly in Hong Kong, Taiwan and Malaysia, as well as mainland China's Yunnan and Guangzhou. If globally these various territories seem close, further study reveals major differences and cultural climate that is found naturally throughout teas derived from them.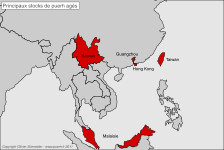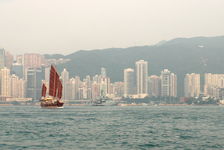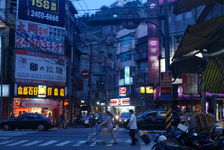 1. Location of the main stocks of older puerh
2. Hong Kong, one of the biggest stock of old puerh
3. Taiwan, one of the biggest stock of old puerh
4. Malaysia, a the largest stock of old puerh
First-level climate there are very large differences between for example the northern half of Yunnan, and particularly dry such as Hong Kong or Taiwan, bathed in a tropical climate very much wetter. So is there a big difference between, say, Malaysia, where the climate is extremely stable throughout the year and Hong Kong which has distinct seasons, with temperatures and humidity significantly increased during the summer.
These climatic differences are of course an influence on the maturation of puerh, especially in the case of natural storage or dry storage, and a Da Yi 1997 red dry on removal from Hong Kong will not at all same character now that the same wafer output from a tea house in Kunming.
Add to that the culture proper to each of these regions and different traditions and practices when storing tea that they also have a great influence, but also local tastes when that should be a good puerh.
Thus not only a Da Yi red can be great differences of aromas if for example after a dry storage, wet or natural, but if she spent the last 10 years in Malaysia or Taiwan, and although it is strictly from the same batch. Often it is difficult to know precisely the course of such and such a cake, especially when these wafers have produced summers there are over 10 years, stocks puerh (Pu Er tea) commonly being repeatedly passed from hand to hand, sometimes it is not possible to trace with certainty the different periods that have marked their maturation.
Analysis of taste is in most cases a valuable aid to distinguish the origin and storage conditions of tea and a palace exercised is undoubtedly the difference between such a natural dry storage, storage or natural Malaysian a wet storage hong kong. The study of the degradation of paper wrapping the cake, the color of the liquor or the surface of the plate are also very important indices, in particular to assess the intensity of moisture in which tea to aged . Another point at which the amateur is generally attentive, including cakes like Red Yi Da is how the packaging of the cake was closed.
Read lines in the package ...
According to producers, teas and years, how the cakes were packed, ie the technique used to close the leaves around the cake, differs slightly. In the case of slabs known as the Da Yi Reds, these forms of packaging, but above the fold shapes left in the paper are known amateurs, and thus allow not only to detect a number of false (that n would not have been packaged in the right ways) but also to define whether or not the cake has been open since its production.
The Red Da Yi particular are packed in a very special, it is virtually impossible to reproduce it once it started, and without at least adding new folds relatively easily identifiable with the habit. Size "always open" to an old cake, which generally has a marked influence on its price, is not a fad but as a collector as the case may inform us about the origin or history of the cake.
The wafers are placed by a wet storage indeed require to be inspected and generally brushed before being sold, and therefore often open summers and then repacked. Conversely patties a stock left unchanged from its production (eg in Yunnan) should not show any sign of opening cakes. Although this is not to be taken at face value, it can detect a number of inconsistencies, especially in the speech of the seller.
Similarly where the packaging of a cake has obviously been opened and then closed, we can sometimes doubt the authenticity of tea, which for example may well be true that the package be a false or tea younger than suggests the package. Conversely never open a cake is always a risk when the state of tea, although it is true that such may have been damaged by storage.
tasting two Yi Da Red
To finish this short presentation of Da Yi Reds I offer the tasting of two of these cakes. Similar packaging, both fermented and outputs Menghai Tea Factory in the early 2000s, it is yet as we will see of teas with very different characters. The first is based on the 2000 assembly 7262 Menghai Tea Factory and fate of a great Malaysian stock dry (ie therefore relatively wet). The second was in 2001, and based on the popular assembly 7572. Never opened since its production, it leaves a natural stock of Kunming (very dry). She did not, however, spent his entire maturation and spent five years before returning to Canton in Yunnan.
Let us begin with the 7262 to 2000 Malaysian storage. The 7262 is one of the first recipes for fermented puerh (Pu Er tea) Menghai Tea Factory developed in 72 and based on the buds and leaves of ranks relatively thin (compared for example to 7572). It would have happened in Malaysia, directly Yunnan in 2001. The traces on the packaging of the cake may suggest a dry storage Malaysia, ie a storage warehouse, in a relatively moist atmosphere, but not excessively. It was followed by several years of storage dry natural, still in Malaysia.
Chargement du thé...
The second tea I offer is undoubtedly the best known fermented puerh (Pu Er tea) history puerh (Pu Er tea) the past 40 years. It is based on a recipe whose reference resonates in the minds of all tea lovers puerh: 7572. Designed in 1975, a few years before the first practice of fermentation (and the previous design tea) is a blend of fermented leaves of various grades, which was a great success from its inception to present day and is still probably the fermented pancake most pressed by Menghai Tea Factory. He recognizes in particular a remarkable balance and this assembly has gradually established itself as a kind of reference within puerh (Pu Er tea) fermented. Note, however, the evolution of this assembly as and measuring time, and in particular increasing the degree of fermentation for a number of years, leaving less and less room for the maturation of tea and thus directs more recent vintages to immediate consumption.
The cake tasted for his part was produced in 2001 at a time when Menghai Tea Factory was not the huge industry it is today. Is reflected as a more traditional approach of fermentation, relatively light and leaving room to mature post compression of the cake. Never opened since its production comes from a particularly successful hybrid storage. This cake was in fact spent the first 5 years of his life in a sec stock of Canton, relatively moist without being so excessive, followed by 5 years of storage of dry natural Kunming. In recent years will have erased any traces of moisture from the initial stage of ripening tea pursuing it slowly and put
Chargement du thé...