This page is not a
real
translation but just an
automatic translation generated by computer
of the
original article
, written in French language! Its not good... but better than nothing!
Want to help us do diffuse puerh tea culture in english, by providing a better (or corrected) translation?
Please contact us!
@
To be informed by email about new www.puerh.fr article publication, just
click HERE

The 2013 vintages of our favorite cakes for a few months begin to surface and take place on the shelves of amateurs. Among them Wang Bing special series, this small producer Wu Yi that I like and that I spent some time there there's a Full Story . Retail and verdict of the new cakes Wang Bing in 2013.
A limited production series always more careful
Wang Bing special series is a limited series of 4 patties (Gu Shu Cha , Shen Tai Cha , Yo Cha Zi and Huang Lao Ye ) that the image of the ancient mythical cakes producers Wu Yi before 49 appear as excellent products, but also to enjoy immediately keep in the cellar for years or future generations.
Particular attention is thus given to the production of these cakes, fine harvests and the former of the first leaves of spring, work and pressing entirely handmade cakes and farm hand screen printed on packaging Dai handmade paper, very neat tying flip flops, they are objects to think about tomorrow, which leaves as much as contemplate enjoy .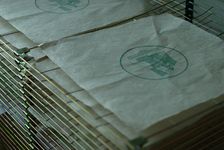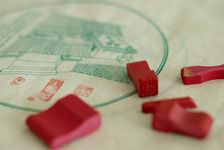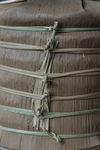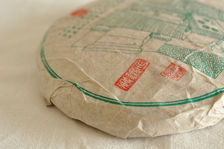 1.Screen printing and traditional hand chinks cakes
3.Tying craft flip flops
4.Galette Wang Bing Shen Tai Cha 2013
In this sense the 2013 edition goes further with a fine attention to detail. Like previous editions, work sheets and pressing craft cakes are outstanding, producing a beautiful cake on the surface which leaves entwined with charming satin scrolls. Slightly but sufficiently compressed, leaves extract in easily while keeping a good outfit. Besides the practical aspect it also allows a very good contact with the air leaves the heart of the plate, and thus an optimal maturation tea.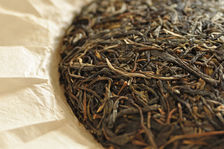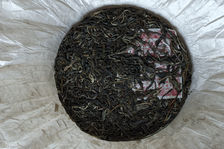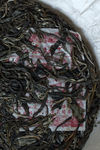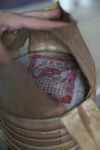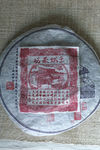 1.Compression thin wafers Wang Bing 2013
2.Slab Wang Bing in 2013 and Nei Fei
3.Nei Fei Wang Bing of a wafer 2013
4.Piao Tong Tong Wang Bing in 2013
5.Tong Wang Piao Bing 2013
Come against this year and for the first time slip between the tea leaves a Nei Fei, this little paper ticket authenticating the cake. The design of the latter is also not uninteresting and is referred to as a nod to Tong Hao Piao cakes Tongqing 30s, one of the largest in the history of tea Wu Yi and puerh.
Similarly thongs racing cakes Wang Bing in 2013 are now accompanied by a Piao Tong, large paper ticket with the design of Nei Fei. These tickets, Nei Piao Tong Fei and are as packaging cakes, handmade silkscreen on paper Dai handmade.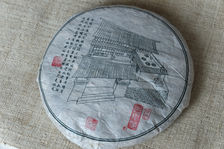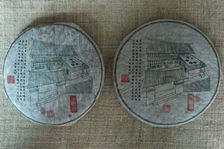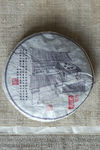 1.Packing Gu Shu Cha Wang Bing 2013
2.Buffer 2013 on a wafer Wang Bing 2013
3.Difference between the packaging of Wang Bing vintages 2012 and 2013
4.Packing Yo Cha Zi Wang Bing 2013
The packaging of cakes is similar to the past few details ready to year. The stamp indicating the year of production first, 癸巳 2013 (Water Snake), but also menu design details that help authenticate this edition as eg position baskets maocha first floor the home-workshop Wang Bing drawn on the package.
Gu Shu Cha THE grand cru Wang Bing
The cake Gu Shu which only a thirty copies were pressed summers is THE great wines and Wang Bing from a beautiful old garden in the heart of the forest near the old village of Wu Yi Belonging to the family Wang Bing This garden is very small just above the organic garden from which the Shen Tai Cha, and has excellent natural conditions (See this article for more detail on this garden). Its position within the forest floor provides particular great natural wealth, but also a very good moisture and partial shade of large trees that dominate the ancient tea trees and shelter.
Cut in the traditional manner, carefully and sparingly the ancient trees that make up this little garden voluntarily operated with a lower yield and a higher quality tea. In spring a precious tea carries with it the nectar of the soil and care for picking fruit brought to the compression cakes. Let's see what this 2013 vintage has to say before comparing the past vintage.
Chargement du thé...

comparatif
Gu Shu Wang Bing vs. 2013. Gu Shu Wang Bing 2012
Rinse immediately there is the liquor of 2013 is slightly darker than the previous vintage, highlighting a significant maturation good on only one year of natural dry storage. The nose at the opening of Gaiwan reveals to him when significantly more intense and sweet tea for 2013 than its predecessor, which seems almost beside light fragrances.
Plunging his nose into the gaiwan is the most divergent characters that become apparent with a much cooler in 2013, round and fleshy, and a much duller 2012 ruling focused on spices, licorice, fruit dry and clearly already looking to mature teas.
Fragrances first infusions refine the observation, the latest vintage appears in all its roundness, finesse and floral wealth of young puerh
(Pu Er tea)
quality there or past vintage has clear signs of maturation, particularly powerful and advanced of tea one year only.
To taste the 2013 has a powerful and pervasive attack, a great propensity to invade from the first sip the entire space of the tasting. The 2012 has a face that less explosive but more soft attack, asked and progressive, but also traces of a particularly fast for a tea of ​​this age maturation. It is indeed clear in taste dimension that you come across most commonly in teas 5 years of age, something soft and silky on the palate, with flavors worked well for time, touches of fresh bamboo, wood, licorice and fennel.
Besides these flavors carved by time, tea 2012 is also marked by the loss of a certain roundness and warmth of youth, dominant in tea in 2013, who undresses and somehow reveals its structure and tannic power. It therefore appears easily in 2012 as a dry, cutting, facing the generous roundness and sensuality of the new vintage, which can temporarily give a slight feeling of imbalance, until the products are maturing more important.
Longer infusions show a frame and a force in the gorge of the same intensity on both teas but produce a very different impression. The tea of ​​the year, because of the high roundness characteristic of his youth and is partially offset and hide the bitterness seems rounder, brighter and balanced. Given that outbreaks of the past vintage infusions produce a dry liquor to limit aggression. The power of tea leaves in 2012 by speaking against the richness of an aged tea, fruits of camphor chills, light hints of cherries, dried fruits and dates.
This is obviously a vintage of great wealth, based on old trees and with excellent potential to mature in a natural atmosphere. The maturation of this tea is faster and deeper than that of poorer trees, either at the loss of a certain character youth marked by warmth and roundness, but also in the appearance of characters belonging to areas of mature quality teas. If we note with pleasure a real change in the character of this tea after a small year dry natural storage, some will point may be a slight imbalance, particularly on long infusions. Imbalance caused by a rapid disappearance of youth bulges revealing the strong structure of this tea. However, seen in the very fast and deep onset typically mature characters, we can expect that this tea won again very quickly balance, probably in the year to see the next two years. However, this is a tea guard, who although he already has great qualities today, keeps him many surprises for decades to come!
Shen Tai Cha 2013, but still the same garden trees oldest
Shen Tai is the second tea Wang Bing. This tea is produced from the beautiful green garden of the family Wang Bing, located on a parcel which juxtaposes the garden Gu Shu Cha. If the parcel is not sheltered by the forest trees are maintained so totally against environmental (and biological) and cut the old, again producing a yield much lower than even an ordinary garden soil, but also a tea significantly superior.
The very first pickings of spring, the tea cake that comes, is done entirely by the grandparents of the family Wang Bing, or where labor is committed to the following pickings. The leaves are also worked on the farm by grandparents, before being pressed handmade by Wang Bing.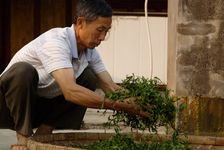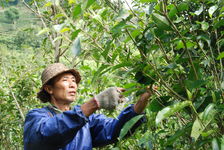 1.Handcrafted leaves Shen Tai Cha-farm
3.Trees smallest vintage 2012
4. smaller trees of vintage 2012
5.Trees greatest vintage of 2013
If the 2013 still comes from the same garden, the choice of trees was changed to cover only a small plot of garden with older trees, but very little cut in the manner of old Gu Shu Cha. These high quality trees portend a rich tea, but also greater potential for maturation. In part against the performance of such trees is lower, and the work of top pick, and the cost of this tea is very much higher than the leaves used last year, the sale price of the 2013 Shen Tai is finding therefore two times higher than the 2012 vintage. Let's see what this change gives the cup, alone and against the 2012 vintage
Chargement du thé...

comparatif
Cha Wang Tai Shen Bing vs. 2013. Shen Tai Wang Bing Cha 2012
The first fragrance that escapes from Gaiwan is both spicy teas, thick and generous. That of Tai Shen 2013 appears much younger, dense and round there or the 2012 edition already mark clearly traces of maturation. While the color of the brew appears similar aromatic nuances in the second infusions are very clear. The 2013 has a very strong spicy and woody dimension, something complex, bright and radiant. Face it the 2012 is clearly colored by maturation, especially developed for tea one year only. If she kept a very spicy side and some heat, there is a dimension that can remember the fresh bamboo, with slight camphor keys that we immediately returns to good old raw puerh
(Pu Er tea)
from natural storage.
To taste the 2013 a cross and a great power that comes immediately invade the senses with great aromatic density and excellent performance. We appreciate its beautiful curves of spring, bright appearance, round and silky. The 2012 despite his young age is clearly colored by the maturation and we immediately references in the world of aged puerh. The aromatic bamboo dimension is very present, sprinkled with fresh and satin, early keys and that portend good for years to come.
The aromatic change is obvious, though both teas enjoy intensity, presence and density seems comparable, their character and aromatic dyes are removed, and references to two very different worlds. The 2013 is in the roundness and fresh spices, the richness of the youth spring while that the 2012 is sharper, more sober and cowers on aromas carved by time. This vintage one year of age against the new pressing lost some richness and diversity, leaving his coat youth, roundness and fresh spices and less so in favor of something more sculptural, worked which is only in its early history ...
So first of all we note the particularly rapid and profound maturation of this tea, like the Gu Shu Cha produced by Wang Bing, revealing the richness of trees used and the quality of their interviews. However it should be noted that unlike the 2012 Gu Shu Cha tea kept the balance at the time he had to be pressed on the one hand due to a slower but that Gu Shu Cha rapid maturation, but also a greater softness and roundness associated with less bitterness associated with younger age of the trees whose leaves are these issues.
If these two teas are well recognized brand through a common soil, which appears in the first place and what differentiates them:work particularly marked time on the 2012 edition which predicts an excellent maturation medium and long term these teas.
Shen Tai Cha Occasional white packaging, Shen Tai Wang Bing cheap
Given the sharp increase in the price of Shen Tai Cha Wang Bing in 2013 against the previous edition, following the recall to the choice of the oldest and least trimmed trees, I made this year by Wang Bing produce better series based on market the same trees as the 2012 edition of his cake Shen Tai Cha. If indeed Wang Bing special series vocation to move towards a certain excellence, which fully justifies the use of the most prestigious trees for its new Tai Shen left to raise prices accordingly, the 2012 edition of the Shen Tai Cha, far from being uninteresting against possessed by a value for money issue, and quality rarely met with Wu Yi in this price range, where the new vintage is immediately accessible to all budgets.
This cake "Occasional" packed a simple white paper and stamped by Wang Bing, and has the vocation to return to Tai Shen Wang Bing as it was in 2012, a quality tea at an affordable price and with a quality report copy price. It is therefore based on precisely the same trees as those used for the 2012 Shen Tai, from the ecological Wang Bing. As the 2012 version it comes to picking the former, from the first leaves of spring, and worked compressed in the traditional way from the producer.
Chargement du thé...
Now see what it tells us tea in front of the "special" edition of older trees, and to what extent the considerable price difference between these two teas from the same garden is justified ... or not.

comparatif
Lao Tai Shen Wang Bing vs. 2013. Shen Tai Wang Bing White 2012
Comparison of two teas produced by Wang Bing in 2013 from the same ecological garden soil of Wu Yi village.
Lao Tai Shen
first, which takes place in the special series 2013 Wang Bing (With Gu Shu Cha Cha Yo Zi and Huang Lao Ye) and is based on a selection of older and less cut trees, like the Gu Shu Cha the same producer.
Then
Tai Shen
, packed a simple white and moist prices came to packaging, based on the same trees that were spent to the cake
Tai Shen
editing Force 2012:green trees of the same garden, cut them as the old, but younger and less maintained large.
The nose is very close, and reflects a common character, from the same garden. A first short infusion liquor produced almost identical. On the palate it is very close and share a common character. However
Lao Tai Shen
appears slightly more intense and deep.
Lao Tai Shen
product a truly explosive attack with a beautiful propensionà invade throat and nasal cavity. Faced with this
Tai Shen
is less explosive, more progressive, while still offering a very good attack.
With infusions longer
Tai Shen
appears more rounded, silky, or there
Lao Tai Shen
definitely has more strength, bitterness, astringency and stronger structure.
Lao Tai Shen
thus appears to be more frank, stronger, or there
Tai Shen
is softer, rounder and more feminine. The shades in the hollow As infusions showing
Lao Tai Shen
more enduring and complex, but also strongly suggest making the character of Gu Shu Cha, or there
Shen Tai
shines its roundness and its intense sweetness, leaving a little near the finesse and complexity.
The verdict is not clear, in particular with regard to price difference
Lao Tai Shen
still costing twice its competitor.
Lao Tai Shen
has well and undeniably superior quality brands, including better structure, a more pronounced bitterness and intensity, which are widely thought to Gu Shu Cha without power claim for all its refinement. These strengths
Lao Tai Shen
not only allow him to play today in the course of major Wu Yi teas, but also give him a better luggage when to mature for years to see the decades ahead.
On the other hand it should be noted that, especially for immediate consumption, the nuances between these two teas are fine, require a trained and infusions like me long, and can not be justified in the sight of a certain part of consumers such a difference price. Not only the novice not do can not be a real difference between these teas, but more likely it is to prefer the cheaper version for its greater curvature, the absence of bitterness and in general its more accessible.
Lao Tai Shen
seems to aim either for consumption in the first year an amateur public refined palate, a maturation of several years in which the differences between these two teas play then most likely largely in favor of
Lao Tai Shen
.
Lao Tai Shen
finally emerges as an end product, playing the card of high quality, with a price one can elitist and vocation tease Gu Shu still much cheaper. Besides
Tai Shen
definitely offers a better price /quality ratio, especially for a young consumer, to still get moist for prices very close to its competitor results, see improved accessibility for the uninitiated palate!
Zi Yo Cha, natural purple Wu Yi Tea
Zi Yo Cha is a tea out of the ordinary product for several years by Wang Bing from violet leaves collected from different families and villages of Yi Wu These leaves are from a rare natural mutation of the Camellia Sinensis leaves giving a violet color but also specific aromas.
These tea plants are relatively rare in the region of Wu Yi this production requires a lot of work especially for Wang Bing and his wife. Every spring it is indeed necessary to turn a multitude of family and small-scale producers to carefully select and buy a few kilograms of leaves that have each producer to compose the original cake.
Chargement du thé...

comparatif
Yo Cha Zi Wang Bing vs. 2013. Yo Wang Zi Bing Cha White 2012
Comparison of two vintages of the cake Yo Cha Zi Wang Bing, the 2012 and the 2013, both tasted the blind in 2013.
The first infusion colors are close, although we already detected a slightly darker shade for the 2012 vintage, trademark fast finish over a year. Nose first vintage in 2012 seems very hot, very round, with great fruity dimension keys dried fruit, dates and a lot of complexity.
Besides that, the 2013 appears to be more spicy, with hints of juniper, clove, clearly "younger".
On the palate the 2012 vintage has a very good attack, clear, honest, with a good propensity to spread in the throat and nose and excellent persistence and touches of fresh bamboo reminiscent of puerh
(Pu Er tea)
few years of age. The 2013 with an equally explosive attack appears more clearly in an explosion of youthful freshness and spring, with very round flavors, woody, aromatic and great wealth.
The 2013 also appears to be much more rounded, complex, diverse, or where the work time will be carved the aromas of the vintage past into something more focused, folded with aromatic keys up to more cinnamon or dried fruit, typical purple teas Wang Bing after a few years of natural aging.
As is the case with other cakes Wang Bing is noted particularly rapid maturation and pronounced and rich aromas. The last vintage of this tea will be well in a few I only lost a great deal of freshness and aromas of spring that now characterize his successor, to develop a full aromatic richness of old tea, bamboo, dried fruit, spices complex.
Note also that this tea has kept most of curves and flesh as other teas such as Wang Bing Shen Tai or Gu Shu Cha Cha, which is attributable to the particular aromatic richness of violet leaves. Similarly, the secondary aromas due to the maturation affect more a kind of fruity sweetness that fresh camphor type to which other teas Wang Bing guide which, as the previous vintage is shown, is typical of trees employees for making this tea.
We will hold back a tea particularly rapid maturation, but also complex and capable of generating a remarkable aromatic richness.
Huang Lao Ye, the tea farmer
In an exceedingly reasonable price, Lao Ye Huan is a less prestigious than other productions Wang Bing tea, but atypical and not uninteresting. This tea is indeed composed of Lao Ye (old leaves) also called Huang Pian (yellow leaves). It is the leaves that are removed from Gu Shu Cha Wang Bing when sorting sheets because they are too big, and worked less well than others (Cha Hou) or they have a defect in appearance.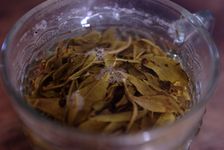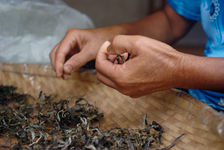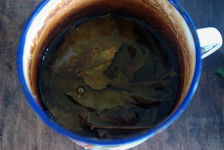 1.Yellow leaves infused in a glass of water in Yi Wu
2.Tri yellow leaves in Wang Bing
3.Yellow leaves sorted in Wang Bing
4.Yellow leaves infused in a glass of water in Yi Wu
Besides being cheap is that tea is usually consumed by many ethnic minorities in Yunnan, but also many small tea growers, especially Inthe expensive and prized vineyards as Wu Yi was indeed always drunk tea in rural Yunnan, especially in the area of ​​Wu Yi, not as an exceptional product that be tasted in small cups, but as a daily beverage, and facing rapidly rising tea prices these soils few producers still drink their best leaves, they prefer to sell and drink and the most commonly huang pian they get when sorting! Less worked with larger then deployed to form leaves, Huang Lao Ye approach as the most different teas produced since ancient times by the minorities of Yunnan puerh (Pu Er tea) as we know it has been introduced by many Han later.
Uncommon on the market, Lao Ye are a local product, a local tea as we drink in the countryside of Yunnan. Generally infused long, sometimes directly into a glass of water or a large pot, this is a sweet and refreshing tea that accompanies the meal and you can drink all day long.
This cake has been produced from the Lao Ye Gu Shu Cha Garden Wang Bing, old trees growing in the forest of Yi Wu
Chargement du thé...