This page is not a
real
translation but just an
automatic translation generated by computer
of the
original article
, written in French language! Its not good... but better than nothing!
Want to help us do diffuse puerh tea culture in english, by providing a better (or corrected) translation?
Please contact us!
@
To be informed by email about new www.puerh.fr article publication, just
click HERE

Haiwan ( see article on this manufacturer ) is one of the largest producers of puerh, whether by reputation or the amount of annual production. The company, a leading producer of private puerh (Pu Er tea) after the opening of China, was founded in 1999 by Zou Bing Liang (邹炳良) and Lu Guoling (卢 国 龄) among the greatest personalities of the world's puerh, from both of Menghai the famous Tea Factory. Zou Bing Liang particular, who still runs Haiwan, spent nearly 40 years in Menghai Tea Factory.
There grow many teas and is considered one of the great assembly in the history of puerh. It will thus contribute to the development of famous recipes such as 7542, undoubtedly the most modern crude puerh (Pu Er tea) known.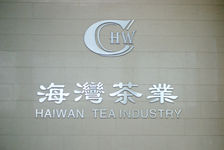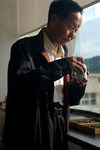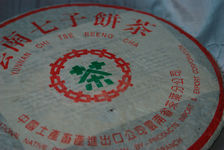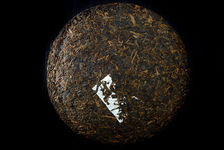 1. Haiwan Tea Industry Co Ltd
2. Zou Liang Bing, founder of Haiwan
3. 90 years Galette 7542
4. Galette 7572 of the early 2000s
But Zou Bing Liang is also part of the very small handful of people who were behind the development of puerh (Pu Er tea) fermented in the 70s, and is sort of the father as the famous fermented cakes pressed continuously through 7572 Menghai Tea Factory since 1975.
The origin of classical Haiwan
These assembly Gross (7542) and fermented (7572) developed within Menghai Tea Factory by Zou Bing Liang and the research department of the company have long been considered the major references puerh (Pu Er tea) raw and fermented, and are particularly valued for balance and centered dimension. Today still constitute the most teas produced by Menghai Tea Factory, the older vintages are highly sought amateurs. The massive increase in production Menghai Tea Factory from 2006 marks the end, however, for many major references such as the 7572 or 7542, the cakes out after 2006 are not considered as a certain number of inferior quality and their potential to improve with time, challenged by those below.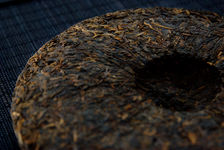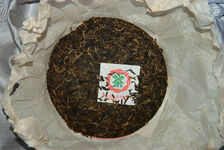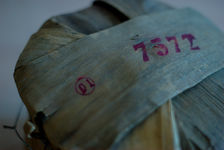 1. Menghai Tea Factory
2. Galette 7572 the early 2000s
3. Galette 7542, late 90s
4. 7572 Tong wafer of 90 years
In the early years of Haiwan, the company, headed by Zou Bing Liang, continues to produce several classic recipes Menghai Tea Factory as the 7572, pressed by Haiwan under reference 7578. For those who do not know, the first two digits of classical references puerh (Pu Er tea) Because at the first year of production of this recipe (so 1975 for 7572), indicating the next grade (size or leaf age on tree) leaves overall, while what the last digit is the reference plant from which tea is released, or 2 Menghait Tea Factory (eg 7572) or 8 Haiwan, a 7572 Menghai becoming Tea Factory and in 7578 a Haiwan. Haiwan happen in 2005 including a superb 7578, already very pleasant to his release and when it was stored with care today is a true wonder.
Chargement du thé...
In 2006 it was the end of "classic" Haiwan, the producer says its singularity and stops producing these assemblies from the past to focus exclusively on its own revenues, which begin now by references 99 (year of creation Haiwan).
The return of classic Haiwan
But this year (2011), after 5 years of absence, reappears in the catalog Haiwan two cakes, one raw and one fermented: the 7548 and 7578, corresponding respectively to 7542 and 7572 Menghai Tea Factory. The reason for the return of the greatest classics in the catalog of Haiwan are ambiguous. You can see a return to sources and, after the great boom of the years 2003-2007 puerh (Pu Er tea) where everyone was trying to distinguish themselves, a desire for Haiwan reconnect with its roots and remember that behind the ten years of company (in 2009) there there's the great knowledge of Zou Bing Liang and Menghai Tea Factory. One can also see a willingness to Haiwan enjoy the high profile of these two assemblies, now marketed by Da Yi (Menghai Tea Factory), and claim somehow the pie. But we can also see a desire for democratization of these teas, which in the communist era were popular products cheap, and in recent years are now in the hands of Menghai Tea Factory teas expensive, without any justification other than their brand awareness that products. This approach popular tea has always been central to policy Haiwan since its inception.
If we can not and speculate on the motivations of Haiwan to highlight these cakes, let's see what we have in recent statements, particularly against their elders and versions produced in 2011 by Menghai Tea Factory.
The 7578 edition Haiwan 2011 to test
Packing and débalage
The packaging for this new 7578 is close to the 2005 edition. As Haiwan can do it, it's simple and sober, on a paper also very classic and we end references to the old cakes of the communist era. We thus find the colors and overall design of the 2005 version, or logo appears on the brand and Haiwan Lao Tong Zhi (老 同志, Old Comrade), now used by virtually the only Haiwan. By looking more carefully at the right we see the disappearance of the logo of the brand Jia Jia (加嘉), present on the 2005, making the product range Haiwan, grouped into four overlapping sometimes mark particularly confused. Note also the translation of the name of the producer character in the novel "Anning Haiwan Tea Industry Co., China Ltd.Yunnan", presumably to promote exports, and the disappearance of the signing of Zou Bing Liang, yet has lots of 2011 productions.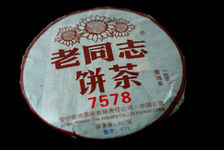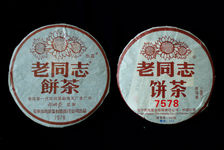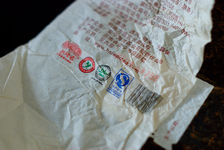 1. Packing of the 7578 vintage Haiwan 2011
2. Packaging for 7578 and 2011 vintages 2005
3. QS and Halal Logo on the back of the pack
4. System Safety Commission on new anti copy Haiwan cakes
The blue logo QS, mandatory since 2007 for its part, relegated to the back of the wafer. Uncommon it keeps the simplicity of the face and we referrals to aesthetic wafer produced before 2007, immediately giving the impression of a tea oldest. Less common still be found next to the logo that Halal certification, the products of the brand Haiwan Lao Tong Zhi is now certified Halal, most likely to please the Malaysian market.
The packaging is now sealed by a holographic anti-counterfeiting label, as are the cakes Menghai Tea Factory, products Haiwan is in fact largely fake, including the 7578 editions. Note, however, quite on the effectiveness of this type of security that can prevent the crudest copies but will not stop counterfeiters more professional. Moreover, and as is the case of cakes Menghai Tea Factory, these stickers have the annoying habit of tearing the wrapping of the cake when removed which is unfortunate.
More interestingly we notice the obvious setting before the recipe for this cake through a very large "7578", printed in red that is immediately obvious. If in 2005 to 7578 was a Haiwan to be something natural that was not worth to be highlighted, the will is clearly now to play on the knowledge of the reference and catch the eye of one who happen next to the pancake. Although Menghai Tea Factory is the most discreet above, they are also clear since the 2000s on the notoriety of these references, although they have existed since the 70 were initially not included on packaging of cakes.
Along the same lines, shown in blue, still evident on the face of the wafer reference "111", which in the codification of old factories status means "first pressing of 2011". Again such references, very popular amateurs (especially product Menghai Tea Factory) have never been as much before now, and confirms the approach of Haiwan want to not only put this cake in classicism, in following all codes of the former state factories, but also the willingness to put forward this membership, and to reach specialists and collectors.
What we said Nei Piao
Nei Piao, this little piece of paper included in the package is in line with this one as clearly and puts forward the assembly of this cake: 7578. Notice however that if the Chinese version and this teas systematically named 7578, this name is translated to "Shu Bing Fermenteed /Pu-erh Tea Ripe" in English, probably for reasons of simplification to a public unfamiliar with these classical references. Note also the prominence of Zou Bing Liang, who disappears from the package but is presented on the Nei piao as the producer of this tea. More interesting Nei Piao tells us that the tea will be better after 3 to 5 years, thus confirming the intention of creating a Haiwan puerh (Pu Er tea) classical thought to mature, and not as is often the case now before puerh (Pu Er tea) designed fermented all for immediate consumption.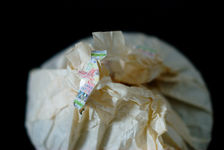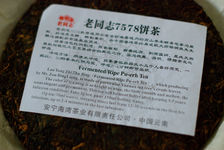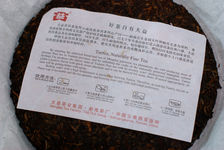 1. Unpacking the 7578 2011
2. Piao of Haiwan Nei 7578 2011
3. Nei Da Yi Piao of 7572 2011
4. Fei Nei of Haiwan 7578 2011
Note also the "instructions" given by Haiwan. Where Menghai Tea Factory, is moving visibly toward the seduction of new consumers, adding logos (which are particularly useless) and simplifying the thing to an infusion of 1 or 2 minutes, Haiwan advocates for his part very simply and in one sentence the practice of multiple infusions (gung fu) and longer durations of infusion (between 12 seconds and 4 minutes). It is thus clearly true to the philosophy of Haiwan, and if the mark does not hesitate to produce mini tuos or bag teas (of quality) to meet the contemporary demands and popularize puerh, 7578 this is part it in pursuit of a culture of the past, and trying to tell us that the past is not finished. Let's see if she held the cup in the promises she tells us.
The new 7578 making naked (and facing the vintage 2005)
The cake is very beautiful and visually very close to the 2005 vintage. A tangle of sheets of various grade and color (7572/7578) is spread on both sides of this cake, with a slight predominance of grade on the front end. The cake is compressed enough without being too. If the leaves do not come off by themselves they délassent easily and without damage with a peak at a tea or tea knife.
[IMG][17: Facing the Haiwan 7578 2011] [18: Back of Haiwan 7578 2011] [19: Detail of Haiwan 7578 2011] [20: Comparison of 2005 and 2011 vintages of 7578 Haiwan] [/IMG ]
When infused the leaves emerge very beautiful and slightly peppery spicy flavors that tickle the nose. The liquor is pure and beautiful, and ranges according to the duration of infusion of black coffee caramel through a deep burgundy. On the palate this is the first infusion of great intensity, with a great presence and rear mats and slightly peppery taste. If the first infusion lack a little subtlety, it greatly lightens after a few cups to achieve a nice balance. That this tea has disturbing is its spicy notes, slightly dusty, almost reminiscent of much older teas, that character can not be found very rarely in the teas of the year. It is clearly in a subtle and balanced fermentation reminiscent of past practices, can be added with some time to mature before bulk compression, and this tea should attract a number of fans puerh (Pu Er tea) fermented.
If so he who seeks simply a fermented puerh (Pu Er tea) of the year should be seduced, the 2005 vintage amateur who hoped to find the same aromas will undoubtedly by cons disappointed with this tea, especially by a certain heaviness (especially in the early infusions) and fermentation buttons marked, or where the 2005 vintage when it comes from a good dry storage, with its fruity and bright buttons, a marvel of richness. We should indeed remember that six years separate these two teas, which is particularly important for a puerh (Pu Er tea) fermented quality, which needs several years to mature (which is not necessarily a puerh (Pu Er tea) Gross, whose influence is more time to a transformation to a refinement). These six years of maturity are indeed clearly felt on the 2005, with aromas and laid more mixed, and a fruity dimension deep and complex that it would have been impossible to get out to the factory.
What you have now finally behind the differences between the 2005 vintage and that of 2011 between the part to be attributed to natural time and maturation, and that which comes from a possible change in practices, including fermentation, of Haiwan?
The question is not obvious. This fermentation, although fine indeed appears more pronounced in the new vintage. It comes first of course the youth of the wafer, which would require at least another year to lose the typical aroma of fermented just puerh. But there may be some also see a slight increase in the degree of fermentation to approach slightly faster in the 2005 edition. If this assumption is likely behind it probably does not compromise the capacity of this cake to join his elder. Fermentation is indeed clearly a moderate fermentation, thought to mature, and not thrust such a fermentation that makes this increasingly common in the world of fermented puerh (Pu Er tea) (and in some other products Haiwan).
Note also that little heaviness behind the 2011 model year, an even a little shy but very subtle, which refers directly to what makes the richness of the 2005 vintage: the roundness light and fruity, a little clumsy in today's edition 2011 but actually present and that requires a longer time to be confirmed and refined. This taste this observation is even more obvious in the aroma and aftertaste of this new edition, which clearly refer to the 2005 edition.
In this sense what seems to differentiate the two cake is not a change of character per se, but is primarily a question of balance: everything is already in the new vintage, which has most likely require that s' some balance to achieve the grace of his predecessor.
It retains a quality tea and thought to mature. He not only stands up very well today as a young puerh (Pu Er tea) fermented even if for immediate use it is probably not the best fermented puerh (Pu Er tea) of the year, but mostly it seems to promise convincingly enough to follow the path copy of the 2005 vintage.
The last 7578 as advocated Haiwan
On the user manual that accompanies the cake, Haiwan advises a method of preparation which may surprise some fans puerh: A quantity of tea of ​​3 grams per 150 milliliters (1g/50ml) and infuse progressive starting between 12 and 30 seconds to finish between 2 and 4 minutes, where we would attempt such dosage of the tea stronger or shorter brew.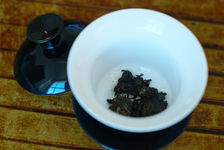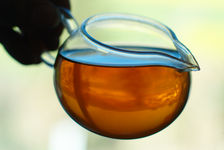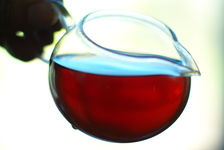 1.3 grams of tea in a Gaiwan 150 milliliters
2. First coppery infusion
3. Second infusion burgundy
4. Infusion of 7578 according Haiwan
Three grams of leaves and seem lost in the bottom of a large Gaiwan 150ml. After an initial infusion of 20 seconds, the Gaiwan no emission of perfume, and a drink of a beautiful copper color. The latter then will darken with infusions to take a deep shade rubix.
And brewed this tea comes with finesse, with subtle aromas, light and bright. We are getting closer and much more sensations of the 2005 vintage, the side a little young tea being largely erased to showcase its subtlety, its size and round, fruity and light.
This is ultimately a very excellent way to brew the tea, highlighting its fineness, through a very light body and fluid that invites you to enjoy the flavors and it proposes to realize its depth.
Haiwan of 7578 (2011) face of 7572 (2011) Menghai Tea Factory
What about now this Haiwan 7578, 2011, against the 2011 edition of the 7572 Menghai Tea Factory, released the same year and based on a priori the same recipe?
The 7572 Menghai Tea Factory 2011 is indeed as the last (in 2011) in a long series of pressed cakes since the creation of this recipe in 1975, and whose reputation of older vintages is well established.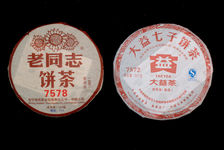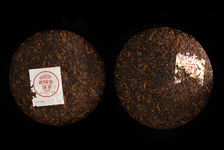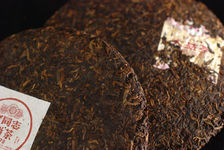 1. 7578 2011 Haiwan face Menghai Tea Factory 7572 2011
4. 7578 Haiwan 2011 against 7572 in 2011 Menghai Tea Factory
Faced with the 7572 Menghai Tea Factory new 7578 seems significantly more compressed. The separation between the large front and back, focusing on the leaves of the finest grades of the face is also much more visible on the cake of Menghai Tea Factory, giving it a neater appearance. Similarly the plot of the tissue, virtually invisible on the wafer produced by Menghai Tea Factory, is more visible on the version of Haiwan giving a point there too aesthetic to its competitor Menghai.
The liquor produced by these two sisters are very similar. Taste is at first quite close, and it is clear we have to do the same assembly and same fermentation techniques, from two producers who master perfectly. The Haiwan of 7578 appears as though finer and more subtle than the 7572 Menghai Tea Factory. The latter has indeed something more plated, not lacking in intensity but in which the depth is lacking. A character a little flat, monotonous boredom despite intense aromas against a slightly richer and more diverse 7578. It is visible not only to taste, but even more evident in the fragrances that emerge, for example the cover of Gaiwan, where the 7572 is very flat and almost vulgar, where tea Haiwan approaches more widely the charm of its 2005 vintage.
If in long infusions of these two cakes somewhat resemble their differences become more pronounced in shorter infusions. Where after a few infusions of the 7578 Haiwan becomes luminous and clear, with the presence of beautiful spicy notes, the 7572 remains on one side a little milky fermented puerh (Pu Er tea) ordinary. Similarly the gap is widening as and infusions, teas, and both seemed to start the race close enough to the 7572 is faster than its competitor and frankly becomes boring where Haiwan 7578 to the contrary is refined with infusions to be much richer and more complex.
Thus there Haiwan or cake without being staggering drunk with pleasure, especially after a few infusions that Menghai Tea Factory guard all along one side and heavy malty, and slightly plated vulgar, references to good fermented puerh (Pu Er tea) market and annoy undoubtedly a number of fans puerh (Pu Er tea) fermented.
In the duel of the 2011 vintages of 7572 against the 7578, the new Haiwan seems to cope well with flying colors. Now let us see how this latest vintage of 7578 or not is a continuation of the famous 7572's past and what it Haiwan has to say at a wine tasting in conjunction with its predecessor: a cake recipe even produced there has 10 years in Menghai Tra Factory after a natural dry storage (Kunming).
The 7578 2011 7572 to face a 2001
The appearance of the two wafers is initially very similar, whether in the gathering sheets or in compression. When infused the leaves emerge from something disturbingly common visibly. The new Haiwan appears naturally as more light and fruity, then the 7572 or 2001 is expressed with its 10 years of age through something more matte and dull, but well behind that there's a commonality. Given these two patties, which despite their 10 years of differences play well on a family resemblance, perfumes released by the last 7572 Menghai Tea Factory in turn seem radically different, much more immediate and heavy.
The liquor produced is visually almost identical between the wafer and that of 2010 Haiwan Menghai Tea Factory produced in 2001. The taste is quite in line with what the fragrance of these teas suggested: A tea of ​​2011 brighter, fruity and flowery (younger) face over his ancestor carved by time, with less flowery aromas calmer, dull and deep, with all but two decidedly a common dimension. Moreover, if in 7578 the mouth of Haiwan is more round and fruity, resulting aftertaste far more matte clear references to tea in 2001, and seems to herald a future on the same line.
As this was reflected also in the scent given off by wet leaves, the last 7572 Menghai Tea Factory for its part seems to leave much of the output of the same plant it there's 10 years. The similarities seen between 7578 and 7572 Haiwan of 2011, the last 7572 Menghai Tea Factory frankly seems to side, visibly much heavier and fermented to wine tasting. If this new vintage Menghai Tea Factory has things that can please, great intensity, a very pronounced malty dimension ... is this another 7572?
Conversely it is probably able to see in this new 7578 Haiwan the rightful heir of the old 7572, and we are able to believe that stored in good conditions, these new cakes "classic" of 7572 will approach old as popular today.
The 7548 edition Haiwan 2011 to test
Now for the second cake recipe "classic" re-produced this year by Haiwan, the 7548. During Haiwan of 7542, this is a crude assembly particularly recognized and whose vintages of the past decades (produced by Menghai Tea Factory) are popular with amateurs.
packing, unpacking and Nei Piao
The package does not include the aesthetics of ancient Haiwan of 7548, and its design was unified with 7578 likely to create a raw torque and fermented based on these two great recipes. He resumed against by the colors, green and red, the former Chi tse beeng cha. It is possible for aillor make the same remarks on packaging as those made about 7578, including the prominence of reference 7548, and 111 for 2011.
Unlike that of his cousin fermented, Nei piao this time does not mention the reference of tea (7548), which is just plain named puerh (Pu Er tea) /unfermented. The same Nei piao tells us also (rightly or wrongly) that the leaves are the first spring crops, which take place around Qingming.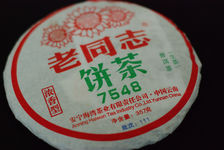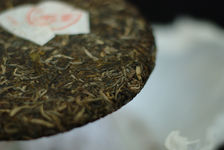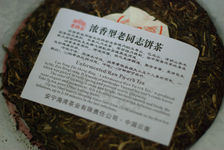 1. The new 7548 vintage Haiwan 2011 (package)
2. The new 7548 vintage Haiwan 2011 (pancake)
3. The new 7548 vintage Haiwan 2011 (detail)
4. The new 7548 vintage Haiwan 2011 (Nei Piao)
As for the 7578 Bing Liang Zou (or at least Haiwan) advises on Nei Piao multiple infusions. It will perhaps be surprised by cons times and recommended weights, ie 1 gram of tea per 50 ml of water, and infusions starting between 12 and 30 seconds to finish between 2 and 10 minutes, which seems both light at the weight, and long at the first infusions for such gross puerh.
I would start testing this cake with infusions of more standard parameters for a young puerh (Pu Er tea) (2.5 g to 50 ml and infusions of several seconds) before you try for those recommended by the record.
The new 7548 making nude
The wafer is rather graceful, with a fairly large proportion of buds and a nice variety of tones. As is also the case of 7578 the cake is quite compressed, especially at its center, but the leaves come off easily still using a pick or a knife to tea.
The smell of wet leaves emerges is not very intense but is sharp, spiced with touches of softwood. Taste that is typical of Menghai but also typical of this type of large-scale production of tea, something a little harsh, dull and slightly spicy, with a bitterness and presents some astringency.
It is a type of tea it is best to infuse very short if we have not used. A tea that typically begins with something quite abrupt and angular, to take his ease after a few infusions, generate keys flowered in the nasal cavity while the bitterness of that beginning is gradually changing under the tongue into something sweet and particularly round.
If the first infusion and may see disappointing surprise, this tea has a pleasant dimension of length, including its ability to renew itself as a tea infusion and carving the palace from that wood. We also appreciate the charm of this gentle produced by the transformation of the initial bitterness between straw and buttons and smoked, typical of this type of tea.
Lovers of contemporary young puerh (Pu Er tea) will however no doubt in this tea a certain poverty of taste, and it is undeniable that when tasting this tea parallel sorely missed breadth, richness and complexity to address many of Other productions of 2011. This character that we should not judge yet can be as fast referrals we finally had the good numbers of puerh (Pu Er tea) the past such as 7542 when they left the factory.
This again raises the question of the meaning of today produce a receipt from the 70s, and that not only tastes but also production methods have changed greatly, giving rise to the delicate question of choice between updated or conservation such classic recipes? If the transformation and adaptation to current tastes such recipe would eventually keep only the name in the only sense to exploit the notoriety through a pure marketing approach, Haiwan for its part seems to have chosen focus Above all nature and authenticity of tea that is behind, the risk of being out of step and face the critics.
Because once again, if these classical references have such a reputation and are sought after today it is primarily for older vintages and for their eating quality that we now carry these aged teas. We know well that these teas, mass-produced by industry communist, did not when they left the factory the character expected of fine contemporary productions. If we can assume that in recent times after maturation will lead to very high quality teas that are likely to exceed what the last decades have left us, they will be distinguished by the cons without a doubt the character of older Chi tse beeng . In this sense it is probably well on the side of inspired productions of the past as the 7548 that stand today as I love the character of Chi tse beeng of 80 years will have to turn if he tries to get those flavors in 20 years, and can not be in great vintages contemporaries.
Before pushing this issue, comparing the new 7548 to 7542 Haiwan with old, I would first like to offer a new look at this tea and as I mentioned earlier the brew as advocated Haiwan Nei Piao on the cake.
The last 7542 as advocated Haiwan
Haiwan advises indeed infuse the tea with a proportion of 1 gram of leaves per 50 milliliters of water, 3 grams per 150 milliliters, and infusions starting between 12 and 30 seconds, ending between 1 and 10 minutes. This will not be without challenge the young lover puerh, often more accustomed to the proportions of teas at least twice, and lives very much shorter infusions. Let's see what gives this tea prepared in the manner of Haiwan.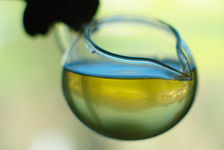 1.3 grams of tea in a Gaiwan 150 milliliters
2. Infusion of 7548 Haiwan Gaiwan in 150 milliliters
3. Liquor brewed according to the 7548 Haiwan
4. Liquor in the 7548 infused according Haiwan
We are forced with an amount of 3 grams of tea to use a very large Gaiwan 150 milliliters at the bottom of which 3 grams of leaves seem lost. After 20 seconds of infusion liquor is a bright yellow. To taste it is particularly balanced. Thus we obtain infused something fine and subtle, in which the sensations in the mouth are found softened to enhance the sensations that take place back on the palate, throat and nasal cavity.
This mode of infusion is well worth the far rear sensations of this tea, especially the rich flavors that develop in the nasal cavity. This gives the tea a very good balance and reveals in a very round and bright. Emerges as something very sweet. Infused more conventionally this tea had indeed already some bitterness, but frankly become infused sweet that way.
The advice Haiwan when the infusion of this tea and turn out rather interesting and relevant. They give this tea a dimension particularly fine and soft, which assumes a particular charm that gradually takes posession of him that the wood without attacking.
See now that this tea has to tell us through tastings parallel, starting first with his cousin produced this year by Menghai Tea Factory.
The 7548 2011 (Haiwan) against 7542 in 2011 (Da Yi)
If Haiwan, founded and directed by Zou Liang Bing, in his history has repeatedly pressed cakes containing the traditional recipes he inherited condition of plants, the famous Menghai Tea Factory where many of these recipes were developed summers and which has since become an annual private continues to press the patties through mark Da Yi (today TAETEA Group).
Representing the largest producer of tea in Yunnan, with over 6000 tons yearly, the latest vintages of Da Yi cakes are often criticized amateurs who do not see these teas through the righteous heirs of past production. What exactly is the last meet last Haiwan teas released this year (2011) of this mythical plant.
These two discs are different at first glance. At degree level (size) leaves first: the leaves and buds of the cake of Haiwan being more evenly distributed, where the 7542 Menghai Tea Factory follows a practice less and less common which is to focus buds and leaves the thinnest on the face, giving it a better appearance. In this sense the 7542 gives the impression of being composed of finer grade than the edition of Haiwan. Differences also at the level of compression. The cake Menghai Tea Factory is indeed far more compressed, but also a different profile, with edges sharper or 7548 there is more round. Again this makes the 7542 Menghai Tea Facotry much more graceful, elegant and attractive, although at least use a compressed cake is more pleasant to handle.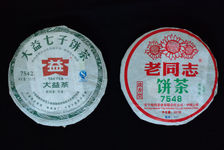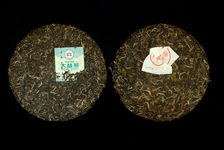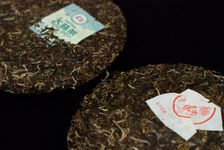 1. 7548 2011 Haiwan face Menghai Tea Factory 7542 2011 (packaging)
2. 7548 2011 Haiwan face Menghai Tea Factory 7542 2011 (Nei Piao)
3. 7548 2011 Haiwan face Menghai Tea Factory 7542 2011 (pancakes)
4. 7548 2011 Haiwan face Menghai Tea Factory 7542 2011 (detail)
Once infused the two competing produce a similar liqueur, bright and perfectly pure. In the mouth it is clearly in the same tone, and obviously these two discs is a family resemblance. After if they have common roots they are not equal, however. Although they have both this side very rough and dry, the cake Menghai Tea Factory has a bitterness far more pronounced and aggressive while the cake of what Haiwan appears more balanced in comparison.
As I mentioned earlier tea Haiwan not conspicuously hui gan, especially in the first infusions. If these sensations are back a little lower in Haiwan they are totally absent from the Tea Tea Menghai Facotry. Also the aftertaste is gaining presence as and the tasting of Haiwan and still develops some wealth or its competitor dynamics there remains desperately silent.
There is also some difference in the character: The 7548 Haiwan seems sharper but with something bitter and stout presques keys and fumes which may remind old teas, tea or there Menghai Tea Factory is cooler and with a slight bitterness but very present.
If these two teas and inspired by the same recipe have their origin from a common source, they turn out very different in the hands of Haiwan or Menghai Tea Factory, and although they still share a family resemblance they are all Obviously not the same invoice.
A new taste in parallel was therefore necessary to weigh the path that has been covered by this revenue, putting the finishing Haiwan face his (young) ancestor, a cake recipe 7542 it produced 10 years there's Menghai Tea Factory .
The 7548 of 2011 against a 7542 of 2001
I have purposely chosen for this comparison a cake 10 years old this Haiwan of 2011, and after a natural dry storage in a humid atmosphere (Malaysia), thus having a maturation present, but do not take from the top or overly distort the character tea.
To the eye the last Haiwan is very similar to its predecessor, making course ignore the darkening and browning of the cake of 2001, inherited from 10 years of ripening tea.
The general appearance of the cake, the degree of compression and profile are very close by cons, where in comparison the last 7542 Menghai Tea Factory (2011) appears to be very much against by more compressed. Besides the aesthetic compression lighter as it is undertaken by a better omen Haiwan maturation, or at least closer to a mature old 7542 where one can have any doubt on newborns Menghai Tea Factory.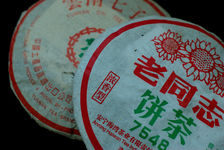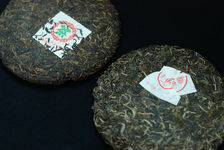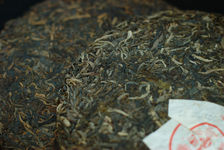 1. 7548 2011 Haiwan face of a 7542 2001 (packaging)
2. 7548 2011 Haiwan face of a 7542 2001 (pancakes)
3. 7548 2011 Haiwan facing a 7542 to 2001 (detail)
4. 7548 2011 Haiwan face of a 7542 2001 (leaves)
The assembly of the leaves also appears visually very close between 7548 and 7542 to 2011 of 2001, both in terms of leaf size, diversity or the proportion of leaves in each grade.
The tasting of the two parallel slabs is particularly interesting: If at first seem radically different their characters, the wafer 2001 is clearly marked by its 10 years of maturation, there is yet more than a family resemblance, a common character .
Comparing the scents that emerge from the damp leaves can be seen in the first place of course the freshness and size very flowery scents of 2011, which is opposed to the old character and camphor keys of 2001. However, by going behind this difference is the similarities of these teas, clearly identifiable common ground in a parallel tasting.
This permanence is found to taste: a kind of common body, who is dressed respectively in the freshness of a lush and flowered for the youngest or the velvety camphorated peppery perfume to his senior, but rely on well a common structure. It is mostly back feeling left by the 7548 which are disturbing and strongly suggests the flavor of the older than 10 years. Note that by this amazing against-taste of the past, a subtle but very present in the Haiwan of 7548, is totally absent from the 7542 produced in 2011 by Menghai Tea Factory.
Besides the common ground of these two cakes tasting their Haiwan lets see the new classic in a whole new look. Indeed this may seem disappointing puerh (Pu Er tea) crude at first, taken independently or worse in comparison with other young puerh (Pu Er tea) 2011 gross which can easily introduce more complex, richer flavors, subtle and more intense sensations back . The similarities, subtle but present, however, found between the young tea and a 7542 decade, made excellent by their maturation, we are indeed rethinking issues of taste quality and the relation to time .
The 7542 does indeed have never been high product quality or prestige, but teas popular mass-produced by the Communist Chinese tea industry. In no case can be compared to some of these teas teas stand today as luxury products, such as from tree ultra-selected, renowned terroir, or a particularly fine job of producer. In this sense it has few references (with the possible exception beings teas produced before the 50s) to assess changes in the long run productions puerh (Pu Er tea) past 10 years, so many of these have nothing to do with what had happened during the communist era. If young and fresh amateurs have puerh (Pu Er tea) can not be wrong to discredit productions "classics" such as the 7548 and 7542 modern, which they prefer teas more depth and subtle one can wonder about what they would He thought there's 20 years of 7542 fresh from the factory (though of course they had their time in something other than the production of state for comparison)?
In pursuing this perspective, the 7542 former lover wonders what he must now puerh (Pu Er tea) product store for years to come. If puerh (Pu Er tea) certainly contemporary high quality are most likely a sign of quality for the future, this future has great chance to get away from what we know today aged teas from the communist era. In this sense it is perhaps in this new productions such as 7548 to look over the famous 7542 of the 80 or 90, and may need to store this cake in 20 years to find the charm of Chi tse beeng each of the past.
Behind the confidence one can have in the ability of this new album to re-produce the alchemy of old 7542, it first there's speculation that can be done from the finding of a true continuously between the tea taste and his elders. Added to this is not only the experience of Zou Bing Liang, but the policies he pursues and the values ​​it upholds through Haiwan. Values ​​in the direct lineage of Menghai Tea Factory of the communist era, where politics of contemporary Menghai Tea Factory for his part, radically changed.
The radius doubts now we notice the very light weight of the bitterness of this new 7548, which surprisingly appears to be less bitter than its predecessor 10 years old, where one would expect the opposite (the bitterness that tends to swell over time). The bitterness with an important role in the ability of a good puerh (Pu Er tea) to evolve positively, we can see in this a potential loophole moderate bitterness of this cake in the long term, may be thought by Haiwan to make the tea easier access for immediate consumption. On this point, and this is probably the only, the cake Menghai Tea Factory has 2011 may be a small advantage for years to come. Point probably also not sufficient to prefer the Da Yi 7542 that produced by Haiwan, seen in the large gaps they also present.
Verdict
Finally remember that these two new teas Haiwan?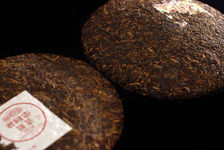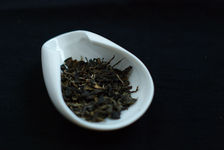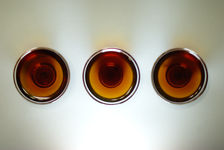 1. Haiwan 7578 vintages 2005 and 2011
2. 7548 2011 Haiwan (leaves)
3. Comparison of new classical Haiwan
Obviously these teas fit well and fairly faithful to the continuity of the great classics of the era of Chi tse beeng cha that are the 7542 and 7572. This is the case not only in taste, for which these two teas are the descendants of past vintages, but also in the spirit of these teas and philosophy that was behind: teas popular, accessible and relatively cheap, thought not only for everyday use today, but to refine and enrich themselves with time.
If the lover of contemporary puerh, especially crude, and could see through the pancake a certain restraint, not to mention a certain young face poverty premium teas, and may be eager to cast the stone, it is primarily in the differences between puerh (Pu Er tea) yesterday and today he must investigate the cause, this new tea Haiwan finally playing the game very well rather risky to produce in 2011 and 7548 7578 true to what a Chi tse beeng cha.
Compared with their elders, there is good and despite the action of time, a common character, specific to these two assemblies, which can be suggestive of similar maturity, while on the other hand a number of details still seem separate these new vintages of old, including mitigation of the bitterness of 7548.
Compared to the versions produced in 2011 by Menghai Tea Factory, there is a significant qualitative edge for Haiwan productions, not only richer and enjoyable but also appear to be closer to the original recipes.
To whom are these cakes and they are worth the shot to be stored?
These teas are designed primarily for me puerh (Pu Er tea) fans, despite what they may be criticized or moderately priced. I do not necessarily recommend it because neither he who seeks first two cakes to discover the world of puerh, or one who just wants a single tea to drink when he feels like without going any further. Whoever is interested in by cons puerh (Pu Er tea) and culture, which seeks to understand today's teas, teas from the past and their evolution has any interest in owning some of these cakes in his cellar for drinking today and see them evolve.
These teas, although an obvious youth, are indeed a reflection of the past, and we refer to the bygone era of Chi tse beeng cha. Today they allow us to enter the path that has been done and to better understand where the patties left by decades. Over time they will help us re-live this maturation of teas from the communist era which we have seen that for many fruits without live tracking. Tomorrow they will probably be the last traces of a page is turned.
In this sense they are teas that can also be wise to store for the coming years and which, although unlikely to become the best teas aged 2040, will be the ultimate guarantors of flavors of another time. We live indeed stand today as the beginning of a revolution in the history of puerh, which we somehow references over 60 years ago in the era of former private producers. And 10 years in Yunnan many new producers are trying to discover empirically a past reality that has left few traces. We are already seeing through some young puerh (Pu Er tea) upscale contemporary wealth beyond the past and we can hope that eventually, and probably even after a number of years of experimentation these teas are becoming contemporary with the time potentially better than this we left the last 60 years. This new page of history by puerh (Pu Er tea) bury undoubtedly against practices which preceded it, as was the case in previous eras.
Such wafers produced today but still relatively accurately and directly inspired by the era of Cha Chi Tse Beeng are likely to remain in history, and will denote if they can be in 20 or 30 years compared to other teas of the same age, they probably constitute the last traces of what the puerh (Pu Er tea) during the communist era of Chi tse beeng cha.