This page is not a
real
translation but just an
automatic translation generated by computer
of the
original article
, written in French language! Its not good... but better than nothing!
Want to help us do diffuse puerh tea culture in english, by providing a better (or corrected) translation?
Please contact us!
@
To be informed by email about new www.puerh.fr article publication, just
click HERE

In search of authentic pu erh?
Despite what you often read and has had the undeniable importance of China for the development of tea culture from the 7 th century, the facts show that this is not the Chinese than we owe the discovery of tea, the tea plant domestication or the transformation of its leaves and consumption.

According to the present state of our knowledge, the tea would have appeared in the heart of a vast geographical and cultural area, from north of modern Burma (Shan State) north of Vietnam, through the South of the current Yunnan (which in turn will become truly Chinese very late, from the 14 th century), northern Thailand and northern Laos.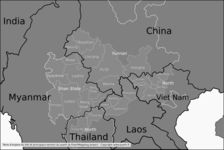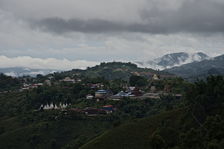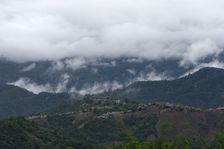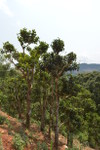 1.Earth original tea and puerh

(Pu Er tea)

main terroirs
2.Shan State in Burma
3.Mengku Da Xue Shan in Yunnan
4.Old tea trees in Laos
Although the region does not appear immediately as such and today is fragmented by different border states (China, Burma, Laos, Thailand, Vietnam), it has a certain geographic area, ethnic and cultural, and shares a common history. It is precisely the space that the linguist Tadahiko Shintani called TCA (Tai Cultural Area) theater of what James C. Scott called much more polemically the "Zomia" geographically and also corresponds to the famous Golden Triangle .

And it is in this region in particular ancient culture, rich and complex, that has written the beginning of the history of tea and tea puerh (Pu Er tea) born. It was there first that the first tea plants would have appeared, but especially that man would have discovered the tea leaves and their potential. Living remnants of this prehistoric tea, we still find today many wild tea plants in this region, both in the skirts which now belong to Yunnan or those found in Laos, Burma and Thailand.
This is for example the case of wild tea plants Da Xue Shan forests in Yunnan , in which trees are reflected and the first tea plants whose leaves produce atypical flavors and many different puerh (Pu Er tea) from domesticated varieties.
Chargement du thé...
But what is primarily found in these ancient forests, it is the trace of the man, there are several thousands of years, has managed to gradually tame the tea plant. The oldest tea tree and would now found at least 3200 years. His study shows, however, that this is not a wild tea tree, fruit of nature alone, but the outcome of this tea tree domestication of the patient by the peoples of the region:a long process of choice, selection and maintenance tea tree.
Who were the first people to be there more than 3000 years, discovered and domesticated the tea plant, and for what purpose? We do not know that little. What we observe by cons is that different peoples, especially Blang (Blang) or Wa continued this work and there are more than 1,000 years, have gradually spread cultivation of the tea plant through this great region tea.
Thus, one can still find in forests of Yunnan, Burma or Thailand, such ancient gardens, set in the heart of the forests sometimes there nearly 1,000 years and that demonstrate mastery of the tea plant by ethnic groups of the region, before the Chinese domination of Yunnan or very late control Shan State by the Burmese.

The observation of these ancient gardens and oral knowledge of the ethnic groups who continue their traditional way of operating (in northern Thailand, for example) show a real expertise, a deep understanding of the needs of the tea plant and great mastery of techniques agroforestry, that is to say the art of establishing and maintaining tea gardens within the forests to take advantage of the biodiversity of this environment.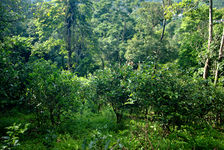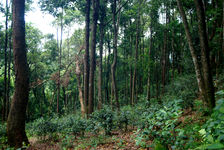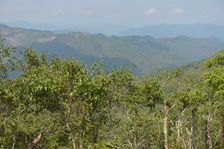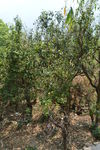 1.former Garden in Yunnan Yanuo Shan
2.former Garden in Yunnan Wu Yi
3.former Garden in Phongsaly Laos
4.former Garden for Lincang, Yunnan
The surface of these gardens, many exploited tree, compared to the very low population of villages in turn demonstrate the real use of tea, probably daily, not anecdotal or limited to medicinal function, from these first peoples tea.

To what end this tea was grown? How was it used? What were the flavor of those early tea? This is a complex question that can only bring answers fragments.

It is very likely that tea had initially been eaten, perhaps before he was drunk, or both phenomena have arrived simultaneously, which would explain in particular the extent of these gardens. In especially remote areas where some of Yunnan Bulang and Jinuo could partially escape the assimilation of states and dominant ethnic groups, one can still see such traditional forms of consumption of tea leaves, eaten, or infused, which could reflect these initial practices.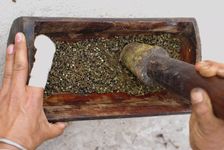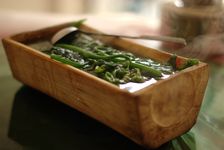 1.Kitchen traditional Jinuo made from wild plants
2.Traditional Kitchen Jinuo made from wild plants
4.Traditional Kitchen Jinuo made from wild plants
5.Tea sour to be cooked in Bulang
This is the case for instance of certain Bulang, who make a surprising tea, produced by anaerobic fermentation of mid-transformed leaves and intended to be eaten. Fresh leaves are for that past a certain time through a steam jet before being summarily worked, then compressed in a bamboo section. Bamboo is closed on both sides with large leaves, banana, for example, made airtight with moist earth and everything is buried. Tea and remain in the soil at least six months, sometimes longer, before being dug up and eaten!

I researched this precious tea, found in the Chinese market, before eventually find it in the privacy of a family Bulang, the heart of a remote village in Yunnan. This tea disappeared so-called Chinese Suan Cha (bitter tea) and a handful of families know Bulang still produce in Yunnan, is however most consumed daily by these families, as it can -be been in the past, but is made for special occasions like marriage.
Once outputs bamboo, leaves khaki green are not dry leaf teas like we used to see, but still seem fresh, flexible. Their touch is slightly sticky, spongy. To taste, that's all sour First, that reminds Korean kimchi sour vegetables Yunnan (Suan Zhai) or to look for something similar in the French registry pickles. It then finds clear tea in the aftertaste, through some bitter strength and powerful tea flavors that develop gradually and go tinting breathing.

Although this tea is initially made to be eaten, a dry alternative, crafted to be infused, exists. The leaves are usually fermented for it longer, then once dug are dried in the sun to then be infused. And here's what happens once in the cup.
Chargement du thé...
While it speaks very little, making these first teas and especially those products to be eaten is however crucial, not just for their historical value, but because they have probably put it long ago the foundations of puerh (Pu Er tea) tea:what defines it, which makes it unique and different in almost every way the Chinese approach tea. I am thinking of choice in large sheets varieties (Assamica, taliensis, etc.) relative to varieties with small leaves (Sinensis Sinensis), to the collection of old leaves, the partial drying or drying in the sun to dry versions , operation of the different seasons of the tea plant, as many conscious choices that have been made to maximize the quality of tea, originally produced to be fermented and foremost intended to be eaten.

During the colonization of southern Yunnan by the Chinese (Han) at 17 th century, they start buying tea puerh (Pu Er tea) indigenous, who alone possessed the gardens, mastered the mountains and forests , practiced picking large trees and transformed leaves.

These are then those selected sheets, shaped, transformed by the Yunnan ethnic groups in their own culture and way of consumption that made the Chinese named puerh (Pu Er tea) tea. This same tea that, Han bought by merchants, was compressed and begin to browse China and neighboring countries.

Meanwhile, and from the late 18 th , Han Chinese who ousted local leader and now have total control over a large part of Yunnan, are beginning to produce their own puerh (Pu Er tea) teas in Wu Yi region.
First, I think the famous puerh (Pu Er tea) "imperial" produced Yi Bang, near Wu Yi for the emperor and the court and which, through the use atypical for the region of a variety with small leaves and predominance of buds, is clearly a "Chinese" version of the original puerh.

But this influence did not remain in the restricted and ultimately quite trivial part of the imperial productions and has probably affected area, particularly around the town of Yi Wu which were established in 1700 when large Chinese families come from producers Shipping . Some of the leading producers han, then pressed the puerh (Pu Er tea) tea cakes, not for the Court but for the local and international market for more than 200 years before the arrival of the communists in the 1950s.

Whether a transfer is then probably established between the Han and the indigenous peoples of the region (particularly after 1900), concerning in particular the Chinese leaf processing techniques and perhaps the introduction of tools (such as iron wok), probably influencing the nature of products teas.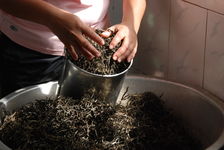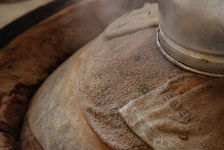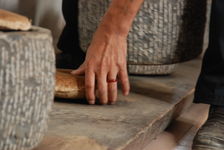 1.Traditional production of puerh

(Pu Er tea)

Wu Yi today
4.Traditional production the puerh

(Pu Er tea)

Wu Yi today
This first wave of transformation of puerh (Pu Er tea) by Han in 19 th century, however, has had to have a limited effect. Geographically firstly, it is probably not out of the small production area in Yunnan Han control, also known as the six major mountain tea (actually the only tea mountains controlled by the Chinese in space Yunnan present, that is to say the part of the Mekong, the west (Menghai), another large production area, at that time still being largely controlled by indigenous peoples, including Wa and Lahu).

Furthermore, if there has probably had at that time an influence on the transformation of leaves, outline posed by indigenous peoples and which are puerh (Pu Er tea) remained:large-leaved varieties, large trees spaced within gardens, mature leaves and coarsely worked, harvesting four seasons, conditions favoring oxidation and the initial fermentation (if it was not caused) natural drying said "the sun", etc. This is at least what emerges from careful observation of the last patties puerh (Pu Er tea) this first era, produced by Han workshops in the first half of the 20 th century and today considered the greatest masterpieces of puerh (Pu Er tea) tea. Among them, for example, include Song Pin Hao iconic producer Wu Yi, which here the tea tasting product back in the 1910s.
Chargement du thé...
Some even will feel that it is to this period (known as the Hao Ji Cha), between the 1800s and the 1900s that the real puerh (Pu Er tea) was born precisely from the crossing of indigenous knowledge and the Chinese influence in the transformation of leaves.

It precedes the arrival of Han in the region or whether born of the influence of the arrival of Han, the initial skills that made the reputation of puerh (Pu Er tea) tea between the 18 th century and the 20 th century, and we have only a few memory for wafers, has since unfortunately disappeared, swept by a series of profound changes. Increasingly frequent and significant, these upheavals have radically changed the nature of what is still called puerh, sending word to many fans of the first generation that the Chinese puerh (Pu Er tea) had now definitely gone.

We first note the appearance of the first Han gardens from 19 th century on the newly conquered lands of Yunnan, gradually marking the end of ancestral agroforestry practiced by indigenous peoples and that we just beginning to rediscover in China today. This phenomenon, still limited to the 19 th century, was then dramatically intensified in the 20 th century by the Chinese emphasis for new means "modern" and "productive" cultivation tea, operating a revolution in the gardens makers.
The transformation of leaves and tea production have also continued to be adapted to the technique, but especially to markets and modes. Note in particular the arrival of industrialization in the 1940s which, coupled with the momentum communists a decade later, will mark the closing of the private workshops and the establishment of leaf processing methods, along with a whole new approach puerh (Pu Er tea) tea (Cha Ji Yin era).

Then pushed by improving transportation routes, this is the beginning of an increasingly strong influence of the Hong Kong market will become the main market of puerh (Pu Er tea) tea in the first half of the 20 th century and will also some influence on its production of tea puerh (Pu Er tea) (era Tse Chi Cha Beeng).

All this is then accelerated dramatically in the 1990s, with the explosion of the "phenomenon puerh" the tea market opening and the sudden appearance of a multitude of new private producers, a real tidal marré uncontrolled and uncontrollable in which little of what made puerh (Pu Er tea) tea before survived.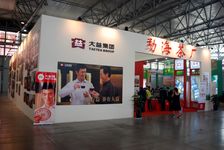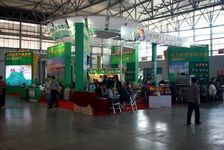 1.Kunming tea market in 2010
2.Frequently Asked puerh

(Pu Er tea)

Kunming 2009
4.Frequently the 2011 Taipei tea
5.Exhibition at the 2011 Taipei Tea
Keeping only two emblematic events of this last revolution, first note the dramatic "greening" of crude puerh (Pu Er tea) whose processing technologies have continued (and continue) to be adapted to make a puerh (Pu Er tea) green tea, instant consumer product whose membership of puerh (Pu Er tea) (and hope matured) raises more question.

Meanwhile emerged in the 1990s a new form of Chinese dark puerh (Pu Er tea) that could be called contemporary industrial fermented puerh:a type of tea in its own right and hardly inspired by the technique of original cha shu, for a product new generation of consumers, created in the years 1990 and 2000 and also designed primarily for immediate consumption.

What remains ultimately in China which made in the past the value and reputation of the puerh (Pu Er tea) teas? Very little. In the 90s, when the model was intensive culture terrace and the majority of old gardens had summers demolished, abandoned or deforested, the market, feeling that something was lost suddenly began to get excited for Qiao Mu , trees that still had a tree trunk and a head and who had narrowly escaped the massacre.
In the 2000s, it becomes the rage of gu shu, we rediscover the old trees with the dream they recréeraient puerh (Pu Er tea) a link with the past. Ten years later, now living the dream flax Guoyou, these ancient gardens in the heart of the forests to survive, usually in protected parks. The market, Chinese and Taiwanese in mind, not for ten years and continues to explore these areas and the few survivors still unknown in search of the rare pearl, particularly in the Wu Yi Mountains. Thus, we now see every year a micro -mode around a particular town called "natural" and which would still authentic puerh (Pu Er tea) (recall the great mode for Guafengzai and Wan Gong, and now Yishanmo Bohetang, as many villages "forgotten" suddenly powered on center stage and stalls tea houses).

But this new quest for authentic puerh (Pu Er tea) falls often more romantic fantasy than anything else. It generally carries his attention on natural resources, the age of the trees, the alleged history of terroirs, the richness of nature, the beauty of the mountains or surrounding forests, omitting as did Han ago 300 years the importance of local knowledge about the maintenance of these traditional gardens or processing of the leaves, and eventually the cultural dimension, which however may be that China lost more precious.
Worse yet, this frantic and irresponsible pursuit of Eden where the puerh (Pu Er tea) would still authentic is often the worst destructive vector of change of those rare areas that had escaped the massacre last century modernist. The "discovery" of the value of old trees and have been laudable if she had not pushed shaving the largest trees that sheltered the old gardens to increase the productivity of gardens, eventually destroying what was the true value of these gardens.

Similarly, the continual search for new remote villages, which have narrowly avoided the ravages past could be seen as a good thing, if it was motivated only by profit and not systematically accompanied by a profound transformation of these villages, destroying in a few years what had nevertheless survived various tubs of past centuries.
Just look to the example of Guafengzhai in the region of Wu Yi, or attached and lesser known villages located on the other side of the Laotian border. Under the pretext of having discovered an isolated natural village and which would have avoided Chinese massacres of 19 th century, finally eager to train in no time the whole village to technical aujourd 'hui and provide all families wok and Chinese brand-new equipment so they can produce an ultra green puerh, with beautifully carved leaves and meet the expectations of today's consumers, although it does has almost nothing to do with what the village originally produced. It goes without saying that this is usually accompanied by an over-exploitation of tea plants, alteration of the ecosystem of gardens and an inevitable drop in the quality of tea. It is not surprising to see these as not passing fads spin faster and faster, and use new villages every year to satisfy an absurd and irresponsible market. What had resisted the settlers and the 18 th century has finally been sacked by the market and sellers of 21 th century.

By the time it becomes increasingly utopian to find Yunnan areas have escaped, if only partially, to acculturation and successive changes that shook the Chinese puerh (Pu Er tea) and where you can still find forms ancient and authentic of puerh (Pu Er tea) tea, it is good to remember that Yunnan, in front of the stage for 20 years, is only a fragment of the terroir of origin of this tea.

Among this great terroir puerh, some regions have long been the center of attention, as the province of Phongsaly in Laos which has already undergone a very strong Chinese influence. Others remained more closed, like Burma and the Shan State in particular, are especially against by exciting research field, where not only the environment but also a lost culture in Yunnan persist ...

To be continued ...
To be informed of the launch of the rest of this article, subscribe to our newsletter!