This page is not a
real
translation but just an
automatic translation generated by computer
of the
original article
, written in French language! Its not good... but better than nothing!
Want to help us do diffuse puerh tea culture in english, by providing a better (or corrected) translation?
Please contact us!
@
To be informed by email about new www.puerh.fr article publication, just
click HERE

Almost all teas, whether green, white, yellow, black or oolong are eaten as fresh as soon as possible after harvest. If unfortunately in the West teas found in trade are often more than a year, it is not the case in Asia where people eat almost exclusively teas of the year. Indeed much of the richness and finesse aromatic tea is lost in the months following the harvest, so take care of the amateur consume its precious leaves as soon as possible, or at least before they fan themselves or denature.
Conversely puerh (Pu Er tea) tea is known for its ability to age, ie to evolve over time just like what certain wines. Over the years and through the work of specific micro organisms on the surface of leaves, they will gradually take a brown color, while the liquor occur darken to pull a glowing brown. But it is primarily for individuals maturing aromas that develop over time as the puerh (Pu Er tea) tea is more widely the family of dark teas , are now recognized.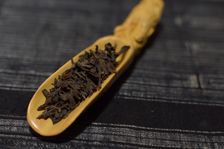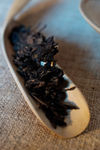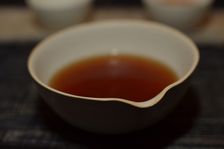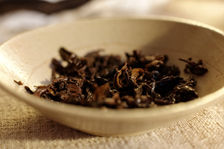 1.Dry leaves an aged puerh
2.Dry aged puerh

(Pu Er tea)

leaves a
3.Liquor an aged puerh
4.Infused leaves an aged puerh
While in the first half of the 20th centuries the leaves of broadleaf trees produced in Yunnan for centuries were commonly regarded as a coarse tea, bitter, cheap and somewhat subtle, it is in its fermented form by time the puerh (Pu Er tea) tea reappeared and spread outside China. This is particularly in Hong Kong and Taiwan, which primarily uses the puerh (Pu Er tea) tea in its aged or fermented that we owe this new recognition of this family of tea form.
For a number of years as we rediscover the richness of puerh (Pu Er tea) "green" teas stored naturally fermented and less than Hong Kongers taste, and the notion of vintage (absent before the 2000s packaging) made ​​its appearance. This will now enjoy the aroma of young puerh, teas aged 5 years, 10 years, or 20 years, at each stage of maturation corresponding particular taste characteristics.
But there's something that remains largely unknown or misunderstood:the notion of "puerh primeur". Indeed, if some puerh (Pu Er tea) tea have the ability to age, ie the potential to generate over time aromas he did not have initially, there are nonetheless made ​​of tea leaves, and as all teas that will also lose in their first years much of what form the richness and delicacy of their original characters. Simply put:while that puerh (Pu Er tea) wins and aromas of maturation, it loses flavor of youth.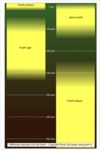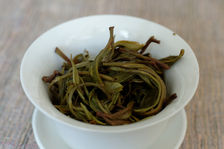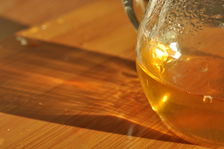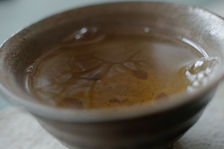 1.Different periods of puerh

(Pu Er tea)

tea
2.Leaves puerh

(Pu Er tea)

premiere
3.Liquor puerh

(Pu Er tea)

premiere
4.Mug puerh

(Pu Er tea)

premiere
In this sense, and it is still too little understood, puerh (Pu Er tea) primeur, or puerh (Pu Er tea) of the year, are a class apart and distinct from that of young puerh, aged a few years. When quality puerh (Pu Er tea) the year and has particularly rich and deep flavors and thus develop a bouquet of remarkable finesse and complexity,
What makes a good puerh
(Pu Er tea)

premiere

Early and aged puerh (Pu Er tea) puerh with radically different characters (if you have never drank teas, imagine that there's much difference between them as between a green tea and black tea), we do appreciate naturally not in the same manner. Like fresh green tea or oolong teas, particular appreciate the ability of very young puerh (Pu Er tea) to develop in the nose. It expects first scene of the premiere puerh (Pu Er tea) a complex and subtle generous bouquet, which filled with with the nasal cavity and color breathing.
Mouthfeel ( Kou Gan ) and rear sensations ( Gan Hui ) are naturally also crucial to make a good puerh (Pu Er tea) premiere, but all take different shape than those of most puerh (Pu Er tea) older. Bitterness especially rare in a puerh-old is at the heart of the appreciation in the mouth of a good puerh (Pu Er tea) scoop. Produced by the tannins in tea, is reflected in the bitterness and astringency of the origin and quality of the leaves. Good bitterness first tasting supports giving strength and consistency to tea. But the bitterness also prepares the palate, gives tasting dynamic (ability of flavors and aromas to evolve from one cup to another), and allows the infusion with the emergence of secondary aromas rich, soft and particularly self conscious.
If a lack of bitterness or aggressive bitterness and dry (which may be related to caffeine) generally reflects saplings from intensive farming, a generous and generating bitterness or sweetness rich aroma (which may be related to catechins) on the contrary, often the mark of ancient trees growing in low yield.

In addition to the immediate experiences it offers, the bitterness of a good puerh (Pu Er tea) is notable for the length in the mouth it produces and its ability to rear sensations (hui gan) rich and powerful emerge. They develop on the palate or in the throat, it is these feelings back, and the communication they have with immediate sensations that make the complexity, depth and subtlety of good puerh (Pu Er tea) scoop.
Dynamism, or ability that have this type of tea to evolve cup cup, is also one of the great quality of a good puerh (Pu Er tea) scoop. Unlike many teas, for which the first infusion is usually the best and where the following gradually lose their wealth, a good puerh (Pu Er tea) premiere gradually revealed with infusions. So far a loss of taste intensity, operates a real evolution with flagrances which gradually sculpt, appear or disappear after a number of infusions, sometimes giving an almost narrative tasting and very significant dimension.
I propose to illustrate this tasting a very good premiere 2014, Gu Shu Cha (old trees)
Chargement du thé...
Finally, as with any tea, balance (target) and harmony (aesthetic) between different aromatic and flavor dimensions is central to the judgment of tea. The premiere puerh (Pu Er tea) quality generally have some tannic strength, we will pay particular attention to the balance between the strength and delicacy of flavor tea. Well balanced bitterness or astringency of a good puerh (Pu Er tea) scoop gives the tea its structure, and supports the harmonious character of the tea. Conversely a lack of tannins, bitterness or too present produce teas without consistency or otherwise teas flavored crushed by tannins, and tastings disappointing.
What the Chinese call the qi tea, energy is radically different whether young or old puerh (Pu Er tea) puerh, and remains a concept more related to area thereof. Some fans old puerh, especially in Taiwan and are particularly sensitive to the energy of tea and looking mostly at puerh (Pu Er tea) cha qi powerful. Although there are also puerh (Pu Er tea) futures with a cha qi powerful, and whose taste than the taste to cause strong feelings of calm, it is very rare for young teas, and tends to come in for teas big exception. Reflect this in the spirit of qi taster is also different from what former produce teas, and more references to the energy of the plant in all its freshness and vitality.
I propose to illustrate a few leaves of a large scoop, 2014, from the famous terroir Di Jie in the mountains Da Xue Mengku
Chargement du thé...
Future or teas guard
Sometimes it is difficult for one who discovers the puerh (Pu Er tea) tea to know what tea drunk in the year, what tea to drink young, and what tea keep for future maturation. It is first important to keep in mind that "puerh primeur" and "puerh guard" are not two separate categories in which we would classify puerh (Pu Er tea) tea according to their characters. There're puerh (Pu Er tea) futures particularly excellent in their productions and have also great potential for maturation, and thus contains both good puerh (Pu Er tea) puerh Early and good care, as there are flat teas their production and will gain nothing more to be stored.
Finally, some puerh (Pu Er tea) have somehow "missed their youth," and do not have in their first year freshness, bouquet, or the complexity of a large scoop is expected. However, they may have excellent property when matured, and can then wake up with fermentation, sometimes 1 or 2 years after production.
While talk of a failed youth would be quite exaggerated can illustrate this with the latest Lao Tai Shen Wang Bing 2014. This tea, so it is quite appreciable immediately, does not have standing to make an exceptional scoop, but has all the quality to make a great tea, whether as a young puerh (Pu Er tea) in years to come, or as puerh (Pu Er tea) care over the long term.
Chargement du thé...
Quality premiere with little potential to mautration:to drink quickly.
Quality premiere with good potential for maturation to drink quickly or store
Lack of quality featured with good potential for maturation:in store
Lack of high-quality early and without much potientiel my maturation to drink quickly
When asked, tea drinking quickly or stored so it has to proceed in two stages:firstly If tea has a character and sufficient to be appreciated premiere quality, we can consider it as a good puerh (Pu Er tea) premiere and if you want to drink in the year of its production. Also if tea has good potential when maturation (see Which tea store? ) we can choose to keep it and wait until it is more mature for consumption. There remains the case of teas with neither high quality en primeur, or very good potential to mature, we usually prefer to consume relatively quickly tea thirst, rather than storing them unnecessarily.
imbalance or decline between ages
In its first year, a good puerh (Pu Er tea) is dominated by aromas of tea scoop, with a complex and generous bouquet in which we often find spices or floral print, highlighted by a good tannic structure. These primary aromas will last from several months to several years depending on the quality of tea and the conditions of its storage and then gradually fade.
Meanwhile, the puerh (Pu Er tea) develop over the years and under the action of fermentation new flagrances. In the best case the first appearance of these flavors maturation coincide with the loss of aromas futures so that the tea retains its richness and balance the flavors from maturation somehow take the place of the original flavors.

Sometimes, in the case of particularly rapid fermentations, or flavors futures particularly persistent, these two dimensions can coexist, which can occur during a short period a particularly delectable alchemy where the first fermentation aromas enrich somehow even strongly colored by initial wealth tea.
But otherwise is also common, and leads to a decline in tea, and a temporary loss of balance and its rich taste. This occurs when the futures tea flavors go off with the first aromas of maturation are not yet sufficiently developed, producing a loss of taste tea. If the puerh (Pu Er tea) is quality, this phase of decline will be temporary, and intensify the flavors of maturation will gradually fill the "void" left by the loss of characters futures tea. This is of course where the quality and potential to mature tea are essential, otherwise nothing will compensate for the loss of youthful aromas of tea, and tea will only gradually lose its consistency.
These different profiles, which take place in the first month or the first few years of a puerh (Pu Er tea) tea, thus highly dependent on the quality of the leaves, as well as storage conditions which may favor a rapid maturation or rather the aroma retention Youth tea.
How to store its puerh
(Pu Er tea)

premiere

The premiere puerh (Pu Er tea) can be stored in different ways depending on the desired effect. Generally seeks to encourage, or at least to make it possible, the maturation of puerh, ie the evolution of their characters from one year to the next. Preference in this case retain its puerh (Pu Er tea) outdoors (retaining their original packaging or storing them in unsealed container), avoiding the interference of external odors, Direct sunlight or shock significant temperature and water quantity. Thus it allows stored microorganism present on the surface of the sheet work fermentation causing maturation puerh (Pu Er tea) tea.

But, and this is still mis-understood, the maturation of puerh (Pu Er tea) tea is not necessarily what will look amateur puerh (Pu Er tea) scoop. Thus one who appreciates above all in the puerh (Pu Er tea) richness, subtlety and finesse of aromas youth seek instead to preserve as long as possible this character while avoiding the best post-fermentation of the leaves. Is preferred in this case to keep his tea as green tea or oolong unroasted, free air (ideally vacuum in a sealed bag if applicable), and place in a dark, dry and cool (refrigerator or freezer, making sure moisture to any odors parasites). And best preserved avoids oxidation and fermentation of the leaves phenomena that alter the original character of tea, while trying to maintain the best and finest flavors of tea scoop.
But beware, if this is true for the short term from one year to another, for example, and allow for example to taste in winter or autumn teas spring of astonishing freshness, tea and stored still loses gradually its delicacy, as in the case of green tea or oolong unroasted. Where in the case of a traditional air storage loss aromas primeur is offset by the development of secondary aromas of maturation, storage in such an atmosphere preserving fermentation can over time make the bland and tasteless tea , and is therefore not recommended for long-term storage.
Finally, for those who enjoy much wealth puerh (Pu Er tea) fresh products as they develop more mature characters over the years, it may be wise to buy puerh (Pu Er tea) the year earlier after production to extract a small amount of tea each patty, and keep the leaves cool extracted in a pocket airtight. This will make it possible to enjoy throughout the year keeping the scoop leaves at best their freshness, while what the rest of the cake will continue to evolve naturally for years to come.
How to brew a scoop puerh
(Pu Er tea)
Puerh futures are particularly flexible when teas how to infuse. Significantly more than the old puerh, they allow great variation in the infusion parameters, and give very different results depending on them.
Although we can get a good result with many utensils, the gaiwan is for me the most suitable for the infusion of puerh (Pu Er tea) futures object. As is the case with green tea and delicate white tea retains all the splendor gaiwan tea, promotes the development of the bouquet, and allows fine play about the lives infusions, significant infusion at very short. Conversely the land as the land of Yixing, particularly valued for old puerh, we tend to round and mute excessively puerh (Pu Er tea) the sensitivity of the year.
The durations of infusions can be very variable according teas and habits. I prefer and generally advised for puerh (Pu Er tea) primeur particularly short infusions, on the order of 2 to 5 seconds, allowing to fully appreciate the subtlety and complexity of these teas. It is common to quickly rinse and twice tea before drinking, which notably allows the leaves to deploy (especially in their compressed form) and mitigate any excess bitterness or astringency.
In the case of particularly tannic vegetables, or if you are sensitive to bitterness, it is possible to slightly extend the time rinsing (which dwindle dynamism and rising aromas but will have little influence on the rich tea), or slightly lower the temperature of the water (which will by against more influence on the aromatic character of the tea).
With such rapid infusion, infusion times may be substantially constant from one passage to another, and that during a number of passes, usually between 5 and 15 depending on the quality of the tea. Once this number of infusions past tea gradually loses strength or balance and will generally be preferred lengthen the duration of infusions accordingly. According to the character of the tea can also choose to continue with short infusions that will play echoes with the rear sensations, including teas to attack very tannic.
But it is also possible to infuse its premiere puerh (Pu Er tea) longer, with the first infusion of tens of seconds to let the leaves see infuse freely in a glass of water. This mode of infusion, practiced in rural Yunnan produce particularly strong and tannic teas, with a bitterness and a marked astringency. Such a mode of infusion will not enhance the finesse and subtlety of tea, but will highlight the persistence and rear sensations that tea product.
Thus, such a good brandy, a young primeur can be enjoyed long brewed drip, every sip as small as it develops a bouquet and rear tastes very rich, intense and long lasting.