This page is not a
real
translation but just an
automatic translation generated by computer
of the
original article
, written in French language! Its not good... but better than nothing!
Want to help us do diffuse puerh tea culture in english, by providing a better (or corrected) translation?
Please contact us!
@
To be informed by email about new www.puerh.fr article publication, just
click HERE

A portrait of one of the essential personality of hinsoire puerh, Zou Bing Liang (邹炳良), one of the greatest figures of tea with whom I had the chance to speak at length. Founder and director of Haiwan Tea Industry, Zou Bing Liang is also known to have been part of 70 years in the handful of people responsible for the development of fermented puerh (Pu Er tea) as we know it today. It is thus now considered a leading expert from the fermentation of puerh, but focuses on his shoulders the legacy of large state factories and it is a living symbol of the blending, or the art of assembling the various sheets Tea cakes in order to sculpt their aromas.
Born in 1939, 10 years before China became the People's Republic of China, Zou Bing Liang in 1957 between the famous Menghai Tea Factory, where he spent 40 years. It is then 18 years, and it is within this temple of modern puerh (Pu Er tea) and bathed in the atmosphere of the large factories of the communist state that Bing Liang Zou will make his tea and learning gradually become expert in art complex puerh (Pu Er tea) tea production.
In the sixties Zou Bing Liang gradually asserts itself as one of the few personalities of the research department of Menghai Tea Factory. From 1963 to 1965 he participated in research concerning the production and grading black tea (red tea in China), Yunnan being at that time best known for its black tea, especially produced by Menghai Tea Factory.
In the early 1970s, began in Yunnan to look more deeply at the phenomenon of aging and post fermentation puerh, especially to meet the Hong Kong market where puerh (Pu Er tea) is consumed only old, and where, empirically we begin to experiment and practice methods of accelerated aging of this tea in a humid atmosphere. It is in this context that in 1973 Zou Bing Liang is sent by Menghai Tea Factory in Guang Dong to study the methods of artificial or accelerated fermentation which constitute the beginnings of Wo Due (渥 堆) puerh (Pu Er tea) fermented and modern. The same year he published the first technical book retailer and theorizing the production of fermented puerh (Pu Er tea) and pose as production rules and standards for scientific approval which refer. This is particularly the research that is attributed to the entry of products Menghai Tea Factory on the Hong Kong market, the products of this era are now highly sought after teas.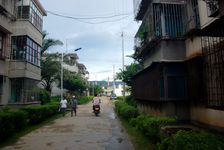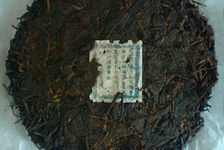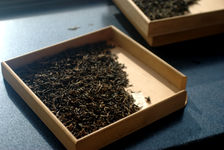 1. Menghai Tea Factory, a city within the city
2. Pattie puerh

(Pu Er tea)

from the early days of Menghai Tea Factory
3. Storage and wet fermentation tea puerh
4. Leaves puerh

(Pu Er tea)

current analysis to Haiwan Tea Factory
Besides his great contribution to understanding the phenomena of post fermentation and control of this fermentation, Zou Bing Liang is recognized as one of the great masters of the assembly that, with the fermentation, is undoubtedly one of pillars of puerh (Pu Er tea) modern. A number of factors, such as the largest land and harvest seasons to more subtle, such as daily changes in weather conditions, the inaccuracy of the gesture at harvest and craftsmanship of the leaves, or storage of leaves before compression are indeed the raw material (Maocha) something non-homogeneous. If we compress the Maocha well as it comes, we run a high risk not only of differences of a wafer to another, but also a lack of balanced taste of these cakes. The principle of the assembly is therefore, after a thorough check of each sheet, including their size (grade), reassembling the past according to recipes to produce specific tea not only uniform but also to obtain a better balance in taste, the color of the infusion of the leaves and aesthetics, but also allows a certain extent control the price of tea production. And if the essence of the assembly is a practice of the noblest, the concept of mixing in the hands of unscrupulous producers, however, soon reduced to a method to lower the prices of production "cutting" of raw material quality with cheaper leaf, which of course affects the image of this subtle art.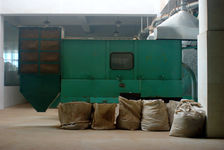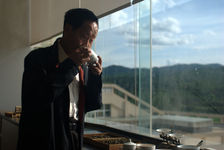 1. Separation of mechanical grades of leaves, plant Haiwan
2. Zou Bing Liang observing a sample of Mao Cha
3. Zou Bing Liang at work in the hall of assembly Haiwan
For Zou Bing Liang and Ms. Lu Guoling (卢 国 龄) with which it will melt Haiwan Tea Industry, assembly and its recipe is the most important step in producing a refined puerh. If the quality of the raw product shines through the recipe, it's the latter that creates stability and consistency of the product. In an article about this very famous, Zou Bing Liang expressed in 12 words (扬长避短, 显 优 隐 次, 高低 平衡) vision of the technique and recipe. This is first of all for him to highlight the strengths and avoid defects (扬长避短). According to the land, the character of each tea garden, altitude or harvesting seasons, each Maocha (leaves worked but not compressed) has its strengths and faults, and the issue is precisely the recipe to use the strengths of each to improve the fault of others. The second big point is to show the beautiful and hide unsightly (显 优 隐 次): For each grade of leaves (leaf age on the tree, or in other words leaf size) are analyzed eight key factors (size, weight, length, level of fermentation, etc.). If in these pages some have such a high quality taste but are unsightly to the eye, it should be mixed harmoniously with others, which will take place on the face of the plate and improve its appearance. The last major area of ​​the assembly according to Zou Bing Liang finally consists in balancing the quality of individual leaves to get something centered (高低 平衡).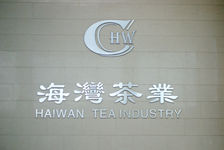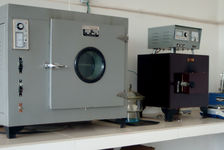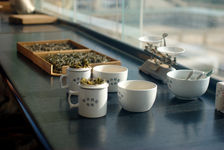 1. Haiwan Tea Industry
2. Machines for technical analysis sheets, laboratory Haiwan
3. Collection of specimens to all who enter Maocha revenue Haiwan
4. Comparison of two Maocha
In 1996 Bing Liang Zou leaves Menghai Tea Factory, which became a private company, and founded two years after Haiwan Tea Industry, with Ms. Lu Guoling, another former Menghai Tea Factory which she held the position of Deputy Director, after more than 30 years with the company. Since then he has not only the direction of Haiwan, but is also responsible for fermentation and all the assemblies of the multitude of puerh (Pu Er tea) developed by the company. In the Mouth of Zou and Bing Liang is the room mixtures and analyzes, in the heart of the factory and where he seems to spend the bulk of his days. From there arrive continuously samples of all leaves and finely chosen by Haiwan sorted according to grades 12 sheets, but also samples of all teas in fermentation, from the fermentation unit based in Menghai . It is here that these sheets, after being thoroughly analyzed shall be gathered, compared, gouttées, to develop new revenue but also to touch shortly to ancient recipes. Because a recipe is not precisely defined, but a mixture is primarily defined by its character, aroma, appearance, and if we want to preserve its identity and should be touched up every year, depending on the particular characteristics of the raw material and this year and climatic variations.
An interview with Zou Bing Liang
I made this short interview in 2009, not without some trepidation. Zou Bing Liang seems to accept only few interviews, and in view of Chinese rare interviews that were conducted, it is more likely to avoid issues with some cynicism as to take pleasure in responding. Against all odds the reality of this interview was any other, and I discovered a passionate man, a very rich man, with whom we talked at length and, for you, and readily responded with interest in these few issues.
Can you tell us about the origin of Haiwan Tea Industry, why have founded this company?
I left Menghai Tea Factory in 1996. During the 3 years that followed I held different positions in the import-export, within national companies. I served in my career more than 20 different jobs, but all my life I devoted to tea, and I was naturally motivated to continue doing something in the tea ... and that's how I founded Haiwan Tea Industry in 1999. I had a lot of technical know-how and experience, and especially the desire to share this knowledge to pass ... it would have been a shame to do nothing with it all!
You base Haiwan Tea Industry in 1999, on the eve of the opening of China and after spending nearly 40 years in a state enterprise (Menghai Tea Factory). It's been so Haiwan a leading producer of private puerh, can you tell us about the changes that mean?
There was some good in public, there is also good in the private sector. In the 50s, 60s and 70s living standards in China was much lower than now, the work was very difficult, serious, wages were very low and everyone lived together.
In domestic firms was very strict, and each thought only one thing: do its job. It is an attitude which I kept in my own business. In the era of state enterprises, in a group if someone made a mistake, it was the whole group that service was affected and suffered the consequences. I started working in tea in 1959 (in Menghai Tea Factory), my task was then to decide whether the leaves were good or not. It was a big responsibility. This is very important that everyone has his own responsibility and be accountable for its work. It is an attitude that I always kept. Today we must be grateful to the national companies have taught us that. If for me the quality of tea Haiwan is perfect, it is primarily because we are responsible in the eyes of our customers and we take that responsibility.
We can not accept all those who sell tea as we play the stock market. The tea should remain good, and we can not lower the quality to make more profit! Another important point is the human, the human dimension: how tea is doing something human. Puerh market has dropped and is very low at the moment, however Haiwan always wins the same amount ... somehow we do not suffer the effects and fluctuations in the market, precisely because we follow above all human values. Haiwan teas are sold by vendors such official, known, it is always the same and they are paid the same price (they sell tea, and do not play with the stock market).
I think if the puerh (Pu Er tea) is so popular is because it is a good tea, and I do not buy so good that leaves (mao cha), and out of respect, not with the leaves that produce good tea. To increase the quality of the product there are two things: first buy good raw material (mao cha), then have a good technique. That's how you get a good tea. Each point is important, post-fermentation is important, as the recipe, etc..
Fermented teas (Shu Cha) are sometimes not good ... is that they are not ready, he must wait and try again (before pressing the cakes) ... sometimes wait over and over again, until it becomes good. The assembly (recipe) is also crucial ... even within the same production, there are many differences. If there is no assembly, quality and stability can not be satisfactory.
It seems there is a growing demand for tea today "pure" unmixed, origin, season and single harvest, especially in the West, what do you think that?
Tea "pure" has a very strong character, very cut and defined (but lack of balance). In tea there are also the seasons, the leaves more or less old (ie larger or smaller) the time of harvest, etc. .... The Mong tea (Wu Yi) for example has a decided taste particularly.
Sell ​​tea and "gross" is not knowing the technique.
This material growth "pure", or "raw" on the market leads us does not then to a gradual loss of consumer taste?
Young (small) and old leaves (large) leaves produce different taste. Even within a particular soil, it is necessary to separate them and make the assembly ... and in this case the accuracy of the soil is excellent. There are of course based on assemblies of mixtures of soils, see parts of ... but many (good) assemblies are based on such mixtures of rank or seasons, but within the same region.
About the land, I thought I noticed in recent years with farmers and producers of mao cha increased accuracy of the soils. This is a phenomenon that you confirm?
Yes it is quite true. It is now increasingly clear about the source of the leaves.
Does blender as it allows you to do things better or finer?
Yes absolutely. There are now more choices (in raw materials). Then the accuracy is another thing and was always there somehow ... this is not something new. There are 12 levels (grades) of leaves ... and in Haiwan was always more accurate to separate large and region to create with. Take, for example tea Banzahng, why has there taste so special? Firstly there is the high altitude of Lao Banzhang, generally if the mountain is high as Manson (1800) for example, the better the taste. Then there is the climate, warm, Banzhang, but there's also the type of soil, micro climate, etc., everything is important. But the issue of purity is not only geographical ... anything is not "pure" even if it comes from a particular village.
I know you also have some interest in French wine, what do you think of the concept of terroir in the French wine?
The soil is of course something very important whether it's wine or tea. But the technique is very important too! For tea is often forgotten by putting everything on the land ... but the technique is crucial. Leaves without good technical ... is a waste of sheets. It is the same for wine, there's lots of growing regions, terroirs of reputations, but we do not talk enough technique .... And that's why we're here! The technique that is not visible on the packaging of the cake but it is crucial!
In this regard, what is the role of innovation and research in Haiwan?
The most important thing is sorting, ie remove the bad tea. Every time you buy the Maocha we must sort out with the greatest care possible. There is always to sort, whatever the quality of the raw material we buy.
My vision of the work is to always move forward. This is a working attitude, always improving, go further ... And this is especially looking forward what customers want, and how to improve quality. For me the most important is the opinion of the customer. If a production does not appeal, you must find out why and improve it until it pleases.
You seem, especially given some of your products, pay special attention to the needs of modern customers?
You have to move (by showing the two young employees Haiwan attending the interview). Now it's looking more and more small (it comes out of bag teas Haiwan). The needs are very different today and we must adapt to the demand, but also adapt products. For example for a cake, which will have to grow old, you must ferment slightly, so that this fermentation is refined over time ... but for a tea bag, which is made to be drunk quickly, push a little fermentation.
And we can respond to such requests "contemporary" keeping all the quality, or is it mission impossible?
Yes ... it is possible to meet all requests. With a long history of tea like mine, you can create whatever the client may want, it's not a problem. The only thing we need is experience and qualified employees.
In this regard, your team consists of people of different ages and experiences vary widely, from young to old ...
To make tea it takes experience above all, it is evident that the former lead young ... then they gradually acquire the necessary experience. This is how things must pass it.
Haiwan is a leading producer of puerh
(Pu Er tea)
to have tea product labelized BIO, why this choice?
The BIO is a direction. The standard of living is improving in China, so it requires increasingly better quality of life. It starts eating BIO, BIO to drink, it's ... I, early in Haiwan, always chosen Maocha organically grown, and avoided the leaves may contain chemicals. It is a mission critical enterprise: to ensure that customers do not have to worry about drinking it. This is important. But it's also about exports, especially in Japan ... If you do not look strictly quality, there is some chemistry and you send the tea to Japan ... there will be analyzed, and if they find any trace of Chemistry, tea will return to you, and you will lose your money ... in the end you will lose more money if you from the beginning astreins to produce only top quality products!
Why have you based your plant in Anning, while the vast majority of plants are located puerh
(Pu Er tea)
Menghai
Haning is closer to Kunming (the capital of Yunnan), it is more convenient. Both Haning is not too near Kunming, the air is clean and not polluted by the city, this is also why we chose this site.
You do not just from a single plant as many producers, but production of Haiwan based on three separate processing units, can you elaborate?
Yes, besides the main plant Haning, whence come the end products, there is a factory in Menghai. All fermentation is carried out there.
Can you tell us about the Lao Cha Tou tea interesting? This tea has it been developed Haiwan?
Yes this tea has been developed here. This is one of our recipes. He 'is nothing special to say about this tea, all teas are very good Haiwan.
You have developed many recipes puerh, did you want to tell us about a particular?
Not. I do this every day, there is nothing special to finally develop a recipe ...
When you practice a lot, well you've mastered your field, it becomes a something easy. If you think a taste, you can do ... There is no mystery, just practice. It's the same to buy good raw material, you have to pick, that's all ...
What can you tell us about the new 2009?
There are several things ... but we must try them!
Tea Mountain Pa Sha example, it is a single origin tea and precise, between 1700 and 1800 meters, but it is also an assembly (a recipe)! Teas last year have also evolved, each recipe has been altered ...
A great big thank you for this interview.
Some teas designed by Bing Liang Zou
To finish this portrait I would like to introduce some teas Haiwan, designed by Bing Liang Zou. Without re-present all the teas mentioned in the article on this producer I will focus on a few products, particularly mentioned in the interview.
The first Haiwan Pa-Sha, 2010, which is the 2010 vintage tea mentioned by Zou Bing Liang and is a leading products in terms of Haiwan puerh (Pu Er tea) gross. This cake symbolizes a precise approach to the recipe as the Bing Liang Zou defends, combining original unique assemblage of leaves. If it is indeed an assembly of sheets designed by Bing Liang Zou, who compose the leaves come in full of Pa Mong Sha in Xishaungbanna. As Bing Liang Zou mentions it in our interview, the recipe for this cake has been widely reviewed in 2009 and the year 2010 stands out particularly clearly from Pa-Sha for a few years ago (like 2006 that I have already presented).
Chargement du thé...
At fermented teas now, or another area Zou Bing Liang excels, I want to talk about the 7578, released in 2005 under the brand LaoTongZhi. Cake history, which will undoubtedly become a collector's item in years to come, this is the version of the famous 7572 Haiwan Menghai Tea Factory, great recipe become THE reference in terms of puerh (Pu Er tea) fermented. Until 2007 Bing Liang Zou indeed continues to produce in different recipes Haiwan cults Menghai Tea Factory, which in a sense, he has paternity.
It is common indeed be interesting to compare these patties produced by Haiwan years and Menghai Tea Factory of characters whose differences reflect the difference in the way we took these two companies. Indeed, if for example the old 7572 Menghai Tea Factory, now become collector, are renowned for their quality, the most recent vintages of this historic producer of quality are much more debatable, particularly after 2005.
Finally, if Haiwan decided to opt-in his 2007 classic recipes, from Menghai Tea Factory to focus on its own assemblies, the 7578 came back in 2011 in the catalog Haiwan, a form widely revisited (See Article Haiwan, the return of classic )
Chargement du thé...
Another tea Haiwan which I have already spoken several times and I can not help you to resubmit the Lao Cha Tou is, or old nuggets of tea (also known by the name of Puerh Tea Essence or 9908 ), beautiful puerh (Pu Er tea) fermented pressed by Haiwan in 2007 and whose recipe is claimed by Zou Bing Liang.
Particularly original, that big brick of 500g beautifully wrapped is not made of thin sheets but kind of dense nuggets, the famous "cha tou." These agglomerate puerh (Pu Er tea) fermented sometimes occur naturally during the fermentation process of puerh, and are separated when sorting grades at the end of fermentation. Collected by Haiwan for years, it is these nuggets of fermented tea that make this brick.
Unlike the version Menghai Tea Factory produced annually since 2006, the Lao Cha Tou of Haiwan was produced as e times, in 2007 and 2010 from "cha tou" older, collected over several years. If the brick is stamped 2007 there is a mix of vintages, and Cha Tou who compose it are many cha tou "spontaneous" harvested as and when the fermentation and years (hence the name lel old nuggets). Opposite effect in the success of this recipe, different producers now offer tou cha "artificial" lower quality.
Chargement du thé...
Finally, I could not finish this article without mentioning a less conventional and less prestigious but apparently quite taken by Zou Bing Liang, who did not hesitate to leave a box in the middle of the interview: the tea bags produced by puerh (Pu Er tea) Haiwan in 2007.
One of the guidelines since its beginning Haiwan was indeed to propose not only a quality tea, but tea accessible to all, whether in packaging or price of tea. Fangbian precursor (see previous article about the formats "practice" of puerh), Haiwan and mini tuos product quality since the 2000s and since 2006 has the audacity to revisit the format of cursed lovers, the bag of tea.
Two versions of these tea bags were produced. First in 2006, where innovation focused primarily on the content in the fermented puerh (Pu Er tea) bags, specifically designed by Zou Bing Liang for this conditioning. This version dates from 2007 and is an evolution of its predecessor. Also in the tea itself, innovation, this time with the bag, completely redesigned to allow for optimal infusion puerh!
Manufactured using a special fiber produced in Japan and assembled at Haiwan using specific machines, then individually wrapped by hand, they form a kind of small cartons in which the leaves unfold and evolve freely ...
Paris ambitious therefore, review the tea bag rather than a package of tea super market, but as a disposable tool allowing a simple mug of brew quality tea properly ... of gung fu bag?!
Chargement du thé...